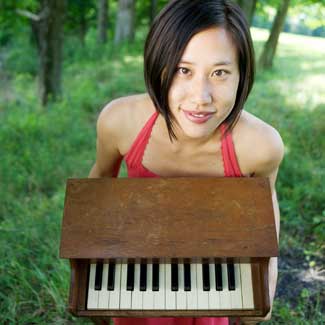 Phyllis Chen is a pianist, toy pianist, and composer whose musical interests have led in numerous directions as a soloist and collaborative artist. In 2007, Chen founded the UnCaged Toy Piano Composition Competition to encourage composers to write new music for the instrument. Since its inception, the call has received over 200 toy piano pieces from composers around the globe. In 2011, she launched the first biennial UnCaged Toy Piano Festival: three days featuring new works for toy piano and a variety of toy piano performers. Each year the festival has been greeted with great enthusiasm, with audience members crossing state borders and oceans to attend.

As a composer, her music has been described as "spellbinding" (New York Times) focusing on the use of toy pianos and miniature objects/instruments. Spending so much time with the instrument, Chen naturally started composing, often using it in collaboration with her partner and video artist, Rob Dietz, to create miniature theatrical works such as The Memoirist, The Slumber Thief and Down The Rabbit-Hole. Her pieces gradually gained the attention of others, leading to commissions by ensembles and organizations including the ICElab series.
This past season, she finished a newly commissioned work by the Singapore International Festival of the Arts for the avant-garde pianist/toy pianist Margaret Leng Tan. The new work, Curios, received its Asian and Australian premieres and will be brought to New York City next season.
She is one of the composers for the one-woman play The Other Mozart, about Wolfgang Amadeus Mozart's forgotten sister Nannerl, performed and written by Sylvia Milo. She and her co-composer/sound designer Nathan Davis received the New York Innovative Theatre Award for "Best Original Music in a Play" in 2015. Chen is one of the founding members of ICE. The ensemble recently released On The Nature of Thingness (Starkland), a collaborative album featuring the chamber works of Chen and ICE composer/percussionist Nathan Davis.
Chen has released three solo albums—UnCaged Toy Piano (2007), little things (2010), and Mesmers (2010)—plus a collaborative album with Cuddle Magic (2014), and most recently a record featuring original works by Phyllis Chen and Nathan Davis performed by the International Contemporary Ensemble (Starkland). Chen attended Oberlin Conservatory (BM), Northwestern University (MM), and Indiana University (DMA).