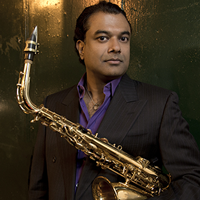 RUDRESH MAHANTHAPPA
Few musicians share the ability of alto saxophonist/composer Rudresh Mahanthappa to embody the expansive possibilities of his music with his culture. What has materialized is a sound that hybridizes progressive jazz and South Indian classical music in a fluid and forward-looking form that reflects Mahanthappa's own experience growing up a second-generation Indian-American. The current manifestations of that trajectory include his latest project Bird Calls (2015), which was named #1 album of the year by both Downbeat and NPR Music's Jazz Critics Poll.
Hailed by the New York Times as possessing "a roving intellect and a bladelike articulation," Mahanthappa has been awarded a Guggenheim Fellowship, a New York Foundation for the Arts Fellowship, and commissions from the Rockefeller Foundation MAP Fund, Chamber Music America and the American Composers Forum. He has been named alto saxophonist of the year for three years running in Downbeat Magazine's International Critics' Polls (2011-2013) and again in 2015 and 2016, and for five years running by the Jazz Journalists' Association (2009-2013) and again in 2016. He won alto saxophonist of the year in the 2016 JazzTimes Magazine Critics' Poll. In April 2013, he received a Doris Duke Performing Artist Award, one of the most prominent arts awards in the world. In 2015, he was named a United States Artists Fellow. In 2016, he was named the Director of Jazz and the Associate Director of the Program in Musical Performance at Princeton University.
Mahanthappa is a Yamaha artist and uses Vandoren reeds exclusively.
RUDRESH MAHANTHAPPA SOCIAL MEDIA LINKS
WEBSITE:
http://rudreshm.com/
ACT RECORDS WEBSITE PAGE (HI RES PHOTOS/EPK):
https://www.actmusic.com/en/Artists/Rudresh-Mahanthappa
https://www.actmusic.com/en/Artists/Rudresh-Mahanthappa/(presse)/20319
YOUTUBE:
http://www.youtube.com/rudreshm
TWITTER:
https://twitter.com/rudreshm
FACEBOOK:
https://www.facebook.com/rudreshm