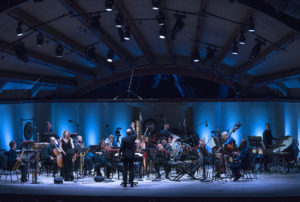 From the idyllic countryside of Anne Trulove and Tom Rakewell to the 'joyous urgency of now' celebrated in Gershwin's Girl Crazy Suite on Sunday, we have traveled together in time, and are bound by the music, feeling this connection long after the Festival is over.
Throughout the Festival, you may have had moments that were compelling and intense, that made you sit up and take notice, and others that gently drew you in. Larger questions may have rested with you for a while – leading to conversations with friends and family, and giving way to lively, opinionated discussions between performances.
This special experience will draw us together again for the 2020 Festival featuring Matthias Pintscher as Music Director, and Chad Smith, as our new Artistic Director. You will see changes. There will be new partnerships, new perspectives, and new ideas.
We invite you to invest in the experience you love. Donations by patrons like you allow the Festival to turn the creative visions of our Music Directors and artists into transformative music in the matchless Ojai Valley.
Every gift is meaningful to the Festival, and we thank you for your generosity – we truly cannot do it without you!
Click here to join the Festival Family, or to simply make a donation.
Thank you for supporting the Ojai Music Festival!