Terry Riley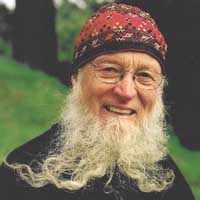 Terry Riley (1935 -) is often credited with the dual title of being the father of both the Minimalist movement and psychedelic rock. His career has had a profound influence on a range of musicians and composers, including Steve Reich, Philip Glass and John Adams, as well groups such as The Who, The Soft Machine and Tangerine Dream. His work today includes close collaboration with the Kronos Quartet. Riley's pieces showcase both his his experiments in process music and his deep study of Indian classical forms, resulting in a trailblazing career  that has spanned over half a century.

Riley, born in Colfax, California, was impressed by music from an early age, taking up the violin for a short time and entertaining ambitions to become a concert pianist. While in high school, an influential teacher introduced him to 20th century composers, including Bartok and Stravinsky. He went on to study composition at San Francisco State College and in 1958, started graduate studies at UC Berkeley. It was at Berkeley that he began his lifelong association with La Monte Williams, another force in the development of Minimalism.
In 1964, after a soujourn in Paris, where he worked as a lounge pianist and experimented with electronic tape, Riley moved to New York. There, he encountered Young's infamous improvisational marathon, the Theatre of Eternal Music. Soon after, Riley began work on a piece built on 53 musical modules, each containing a musical fragment, with players moving through the modules at their own pace. In C premiered in 1964 – with Steve Reich playing electric piano. Alex Ross cites Alfred Frankenstein's review in the San Francisco Chronicle as best encapsulating the spirit of the work: "At times you feel you have never done anything all your life long but listen to this music and as if that is all there is or ever will be."


Listen to an excerpt from In C
Riley's work with electronic tape led to further milestone works, including A Rainbow in Curved Air, Poppy Nogood and the Phantom Band, The Persian Surgery Dervishes, and Shri Camel.


Listen to Rainbow in Curved Air
In 1970, Riley made the first of what would be many trips to India to study with Pandit Pran Nath. Over the next 26 years, he performed with the renowned singer as a tambura, table and vocal accompanist. He taught North Indian Raga and music composition at Mills College throughout the 1970s.
It was at Mills that Riley met David Harrington, founder of the Kronos Quartet. Their long partnership gave rise to several works for the group, including The Cusp of Magic (2003) for string quartet and pipa, The Sands,  Salome Dances for Peace (1985-6) , the recording of which was nominated for a Grammy in 1989.


Listen to an excerpt from Salome Dances for Peace
Riley continues to perform today, with his solo piano and keyboard concerts attaining an almost legendary status. He remains an active composer and teacher.