The Bad Plus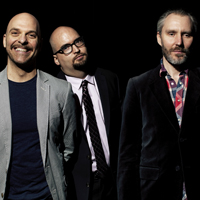 For the past ten years The Bad Plus Reid Anderson, Ethan Iverson and David King have broken down the walls of jazz convention and created an uncompromising body of work. Few jazz groups in recent memory have amassed such acclaim, and few have inspired such controversy.
Their belief in the band ethos and their personal brand of avant-garde populism have put them at the forefront of a new instrumental music movement, drawing audiences both traditional and mainstream. While the bulk of their output has been original music, they have deconstructed songs in the pop, rock as well as the country and classical music idioms.
The Bad Plus has spent more than a decade redefining what a piano-bass-drums trio can and should be. They've reached audiences of all demographic stripes with an uncompromising body of original music (plus some ingenious, genre-jumping covers) and dedicated touring around the globe. On their eighth studio album, Made Possible, bassist Reid Anderson, pianist Ethan Iverson and drummer David King take their distinctive musical M.O. to captivating new heights, proving once again that the rules of musical convention are made to be broken."This band contains some of the most punk energy I've ever seen or felt as a musician — it just doesn't need to do it so obviously," King says. "That's our statement. It's a complex emotion."
Made Possible marks a palpable departure for The Bad Plus on a few fronts. Layers of synth and electronic drum sounds can be heard prowling amid the trio's signature acoustic palette. Also, whereas the group's new material typically gets a thorough road test before being recorded, these songs were brought in with looser expectations and even more potent possibilities. And for the first time since 2005′s Suspicious Activity?, the band chose to record far away from its Minnesota motherland, holing up instead at a remote studio in upstate New York.
The resulting nine tracks — eight originals plus a loving nod to the late Paul Motian ("Victoria") — showcase everything this groundbreaking trio is capable of: pulse-pounding anthems, bright-eyed melancholia, bold juxtapositions, tunefully mathy contortions and a masterful sense of song. "Seven Minute Mind" and "Wolf Out" are streaked with heady minimalism. "For My Eyes Only" and the epic "In Stitches" highlight the group's vulnerable, ambitiously emotive core. "Re-Elect That" honors and extends the rich bloodline of American avant jazz, while "I Want to Feel Good Part Two" offers an irresistible two-beat that's equally suitable for a postmodernist time capsule or a church picnic. As ever, the sum effect is a welcome demolition of what listeners might expect from an instrumental trio.
Per Iverson, "It's the sound of getting together in your garage and all committing, no matter what, seeing what you can make up today."
Throughout its career, The Bad Plus has held fast to a band ethos (deeply collaborative with no "leader") and a belief in what its members like to call avant-garde populism (progressive, musically sophisticated ideas without the highbrow trappings). Made Possible is a vivid and convincing document of this passionate stance, loaded with genre-defying music that is at once complex, heartfelt and instantly engaging.