2023 Virtual Ojai Talks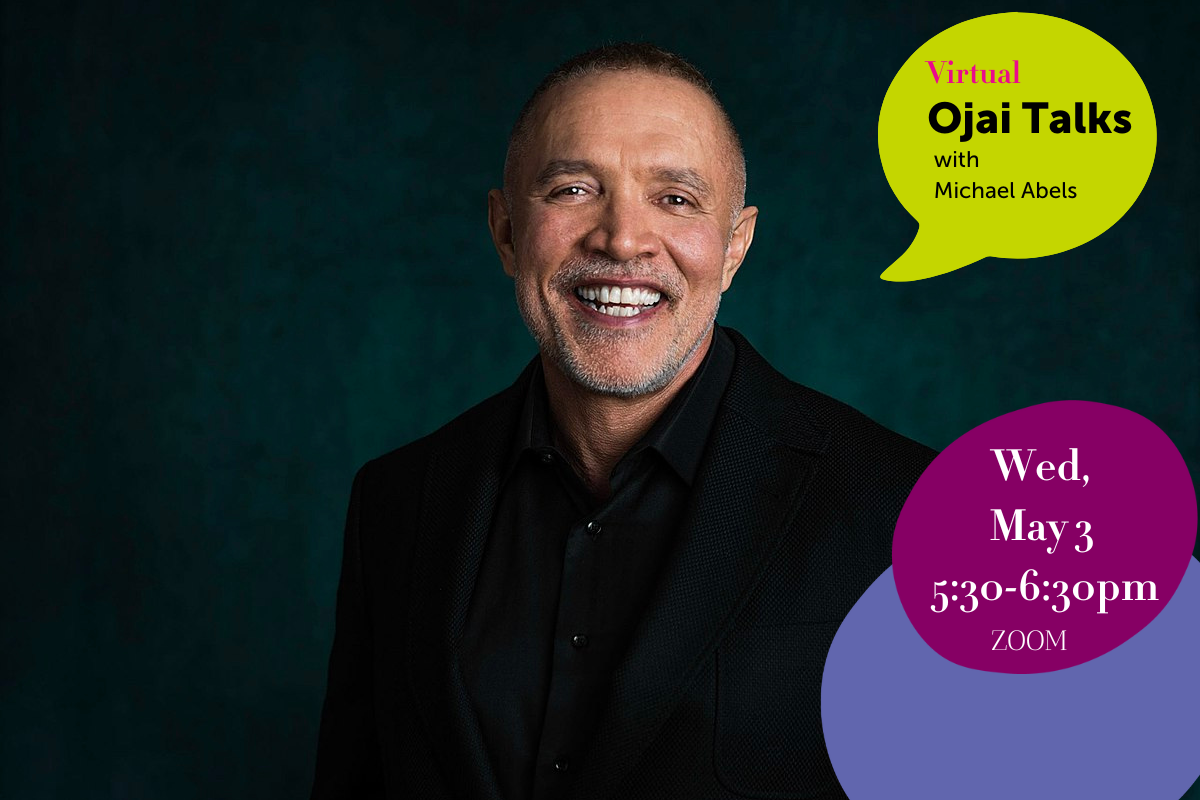 Get an inside look at the creative process with our free Virtual Ojai Talks, where we celebrate the intersection of music and ideas with the 2023 Festival artists, composers, innovators, and thinkers. Virtual Talks are free and open to the musically curious!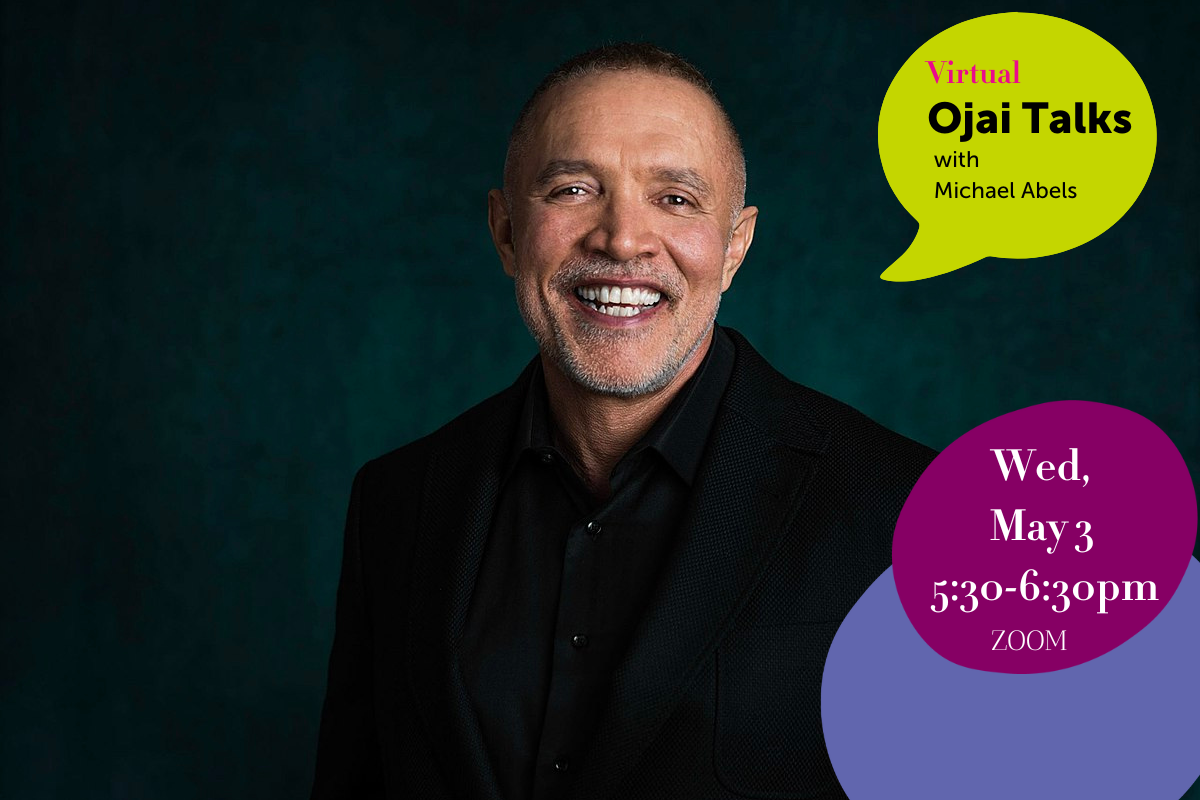 Free and Open to the Public
Virtual Ojai Talks with Michael Abels
May 3, 2023, 5:30-6:30pm
Zoom
Enjoy a conversation between Ara Guzelimian and featured Festival composer Michael Abels as they talk about creating the world premiere of Omar's Journey, an Ojai-commissioned work for voices and chamber ensemble drawn from the opera Omar by Rhiannon Giddens and Michael Abels, and his continuing work as both a film and concert composer.
---
Watch Virtual Ojai Talks with Steven Schick and Lei Liang
Ara Guzelimian and percussionist/conductor Steven Schick are joined by composer Lei Liang, whose works are featured at this year's 77th Ojai Music Festival – including vis-à-vis, written specifically for Steven Schick and Wu Man. In addition. they consider the legacy of Chou Wen-chung, the composer and legendary mentor to both, whose centennial is celebrated this year.
About Steven Schick, conductor and percussionist
Percussionist, conductor, and author Steven Schick was born in Iowa and raised in a farming family. Hailed by Alex Ross in the New Yorker as, "one of our supreme living virtuosos, not just of percussion but of any instrument," he has championed contemporary percussion music by commissioning or premiering more than one hundred-fifty new works. The most important of these have become core repertory for solo percussion. Schick was inducted into the Percussive Arts Society Hall of Fame in 2014.
Steven Schick is artistic director of the La Jolla Symphony and Chorus and the San Francisco Contemporary Music Players. As a conductor, he has appeared with the BBC Scottish Symphony Orchestra, the Saint Paul Chamber Orchestra, the Milwaukee Symphony, Ensemble Modern, the International Contemporary Ensemble, and the Asko/Schönberg Ensemble.
Schick's publications include a book, "The Percussionist's Art: Same Bed, Different Dreams," and many articles. He has released numerous recordings including the 2010 "Percussion Works of Iannis Xenakis," and its companion, "The Complete Early Percussion Works of Karlheinz Stockhausen" in 2014 (both on Mode). He received the "Diapason d'Or" as conductor (Xenakis Ensemble Music with ICE) and the Deutscheschallplattenkritikpreis, as percussionist (Stockhausen), each for the best new music release of 2015.
Steven Schick is Distinguished Professor of Music and holds the Reed Family Presidential Chair at the University of California, San Diego. He was music director of the 2015 Ojai Festival, and starting in 2017, will be co-artistic director, with Claire Chase, of the Summer Music Program at the Banff Centre.
About Lei Liang, composer 
Chinese-born American composer Lei Liang is the winner of the Rome Prize, the recipient of a Guggenheim Fellowship, a Koussevitzky Foundation Commission, a Creative Capital Award, and the Goddard Lieberson Fellowship from the American Academy of Arts and Letters. His concerto for saxophone and orchestra, Xiaoxiang, was named a finalist for the Pulitzer Prize in Music in 2015. His orchestral work, A Thousand Mountains, A Million Streams, won the prestigious 2021 Grawemeyer Award for Music Composition.
Lei Liang was commissioned by the New York Philharmonic and Alan Gilbert for the inaugural concert of the CONTACT! new music series. His ten portrait discs are released on Naxos, New World, Mode, BMOP/sound, Encounter, Albany and Bridge Records. As a scholar and conservationist of cultural traditions, he has edited and co-edited five books and editions, and published more than forty articles.
From 2013-2016, Lei Liang served as Composer-in-Residence at the Qualcomm Institute/Calit2 where his multimedia works preserve and reimagine cultural heritage through combining scientific research and advanced technology. He returned to the Institute as its first Research Artist-in-Residence in 2018.
Lei Liang's recent works address issues of sex trafficking across the US-Mexican border (Cuatro Corridos), America's complex relationship with gun and violence (Inheritance), and environmental awareness through the sonification of coral reefs.
Lei Liang is Chancellor's Distinguished Professor of Music at the University of California, San Diego where he served as chair of the composition area, acting chair of the Music Department, as well as chair of campus-wide committee on committees. His catalogue of more than a hundred works is published exclusively by Schott Music Corporation (New York).
---
Watch Virtual Ojai Talks with Wu Man
Artistic and Executive Director Ara Guzelimian was joined by Wu Man to talk about her career as the world's premier pipa virtuoso and a leading ambassador of Chinese music. She has carved out a distinguished career as a soloist, educator, and composer giving her instrument—which has a history of over 2,000 years in China—a new role in both traditional and contemporary music.
About Wu Man, pipa player and 2023 Festival artist 
Recognized as the world's premier pipa virtuoso and leading ambassador of Chinese music, Wu Man has carved out a career as a soloist, educator, and composer giving her lute-like instrument—which has a history of over 2,000 years in China—a new role in both traditional and contemporary music. Through numerous concert tours she has premiered hundreds of new works for the pipa, while spearheading multimedia projects to both preserve and create awareness of China's ancient musical traditions. Her adventurous spirit and virtuosity have led to collaborations across artistic disciplines, allowing her to reach wider audiences as she works to cross cultural and musical borders. Her efforts were recognized when she was named Musical America's 2013 "Instrumentalist of the Year," marking the first time this prestigious award has been bestowed on a player of a non-Western instrument, and in 2021 when she received an honorary Doctorate of Music from the New England Conservatory of Music.
Having been brought up in the Pudong School of pipa playing, one of the most prestigious classical styles of Imperial China, Ms. Wu is now recognized as an outstanding exponent of the traditional repertoire as well as a leading interpreter of contemporary pipa music by today's most prominent composers such as Tan Dun, Philip Glass, the late Lou Harrison, Terry Riley, Bright Sheng, Chen Yi, and many others. She was the recipient of The Bunting Fellowship at Harvard University in 1998, and was the first Chinese traditional musician to receive The United States Artist Fellowship in 2008. She is also the first artist from China to perform at the White House. Wu Man is a Visiting Professor at her alma mater the Central Conservatory of Music in Beijing and a Distinguished Professor at the Zhejiang and the Xi'an Conservatories. She has also served as Artistic Director of the Xi'an Silk Road Music Festival at the Xi'an Conservatory. Read Wu Man full bio here
---
Watch Virtual Ojai Talks with Francesco Turrisi
About Francesco Turrisi, multi-instrumentalist, composer, and 2023 Festival artist
Grammy award winning multi-instrumentalist Francesco Turrisi has been defined a "musical alchemist" and a "musical polyglot" by the press. He left his native Italy in 1997 to study jazz piano and early music at the Royal Conservatory of The Hague, where he obtained a Bachelor and a Master's degree. Since 2004 he has been working successfully as a freelance musician.
He has released five critically acclaimed albums as a leader and two as co-leader ("Tarab" a cross boundary innovative ensemble that blends Irish and Mediterranean traditional music, and "Zahr" a project that looks at connections between southern Italian traditional music and Arabic music).His latest piano solo album "Northern Migrations" was described as "delicate, wistful and wholly engrossing" by the Irish Times. Francesco is also a member of the celebrated early music ensemble L'Arpeggiata. With l'Arpeggiata he has performed at the most important classical music festivals in Europe and around the world (Turkey, Russia, China, Australia, New Zealand, Brasil, Colombia) and has recorded for Warner, Virgin, Naive and Alpha.
Since 2018 he collaborates with American grammy award winning singer and multi-instrumentalist Rhiannon Giddens, on a duo project that seamlessly combines music from the Mediterranean with music from the African diaspora in the Americas. In 2019 Giddens and Turrisi released their critically acclaimed duo album "there is no Other". The album single "I'm on my way" was nominated for a 2020 Grammy Award. Their 2021 second duo album "They're calling me home" was nominated for two Grammy awards and won as best folk album at the 2022 Grammy awards. Francesco currently performs on piano, accordion, harpsichord, organ, various lutes, cello banjo, frame and goblet drums.
He is equally at home playing with jazz veterans Dave Liebman and Gianluigi Trovesi as he is with Irish traditional sean-nós singer Roisin El Safty and with tarantella specialist Lucilla Galeazzi. Turrisi has toured with Bobby McFerrin, interpreted the music of Steve Reich with Bang on a Can All Stars, accompanied flamenco star Pepe El Habichuela and Greek singer Savina Yannatou.
---
Watch Virtual Ojai Talks with Rhiannon Giddens
About Rhiannon Giddens

The acclaimed musician Rhiannon Giddens uses her art to excavate the past and reveal bold truths about our present. A MacArthur "Genius Grant" recipient, Giddens co-founded the Grammy Award-winning Carolina Chocolate Drops. She most recently won a Grammy Award for Best Folk Album for They're Calling Me Home, and was also nominated for Best American Roots Song for "Avalon" from They're Calling Me Home, which she made with multi-instrumentalist Francesco Turrisi. Giddens is now a two-time winner and eight-time Grammy nominee for her work as a soloist and collaborator.
They're Calling Me Home was released by Nonesuch last April and has been widely celebrated by the NY Times, NPR Music, NPR, Rolling Stone, People, Associated Press and far beyond, with No Depression deeming it "a near perfect album…her finest work to date." Recorded over six days in the early phase of the pandemic in a small studio outside of Dublin, Ireland – where both Giddens and Turrisi live – They're Calling Me Home manages to effortlessly blend the music of their native and adoptive countries: America, Italy, and Ireland. The album speaks of the longing for the comfort of home as well as the metaphorical "call home" of death.
Giddens's lifelong mission is to lift people whose contributions to American musical history have previously been erased, and to work toward a more accurate understanding of the country's musical origins. Pitchfork has said of her work, "few artists are so fearless and so ravenous in their exploration," and Smithsonian Magazine calls her "an electrifying artist who brings alive the memories of forgotten predecessors, white and black."
Among her many diverse career highlights, Giddens has performed for the Obamas at the White House and received an inaugural Legacy of Americana Award from Nashville's National Museum of African American History in partnership with the Americana Music Association. Her critical acclaim includes in-depth profiles by CBS Sunday Morning, the New York Times, the New Yorker, and NPR's Fresh Air, among many others.
Giddens was featured in Ken Burns's Country Music series, which aired on PBS, where she spoke about the African American origins of country music. She is also a member of the band Our Native Daughters with three other black female banjo players, Leyla McCalla, Allison Russell, and Amythyst Kiah, and co-produced their debut album Songs of Our Native Daughters (2019), which tells stories of historic black womanhood and survival.
Giddens is in the midst of a tremendous 2022. She announced the publication of her first book, Build a House (October 2022),  Lucy Negro Redux, the ballet Giddens wrote the music for, had its premiere at the Nashville Ballet (premiered in 2019 and toured in 2022), and the libretto and music for Giddens' original opera, Omar, in collaboration with Michael Abels, based on the autobiography of the enslaved man Omar ibn Said, premiered at the Spoleto USA Festival in May. Giddens is also curating a four-concert Perspectives series as part of Carnegie Hall's 2022–2023 season. Named Artistic Director of Silkroad Ensemble in 2020, Giddens is developing a number of new programs for that ensemble, including one inspired by the history of the American transcontinental railroad and the cultures and music of its builders.
She made her Ojai debut for the celebratory 75th Ojai Music Festival with Music Director John Adams in September 2021.
As an actor, Giddens had a featured role on the television series Nashville.
Rhiannon Giddens photo by Ebru Yildiz