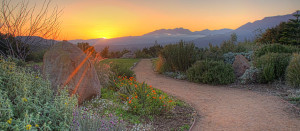 This year, the Ojai Music Festival will present 37 events in just four days! This includes main Libbey Bowl concerts, Ojai Talks, Ojai Films, Concert Insights, and an abundance of free community events. Here are some new updates on some of these free events to help better prepare you:
Sat June 8: The parking lot at Besant Hill will open at 7:00am. Please bring a chair or blanket for the concert, or feel free to wander as you enjoy John Luther Adams' Strange and Sacred Noise. We highly recommend wearing flat comfortable shoes. Besant Hill School's address is 8585 Santa Paula Ojai Road. 
Sun June 9: Due to the high volume of ticket requests for the Sunday Sunrise Concert featuring John Luther Adams' songbirdsongs, we are providing a free bus shuttle to take ticketed patrons to Meditation Mount. The shuttle and all concert parking will be located at Boccali's Restaurant and the first shuttle will begin loading at 7:00am. Please plan to arrive well before the concert starts to guarantee parking. Only authorized vehicles will be allowed at Meditation Mount. Boccali's address 3277 Ojai Santa Paula Road (located at Ojai Avenue and Reeves Road).
While you wait for the concert to begin at 8:00am, you can participate in bird watching with the Ojai Valley Land Conservancy at 7:15am. Please bring your own binoculars. RSVP at 
[email protected]
.
Maps and directions will be available at the Festival box office. If you have any questions, please call our box office at 805 646 2053.
Gamelan Performances: Fri, June 7 and Sat, June 8
These two free concerts performed by the acclaimed Gamelan Sari Raras at the Libbey Park Gazebo will be special treats for the community!  Limited seating will be provided;  we encourage you to bring your own chairs or blankets.
---
Fitness Classes: Fri, June 7; Sat, June 8; Sun, June 9 
Dance with MMDG: Sat, June 8 
Festival patrons and the Ojai community have a rare opportunity to join dancers from the acclaimed Mark Morris Dance Group, who will help jump-start the day with basic stretching. The fitness classes will be held Friday, Saturday and Sunday morning, 9:00-10:00am, at the Libbey Park Flagpole Lawn. We recommend wearing comfortable shoes or sneakers.
And there's more — learn dance moves from dancers of the Mark Morris Dance Group who will teach a few moves from one of the works featured at the Friday evening concert. This free event will be at the Ojai Art Center. We recommend wearing flat shoes (you will also have the option to dance barefoot).
Both events are free and open to the public.
---
View complete schedule here >>