Message from Ara Guzelimian
It turned out to be a magical time of reunion and renewal, as we celebrated our 75th anniversary Festival in the best of company. As I take a breath and reflect on that beautiful September weekend, I feel boundless gratitude. We gathered together in Ojai and cherished the singular joy of being in the company of music and musicians as a communal experience.
The predominant emotion of the concerts was one of joy and optimism, particularly as defined by the energies and creativity of a new generation of composers. John Adams was so very wise in making sure this anniversary festival looked forward. All our artists embraced that spirit wholeheartedly, especially determined to do so in the face of the painful events of the past eighteen months. Our great thanks go to John, not only for the riches of his own music, but also for the choice of artists and works which so beautifully defined the arc of this festival.
Let us take a moment to bask in just a few selected memories. Enjoy our photo gallery of Festival moments as captured by photographer Timothy Teague: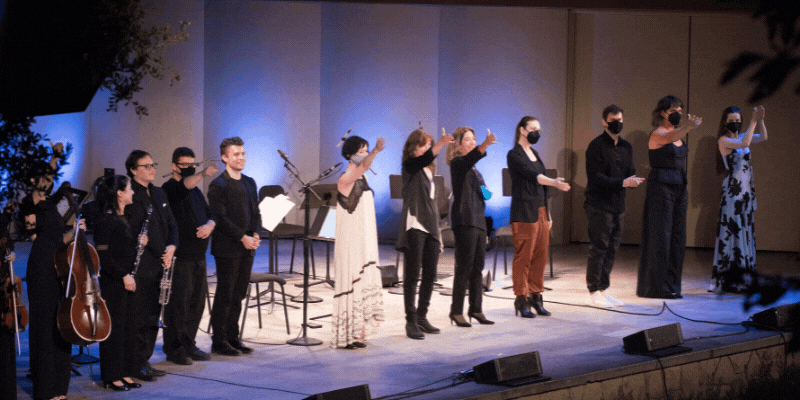 It took remarkable devotion on the part of many people to get us here, beginning with our dedicated Board of Directors who have been steadfast in their vision, generosity and clarity of purpose. I offer my heartfelt thanks to the artists, the staff, interns, volunteers and housing hosts who worked tirelessly to make this a most special festival, often in the face of unexpected challenges – did I mention that Víkingur Ólafsson was nearly turned away at the airport in Reykjavik because of confusion about his (entirely correct!) visa documentation? Somehow, there was always a solution to be found. Even the weather was ideal, with mild temperatures and soft breezes to bring Ojai enchantment
But I reserve a very measure of thanks to each of you, for your continued faith in the Ojai Festival, for complying with the safety measures, for your generosity in supporting the festival financially, and most of all, for your irreplaceable presence at concerts (and by extension, long distance by way of our streamed concerts). You help create one of the most attentive, understanding, adventurous, and open-hearted audiences I have ever experienced.
And now, we begin the happy anticipation of the Festival to come in June 2022. We had a vivid introduction to two more artists from AMOC (the American Modern Opera Company), the collective of 17 instrumentalists, singers, dancers, choreographers, and composers, who together will be the Music Director in June. Violinist Miranda Cuckson and flutist Emi Ferguson, core members of AMOC, both made brilliant debuts at this year's Festival.
Miranda Cuckson shone in the virtuosic and expressive challenges of Samuel Adams' Chamber Concerto, played a recital that ranged from Bach to Saariaho, and, in a stunning Libbey Bowl performance of Bach, created an iconic only-in-Ojai image: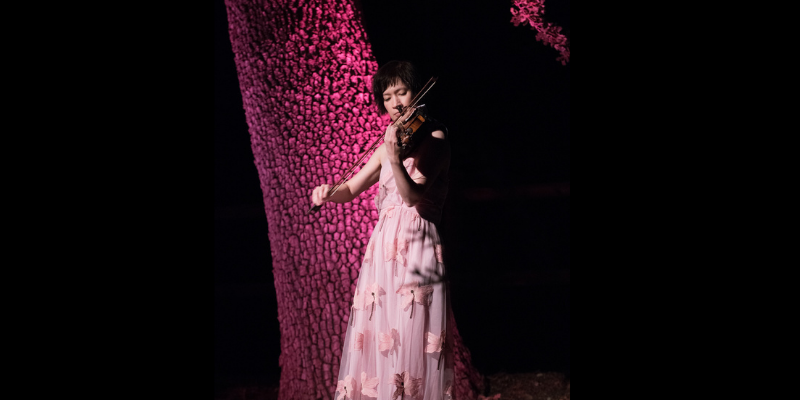 Emi Ferguson played Gabriela Ortiz's Huitzitl with expressive power and grace, despite the distractions of another only-in-Ojai moment, the sounding of a persistent security alarm nearby. So I thought it's only fair to revisit Emi's mesmerizing performance, this time with the benefit of some subtle audio filtering that magically minimizes the sound of the alarm and focuses attention entirely on Gaby's evocative music and the beauty of Emi's playing!
We can happily anticipate look ahead to more musical encounters with both Emi and Miranda, the return of favorite Festival favorite artists (and current members of AMOC) soprano Julia Bullock, bass-baritone Davóne Tines, and cellist Jay Campbell, as well as a happy introduction to all of the brilliant creative spirits of this endlessly-creative collective in the next Festival. We will meet all of the members of AMOC in the coming months by way of special online programming and conversations.
In the meantime, our wholehearted thanks to each of you. I look forward to seeing you all again in June 2022 or sooner!