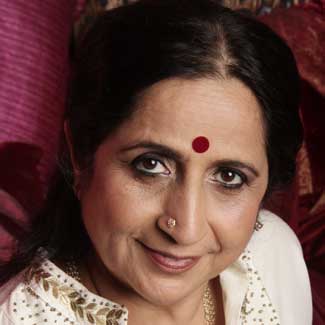 Padma Shri Aruna Sairam, a renowned music ambassador of India, is one of the great classical music voices of India. Her style is rooted in tradition, yet continues to evolve. She belongs to the Veenai Dhanammal school of Carnatic music, known for its strict adherence to tradition and form. After her initial learning from her mother, who was a classical singer, Aruna, at the age of 10, became a disciple of the legendary T. Brinda. (T. Brinda is from the family of T. Balasaraswathi and T. Viswanathan—pioneers who brought South Indian classical music to the United States.) She was the first to introduce the Abhang, a distinctive folk music form from Western India, into a traditional Southern Indian Carnatic concert. She has also collaborated with leading musicians such as Dominique Vellard of France (classical liturgical, medieval, and Gregorian chants); Noureddine Tahiri of Morocco (Arabo-Andalusian music); Christian Bollmann of Germany (neo-classical music); Bollywood singer Shankar Mahadevan; mandolin virtuoso U.Srinivas, dancer Chandralekha; and multi-instrumentalist Ranjit Barot.

The BBC Proms invited her to perform at the Royal Albert Hall in 2011 as the first South Indian classical musician in the Proms' 117-year history. Other venues where she has performed include Carnegie Hall (New York), Le Theatre de la Ville (Paris), Opera National (Lyons), Royce Hall (Los Angeles), the Fes Festival of World Sacred Music (Morocco), and the Music Academy (Chennai). She has had the rare distinction of performing at the Indian president's official residence, Rashtrapati Bhavan; at the memorials of former Prime Ministers Indira Gandhi and Rajiv Gandhi, Shakthi Sthal and Vir Bhoomi; and at the Commonwealth Games, New Delhi.
Among the many national and international honors that have been bestowed upon her are the Padma Shri, the highest honor awarded by the Indian government to civilians of merit, and the prestigious U.S. Congress Proclamation of Excellence. Her scholarship has led her to undertake various worldwide mentoring programs, including the BBC World Routes Academy Project. She has lectured at various prestigious universities across Europe and the United States and was invited by the Indo-French Cultural Exchange Programme as a "Guru." Her foundation—the Aruna Sairam Foundation—is dedicated to imparting knowledge of music to young aspiring musicians, creating opportunities for budding artists to perform, and rewarding senior music gurus in the community. Aruna Sairam has also donated proceeds from her concerts and sale of her records to cancer hospitals and to rehabilitating families of musicians who have passed away in their prime.
She is currently the vice chairperson of the Sangeet Natak Akademi, the national Academy of India, which helps the Indian government formulate policies, implement programs and foster cultural interchange between regions in India, and between India and the world.
Aruna Sairam & Ensemble
Aruna Sairam, vocals
M Rajeev, violin
Sai Giridhar, mridanjam
Ravi Balasubramaniam, ghatam
Aamani Mynampati, tampura