Future Festivals
Learn more about Ojai Festival Music Directors:
John Adams: Thursday through Sunday September 16-19, 2021
AMOC: Thursday through Sunday June 9-12, 2022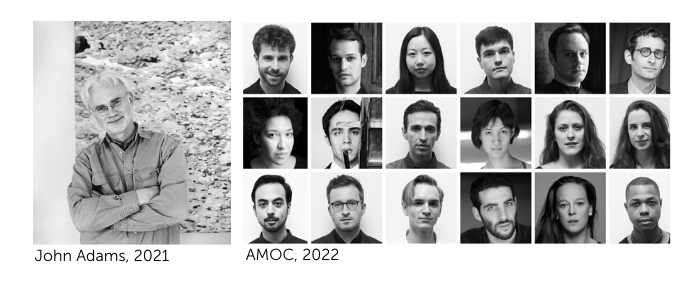 (OJAI, California, March 2, 2020) – Ojai Music Festival and Artistic Director designate Ara Guzelimian announced today the appointment of composer/conductor John Adams as the 2021 Music Director for the 75th Festival (September 16-19, 2021), followed by American Modern Opera Company (AMOC) as Music Director for the 76th Festival in 2022, culminating the Festival's 75th Anniversary year.
Mr. Guzelimian's tenure follows that of current Artistic Director Chad Smith, who was appointed CEO of the Los Angeles Philharmonic in October 2019. Mr. Smith planned the upcoming 2020 Festival with Music Director Matthias Pintscher (June 11–14, 2020) and the Ensemble intercontemporain, featuring music of Olga Neuwirth, Steve Reich, Pierre Boulez, and Matthias Pintscher among many others. Mitsuko Uchida, who was previously announced to lead the 2021 Festival, has asked to postpone her appointment because of scheduling conflicts and will return as Music Director in a future Festival.
For more than seven decades, the Ojai Music Festival has flourished as a creative laboratory by combining a boundless sense of adventure, an expansive musical curiosity, and an atmosphere of relaxed but focused informality. Each year a different Music Director is given the freedom and the resources to imagine four days of musical brainstorming. Ojai's signature blend of an enchanted setting and an audience voracious in its appetite for challenge and discovery has inspired a distinguished series of musical innovators – from Boulez, Copland, and Stravinsky in its formative years to Barbara Hannigan, Vijay Iyer, and Patricia Kopatchinskaja in recent times – to push artistic boundaries. In announcing the appointments of John Adams and AMOC, the Festival now charts a course for its next chapters under the leadership of Artistic Director Ara Guzelimian.
"I am utterly delighted to begin my time at Ojai in the company of artists who continue to advance the forward-looking perspective that has defined Ojai for so long," said Mr. Guzelimian, who begins his tenure with Ojai following the 2020 Festival. "John Adams' work as a composer, conductor and tireless advocate for new music has made him a central figure in the musical life of our time. With his characteristic eagerness and curiosity, we have begun conversations about the many young composers he admires and wants to champion at Ojai in 2021."
"AMOC, the 2022 Music Director, is not exactly an opera company but a remarkable collective of composers, singers, stage directors, choreographers, dancers, and instrumentalists who are among the brightest and freshest artistic voices to emerge in the last few years. We will make our first Ojai acquaintance with numerous members of AMOC as well as welcome back such Festival artists as Julia Bullock, Davóne Tines, and Jay Campbell. We are in for a great adventure," added Mr. Guzelimian. "But first things first. I am excited about the more immediate 2020 Ojai Music Festival created by Music Director Matthias Pintscher and Artistic Director Chad Smith. I know that these wonderful artistic thinkers have conjured an exceptional musical journey, both true to the spirit of the Festival and also expanding its possibilities."
As Music Director of the Ojai Music Festival, Mr. Adams will follow violinist Patricia Kopatchinskaja (2018), soprano/conductor Barbara Hannigan (2019), and Matthias Pintscher (2020). Prior to this 2021 collaboration, Mr. Adams served as Ojai's Music Director in 1993. Initial details for Mr. Adams' 2021 Festival will be announced in June 2020. Ojai's 2022 Music Director will be American Modern Opera Company (AMOC). As described by The Boston Globe, AMOC is "a creative incubator par excellence . . . where the boundaries between disciplines go to die." A collective of some of the most creative, forward-thinking artists, AMOC is led by its Artistic Directors composer/conductor Matthew Aucoin and director/choreographer Zack Winokur collaborating with Core Ensemble members Jonny Allen (percussion), Paul Appleby (tenor), Doug Balliett (double bass/composer), Julia Bullock (soprano), Jay Campbell (cello), Anthony Roth Costanzo (countertenor), Miranda Cuckson (violin/viola), Julia Eichten (dancer/choreographer), Emi Ferguson (flute), Keir GoGwilt (violin/writer), Conor Hanick (piano), Coleman Itzkoff (cello), Or Schraiber (dancer/choreographer), Bobbi Jene Smith (dancer/choreographer), and Davóne Tines (bass-baritone). Julia Bullock, Davóne Tines, and Jay Campbell are making a welcome return to Ojai, having participated memorably in past Festivals. Prior to AMOC, Ojai has welcomed only two ensembles as Music Director: Emerson String Quartet in 2002 and Eighth Blackbird in 2009.
For more information, contact [email protected]