Gamelan Sari Raras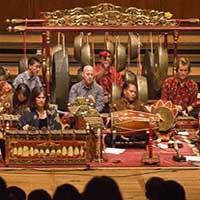 Gamelan Sari Raras, founded and co-directed by Midiyanto and Ben Brinner, is an ensemble in the Department of Music at U.C. Berkeley. Widely recognized as one of the leading Javanese music ensembles outside Indonesia, Sari Raras has performed concerts, shadow plays, and performances of Javanese dance and music throughout Northern California over the past twenty-five years.
Members of Sari Raras performed Lou Harrison compositions to accompany the Mark Morris Dance Company in Berkeley in 2002. The group toured Java in 2012.
Midiyanto, a widely acclaimed musician and dhalang (shadow master), comes from a family of performers and trained at the Indonesian Arts Academy in Central Java. He has performed extensively in Indonesia, Singapore, Australia, New Zealand, Canada, and many parts of the US, where he is in great demand as a teacher, musician, shadow play performer, and gamelan tuner. He teaches gamelan at U.C. Berkeley.
Ben Brinner, chair of Berkeley's Department of Music, has performed Javanese music for thirty-five years. Javanese music is the subject of two of his books: Knowing Music, Making Music: Javanese Gamelan and the Theory of Competence and Interaction and Music in Central Java.
I Made Subandi, one of the most innovative and widely performed composers in Bali today, is also renowned for his skill as a performer. A graduate of Bali's National Institute of the Arts (STSI Denpasar), he has taught for many years at the Indonesian Academy of Performing Arts (SMKI) in Bali, and has just completed a residency as guest music director of Gamelan Sekar Jaya in Berkeley.
Lisa Gold, an ethnomusicologist specializing in Balinese music, has also studied and performed Javanese gamelan for decades. Author of Music in Bali, she has taught at U.C. Berkeley, the San Francisco Conservatory of Music, Colorado College and San Jose State University. While teaching gamelan at Mills College she directed a concert of Lou Harrison compositions in honor of the composer's 80th birthday. She performs in numerous other gamelan ensembles, including Gamelan Sekar Jaya, Shadowlight Productions, and Gadung Kasturi.
Heni Savitri is a leading young Javanese singer and recent graduate of the Indonesian Arts Academy in Central Java.