Joshua Gersen, conductor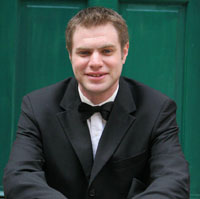 Joshua David (J.D.) Gersen, winner of the prestigious 2011 Aspen Conducting Prize, as well as the 2010 Robert J. Harth Conducting Prize from the Aspen Music Festival, made his conducting debut at age 11 with the Greater Bridgeport Youth Orchestra in Bridgeport, CT, and his professional conducting debut 5 years later, when he led the Greater Bridgeport Symphony in a performance of his own composition, A Symphonic Movement.  He is currently the John S. and James L. Knight Foundation Conducting Fellow of the New World Symphony, where he serves as the assistant conductor to the symphonys Artistic Director Michael Tilson Thomas, and also leads the orchestra in various subscription, education, and family concerts.  He has also recently been appointed the next Music Director of the New York Youth Symphony, a post he will begin in the fall of 2012.  J.D. is a graduate from the Curtis Institute of Music in Philadelphia, where he studied conducting with the esteemed Otto-Werner Mueller.
While at Curtis, he conducted numerous performances, rehearsals, and sectionals with various ensembles including the Curtis Symphony Orchestra and the 20/21 contemporary ensemble, assisted on several opera productions, premiered multiple works by student composers, and participated in master classes with internationally renowned conductors including Christoph Eschenbach, Alan Gilbert, and Simon Rattle.  He has covered and assisted for many orchestras including the St. Louis Symphony and the Harrisburg Symphony.
For several years Mr. Gersen studied music theory, composition, and conducting with the Greater Bridgeport Youth Orchestras Music Director Robert Genualdi.  In 1999, at the age of 15, J.D. was invited to study with internationally renowned teacher Gustav Meier, with whom he would study with for the next 6 years.  In addition to regularly attending Mr. Meiers seminar at the Peabody Conservatory of Music, J.D. has also attended numerous conducting workshops and summer festivals, most recently the American Academy of Conducting at the Aspen Music Festival in the summer of 2010 and 2011, where he worked such distinguished conductors as Larry Rachleff, Hugh Wolff, and Robert Spano.  As a result of winning the 2011 Aspen Conducting Prize, he will serve as the festivals assistant conductor for the 2012 summer season.
Beyond his conducting interests, J.D. is also an avid composer.  Both his String Quartet #1 and Fantasy for Chamber Orchestra have been premiered in New England Conservatorys celebrated Jordan Hall.  He has had works performed by the New Mexico Symphony, Greater Bridgeport Symphony, and frequently with the GBYO.  He has recently been commissioned again by the Greater Bridgeport Symphony to write an orchestral work for a gala concert in May of 2012 in honor of Gustav Meiers 40th season as Music Director of the orchestra.  In 2006, J.D. finished his work at the New England Conservatory in Boston, where he received his Bachelor of Music degree in composition studying with Michael Gandolfi.  His work as a composer has also led to an interest in conducting contemporary music.  He has conducted several world premieres of new works, and collaborated with such established composers as Jennifer Higdon and his teacher Michael Gandolfi.