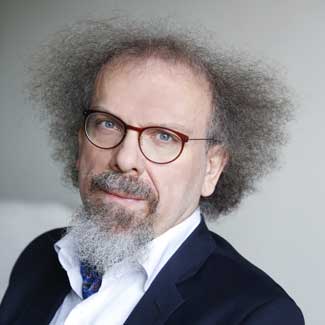 Jean-Baptiste Barrière was born in Paris in 1958. He has studied music, art history, philosophy, and mathematical logic. He made a career at IRCAM/Centre Georges Pompidou in Paris, where he started as a researcher in 1981, before becoming a director of musical research, education, and finally production. In 1998, he left IRCAM to concentrate on his own composition and multimedia projects.
His computer piece Chréode (1983) won the Prix de la Musique Numérique of the Concours International de Musique Electro-acoustique of Bourges in 1983. He composed the music for 100 Objects to Represent the World, a show by Peter Greenaway that was presented at the Salzburg Festival in 1997 and performed around the world.
Since 1996, Barrière has composed the music for several virtual reality pieces by Maurice Benayoun, including Worldskin (1997), which won the Ars Electronica Interactive Art Prize in 1998; The Tunnel Paris-New Delhi (1998), presented at Cité des Sciences in Paris and in India; Crossing Talks (1999) for the Intercommunication Center of NTT in Tokyo; Art Impact (2000) at the Pompidou Center in Paris; Labylogue with Jean-Pierre Balpe for the automatic generation of the text, which played in Brussels, Dakar, and Lyon; SoSoSo (2002) at the ZKM of Karlsruhe; and Cosmopolis (2005), which was performed in Shanghai and toured throughout China.
He conceived and directed the production of the CD-ROM Prisma: The Musical Universe of Kaija Saariaho, which won the Grand Prix Multimédia Charles Cros 2000. Barrière regularly produces "visual concerts" for Saariaho's music, including for her opera L'Amour de loin, performed in Berlin, Paris, and Tokyo.
Barrière has also produced Autoportrait in Motion, a sound and image interactive installation that was commissioned by the Contemporary Art Museum of Zurich and premiered in January 1998. The piece has since been presented in various museums around the world and is part of Reality Checks, a cycle that he has continued to develop since then.
He has directed visuals for concert versions of operas such as Olivier Messiaen's Saint François d'Assise with Kent Nagano and Orchestre Symphonique de Montréal (which won the 24th Grand Prix du Conseil des arts of Montréal), and with Myung-whun Chung and Orchestre Philharmonique de Radio-France in 2008, and Alban Berg's Wozzeck with Esa-Pekka Salonen and the Philharmonia of London in 2009.
Recent and forthcoming projects include Palimpsest Capriccio, a piece for violin and electronics for Jennifer Koh that premiered at National Sawdust in New York in May; the video design for a portrait concert dedicated to Saariaho's music with the New York Philharmonic conducted by Esa-Pekka Salonen at Park Avenue Armory in New York in October; and Sensation/Eternity, a multimedia piece for the C4 Choir Ensemble, on two poems by Arthur Rimbaud, to be premiered in November 2016, also in New York.
In fall 2016 Barrière will start an artist residency at the New School in New York to realize a large interdisciplinary project involving several departments of the university.