Maria Schneider and Dawn Upshaw at Carnegie in May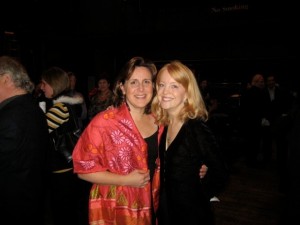 Maria Schneider's music has been hailed by critics as "evocative, majestic, magical, heart-stoppingly gorgeous, and beyond categorization." For the past 20 years Schneider has written primarily for her own jazz orchestra, yet during those years she was pushing boundaries, augmenting the standard 17-piece band with an accordion here, or flamenco cajon there, mixing in Brazilian rhythms and birdcalls with her Midwest sensibilities. In recent years she has definitively embraced more classical forms and orchestras, blending unique sounds in her own recordings that include commissions from Peter Sellars and Vienna's Mozart Festival, the Los Angeles Philharmonic Association and the American Dance Festival.
Now Carnegie Hall will host the New York premiere of "Carlos Drummond de Andrade Stories" with Maria conducting Dawn Upshaw and the Saint Paul Chamber Orchestra on May 13, 2011.  It was three years ago that Upshaw, then artistic partner with the Saint Paul Chamber Orchestra, first brought forth the idea to have the orchestra commission Maria to write a work for voice and orchestra.  Maria chose poetry by Brazilian poet, Carlos Drummond de Andrade Carlos, with English translations by Pulitzer prize-winning poet, Mark Strand.
The world premiere took place in October 2008 at the Ordway Theater in Saint Paul and was very well received.  William Randall Beard of the Minneapolis Star Tribune wrote this about Maria's first foray into conducting and writing for voice accompanied by a full orchestra:
"Schneider, well known as a jazz arranger and bandleader, proved to be a compelling musical storyteller at home in the orchestral idiom. … She wisely chose to set the poems of Brazilian poet Carlos Drummond de Andrade. They were rich in imagery and emotion, but spare enough to be enhanced by music. Whether depicting loss (in 'The Dead in Frock Coats') or bucolic nostalgia (in 'Souvenir of the Ancient World') she employed a panoply of styles, from jazz and pop to traditional art song and Brazilian flavors, to bring the words to life."
When pressed to define her music as jazz or classical, Maria says that while the improvisational aspects of her work come from jazz, her formal development comes more from the classical world. "I'm often trying to evoke images and take the listener on a trip.  Basically, I would say this: I'm a storyteller—in life that's true, and in music too.  I grew up playing and studying music of many different kinds simultaneously, and I can't find a line that delineates jazz or classical parts of my expression.  To me it's all simply music."
How sweet is this photo?