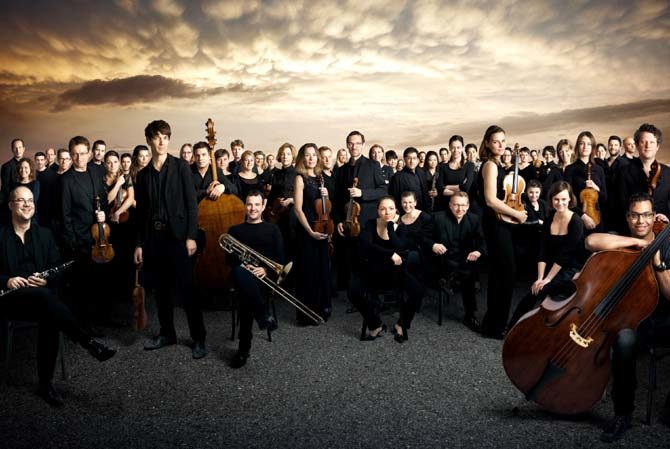 On a recent visit to Berlin, Musicologist Christopher Hailey visited the offices of the Mahler Chamber Orchestra. Below, he recounts his conversation with Annette zu Castell, first violinist and founding member; Maggie Coe, Director of Artistic Planning; and Elaine Yeung, Communications Manager.
*
Berlin is perhaps Europe's most resolutely international city, a magnet for enterprising and innovative spirits drawn to its bracing climate and to the forthright, sharp-witted character of its populace. It is therefore no surprise that this bustling city is the headquarters of the Mahler Chamber Orchestra, one of the finest, most innovative ensembles performing today. But Berlin is a home base rather than a home, because this orchestra – which describes itself as a "nomadic collective" – is a movable feast. It was founded in 1997 by members of the Gustav Mahler Youth Orchestra, who wanted to continue to make music together after reaching that orchestra's age limit. Annette Castell remembers, "Our goal was to maintain that level of excitement, discovery and excellence we had experienced in the Youth Orchestra under Claudio Abbado" (who remained a valued collaborator and made the MCO the core of his Lucerne Festival Orchestra).
Today the MCO has roughly 45 members from 20 countries who join each other for concerts in a variety of international cities each year. "Creative collaboration lies at the heart of our philosophy and activities," Annette continues. "That includes finding the right partners,"
Maggie interjects, "Partners – conductors, soloists, presenters – who share the orchestra's values and enthusiasm."
"We don't rehearse in Berlin," Annette continues, "unless we're performing here. Rather we meet at each venue, generally for two days of rehearsals followed by concerts on tour."
The orchestra's repertory is broad, from the classical canon to world premieres, chamber and orchestral fare to opera. So what is the defining characteristic of the orchestra, of its sound, I ask? And like a shot Annette answers: "Our flexibility! And by that I mean: a responsiveness that grows out of the capacity to work together as a chamber ensemble, to be aware of what everyone else is doing."
"Not to mention the constant need to adjust to different venues, to a variety of acoustic spaces," Maggie adds, "this gives the MCO its distinctive personality."
Annette again: "It was Claudio Abbado who stressed this kind of flexibility, of listening actively and taking individual responsibility."
To this day, Abbado's philosophy is still very present in the MCO's music making: it frequently performs conductor-less concerts, often in programs combining orchestral repertory with chamber music. Some of the orchestra's major projects have also been play/direct programs, featuring the soloist leading from his/her instrument. When the orchestra once found itself without a conductor for a performance of Beethoven's Seventh Symphony, it was precisely this spirit that led the musicians to perform the piece on their own, under the leadership of their concertmaster and without a conductor.
Rising to new challenges is part of the orchestra's DNA, what keeps it vibrant. That includes developing close working relationships with, among others, several former Ojai Music Directors: Daniel Harding (1997) was the group's Music Director for many years before becoming its Conductor Laureate and Mitsuko Uchida (1998) is one of the orchestra's current artistic partners.
Annette explains, "The idea of having multi-year artistic partners began with our work with [2012 Ojai Music Director] Leif Ove Andsnes. We did a project called Beethoven Journey, involving recordings and performances of all five piano concertos and were surprised, devoting four years to the concertos, to see the way we and Leif Ove evolved, developed together – it was always fascinating to the end. She adds, "CDs and DVDs are important documents of our work, but the live musical experience is the most important."
Maggie now: "One outgrowth of the Beethoven Journey was working with deaf and hearing-impaired students through Feel the Music, to introduce them to the world of music to demonstrate other ways in which communication functions apart from hearing."
"It relates to the fact that Beethoven himself also lost his hearing Annette points out, "and it shows how musical communication also happens on the visual, visceral and emotional level."
Elaine adds, "MCO musicians are also keen to share their experience with the next generation of musicians, especially through the MCO Academy – this initiative encompasses coaching, mentoring sessions, workshops and an annual orchestra project involving students from partner institutions from five countries."
"The MCO's current collaboration with Patricia Kopatchinskaja grew out of initial encounters which we really enjoyed," Maggie recalls. "We only enter into long-term partnerships when we've worked with an artist and found a special connection. The chemistry has to be right."
The chemistry was obviously right with Patricia who in 2016 invited the orchestra to join her in Hamburg for a project she called Bye Bye Beethoven (which we'll hear this year in Ojai). "Patricia was questioning the whole nature of the concert experience," Annette recalls, "and that was the kind of thinking we enjoy. We share the need to feel challenged, to really learn something new from each project, to engage in artistic dialogue."
The MCO is a self-sustaining, resolutely democratic organization governed collectively by its five-member orchestra board and the Berlin-based management team. "It's a real community," Elaine insists. "The Members are involved in a variety of tasks in addition to music making: from programming to talking to sponsors and doing interviews to photo and video documentation, and all the players are involved in key decisions." This included, of course, the decision to participate in this year's Ojai Festival, with its follow-up concerts in Berkeley and Aldeburgh.
Once that decision was set, Maggie and violist Delphine Tissot were dispatched to the 2017 Ojai Festival to scout the venue and the audience, reporting back to the orchestra during their summer residency in Lucerne. "What we found," Maggie says, "was the perfect match for our kind of music making. An idyllic venue, a very attentive, interested, and welcoming audience, and an openness to new experiences."
There will be challenges, of course: performing outdoors, in and around the Ojai Valley, tackling an extraordinary range of repertory (about half of it new, including world premieres), and the concentrated intensity of so many concerts, for both the orchestra and individual players, over a nearly month-long period. "But challenges such as these," Annette insists, "brought us together in the first place and keep our music making fresh and alive."
"And in 2018," Maggie continues, "we celebrate our 21st year."
Elaine adds: "In this vein, we are constantly asking ourselves: what does it mean to be an orchestra of the 21st century? How do we stay relevant and connected to each other? What are our responsibilities, and what do we want to achieve?"
"So the orchestra will celebrate, as is only appropriate, by doing something it has never done before," concludes Annette – "though without me! My husband [American first violinist Tim Summers] gets to go but our son is still in school and I'll be here in Berlin."
So those bright-eyed youth orchestra members of 1997 now have families of their own, but they have lost none of their youthful passion for the musical exploration that brought them together – a passion that now brings them to Ojai.
For more on the Mahler Chamber Orchestra, its members and its activities, visit their witty, informative – (and award-winning) – website: http://www.mahlerchamber.com