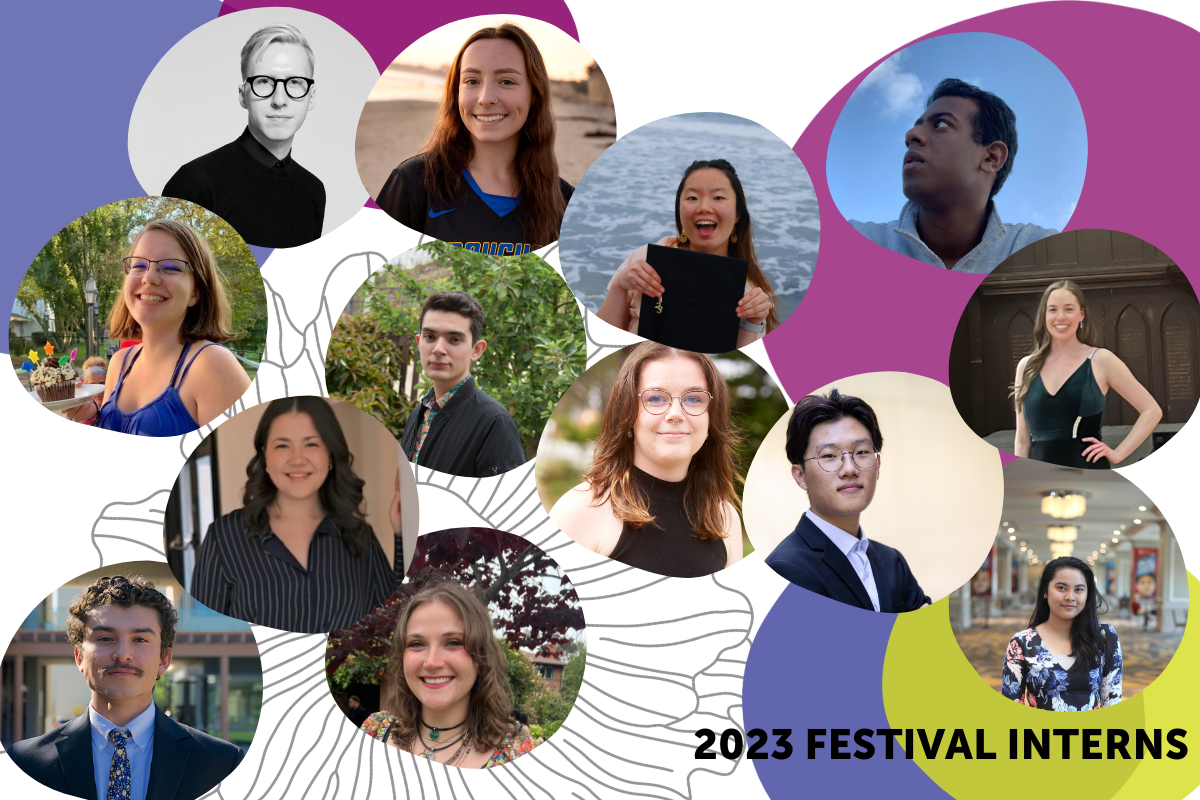 We are excited to share our stellar team of interns with you. These students represent the next generation of musicians and arts administrators. The Festival depends on them for critical support in a variety of management areas including production, stage management, front of house, operations, box office, marketing, and more. Our impressive roster of interns is ready to bring their passion and experience to the Ojai Music Festival team and make the 77th Ojai Music Festival a year to remember.
Hitesh Benny
Hitesh Benny is a student transferring to the University of California, San Diego to study Music and Economics. He is the Front of House Intern at this year's Festival. Over the past two years, Hitesh has attained associate degrees in Music and Economics from Moorpark College. He has been a part of various ensembles including the Moorpark College Concert Choir, Symphony Orchestra, and the Come Together Ensemble. In the choir, he served as a student conductor, leading them in their Fall and Winter concerts. In the Symphony Orchestra, he also served as the percussion section leader and had transcriptions performed and recorded by the ensemble. Through the Come Together Ensemble, he premiered his compositions. Hitesh was fortunate to have been mentored by Richard Danielpour, the head of composition at UCLA. Hitesh has a steadfast dedication to helping small businesses in his community. Through these experiences, he earned various entrepreneurial and managerial lessons. He also remains committed to the musical community by serving as a volunteer at the Hear Now Festival, the Music Academy of the West Summer Festival, and the Ojai Music Festival.
Elizabeth (Liz) Callahan is a violinist who grew up in Ventura, California and began playing violin at the age of 10 at a children's string ensemble at her church. Elizabeth has played violin in numerous ensembles including the Ojai Youth Symphony, Ventura High School Honors String Orchestra, and the Westmont College Orchestra. She thoroughly enjoyed the opportunity to perform during the orchestra tour to Austria and Prague as Principal violinist and as a selected soloist. Elizabeth is so grateful to have studied classical violin with fantastic faculty members including Dr. Han Soo Kim and Professor Isaac Kay, and traditional Irish violin technique with Grammy- and Emmy- nominated Celtic violinist, Máiréad Nesbitt. Elizabeth has participated in Westmont College Choir and she has had the opportunity to be an Assistant Conductor for the College Choir and the Santa Barbara Youth Symphony while studying conducting with Dr. Daniel Gee. She has been actively involved in music education in Santa Barbara while being Personnel Manager for the Santa Barbara Youth Symphony. Elizabeth will graduate from Westmont College in May 2023 with a Bachelor of Music Education and will continue to pursue a career in music education.
Eliana Choi is a recent 2023 Westmont College graduate who majored in psychology and minored in kinesiology and music. She utilized her minor in music to become on of the box office interns again at the Ojai Music Festival. Eliana is back in the Ojai intern family because she had a fabulous time with the staff, performers, volunteers, and interns last year (#RunningAMOC2022). Eliana specifically cherished working on Festival mobile app and updating the Festival website while at the box office. In her free time, Eliana enjoys playing video games, working out, and practicing her acoustic guitar and violin. She will pursue a doctoral degree in occupational therapy at Keck Graduate Institute in late August. Eliana is open to answering any questions and hopes that everyone will enjoy their time at the Festival!
Mia Condon has worked as a Stage Manager for the past four years. Throughout her experience, she has sought out positions that allow her to experience new genres of live entertainment and learn new strategies which she can utilize in future endeavors. She has a background in vocal and instrumental music in multiple genres and has a deep love for music, especially that which has a connection to things greater than and deeper than the individuals creating it. She Is incredibly excited to have the opportunity to experience Ojai for the first time and looks forward to engaging with everyone involved! Currently, Mia attends CalArts in Santa Clarita, CA.
William Jae is a composer and pianist raised in Los Angeles, California. William's music can be described as both chaotic and sublime. His openness to learn new kinds of music allowed him to push the limits of what he can do with his own music. Between 2019 to 2020, he was a fellow at the Nancy and Barry Sanders Composer Fellowship Program, where he studied with renowned composers such as Andrew Norman, Sarah Gibson, and Thomas Kotcheff. It was during this time that he first experienced the world of contemporary classical music. In 2019, his string trio composition, "Alabaster Wool", premiered at the Walt Disney Concert Hall and was performed by members of the Lyris Quartet. When the COVID-19 pandemic began in 2020, he received the Jack Kent Cooke Young Artists Award and made an appearance at Blanket Fort 2 hosted by Peter Dugan at From The Top. He was also the semi-finalist in the 2020 ASCAP Morton Gould Young Composers Award that same year. William is currently a junior at the Eastman School of Music pursuing a dual degree in music composition and psychology at the University of Rochester. Outside of the classroom, he is the artistic director of the Eastman Chamber Orchestra. During his free time, William enjoys spending time with his friends and colleagues as well as exploring various film and video game genres.
Sophie Little is currently pursuing a BA in Theater Technology and a minor in Music Technology at Chapman University, strongly focusing on sound engineering and theater design. Furthering this passion, she hopes to apply her knowledge and love for music by designing and assisting with sound for music festivals and concerts in the future. In the past, Sophie has been involved in countless productions throughout high school and college, most notably being her involvement with various music festivals in her home state of Michigan. Most recently, Sophie worked as the Sound Engineer and Designer for Chapman's student-run production of It Shoulda Been You by Brian Hargrove. Sophie is very excited to join the Ojai Music Festival team as a sound intern and continue growing her love and knowledge of sound.
Niav Maher is a virtuosic soloist spanning several musical genres, combining personal sensitivity with insightful interpretation. She has been the recipient of many scholarships throughout her career at the Longy School of Music, New England Conservatory Prep, and Manhattan School of Music. Niav received the Michael B. Packer Scholarship of Excellence in Piano Studies at the Longy School of Music. From 2012-2019, Niav studied with Jonathan Bass at the New England Conservatory Preparatory School. In 2016, Niav was the first-prize winner of the NEC Preparatory Concerto Competition playing the Mendelssohn Concerto No.1 and went on to perform in Jordan Hall with the NEC YSO. She has participated on scholarship in NEC Prep tours through Germany, Italy, and Norway as a soloist, and orchestra member. In 2019, Niav received the Seth Kimmelman Scholarship given to a NEC Prep student who combines a commitment to the piano with intellectual curiosity. She then received the Piano Department award upon graduation.
Most recently, Niav was a winner of the Lillian Fuchs Chamber Music Competition at Manhattan School of Music. Niav holds a Bachelor of Music Degree in Classical Piano Performance from Manhattan School of Music where she studied with Daniel Epstein on the Glen K. Twiford Piano Department Scholarship. At the recommendation of the faculty, the Provost of MSM selected Niav as the recipient of the Helen Cohn Award, which is given upon graduation to a pianist in recognition of outstanding work in chamber music. Niav will begin her Master of Music Degree this fall, studying with Daniel Shapiro at the Cleveland Institute of Music.
Meet Diego Martinez, a talented musician, and audio engineer based in Chula Vista, California. Currently pursuing a Bachelor's degree in music technology, Diego is dedicated to building a career in music composition and audio engineering. His coursework has given him a deep understanding of the technical aspects of music production, from recording and mixing to mastering and post-production. He is eager to apply his knowledge to real-world scenarios and is excited to learn from experienced professionals in the industry. As an accomplished artist, Diego has released several singles, collaborations, and three albums under his stage name, P-Wave. His hard work has paid off, as two of his albums have even received physical cassette releases – one independently, and the most recent under the popular indie music label, Stratford Ct.
Diego's dedication to mastering his craft is evident in his constant pursuit of knowledge. He is always on the lookout for opportunities to learn and grow, attending conferences and workshops and seeking out mentorship from industry experts. In addition to his musical talents, Diego has honed his communication and networking skills, which have proven invaluable in his career. With his exceptional talent, dedication, and drive, Diego is sure to make significant contributions to any organization he is a part of, including the Ojai Music Festival sound department.
Mariah Divianne Musni is an undergraduate student pursuing Interdisciplinary Computing for the Arts and Music (ICAM) at the University of California, San Diego. Moving from the Philippines to the United States at 16, she sought new opportunities and personal growth. At UCSD, she combines her love for technology and artistic expression. This program allows Mariah to explore the convergence of computation, art, and music, pushing the boundaries of creativity and innovation. Through immersive coursework, she develops technical skills while nurturing her artistic sensibilities to create transformative experiences. As a novice audio intern at KSDT, the campus radio station, Mariah gained valuable hands-on experience in setting up audio equipment for live events, ensuring seamless sound quality.
Mariah's passion for the arts originated in the Philippines, where she actively participated in dance and choir competitions. These experiences honed her creativity, discipline, and admiration for the performing arts.With a diverse background, unwavering determination, and a passion for innovation, Mariah aims to make a profound impact in ICAM, Speculative Design, and beyond. Mariah is committed to shaping the future of interdisciplinary creativity, pushing the boundaries of what is possible.
As a Junior at the University of California Los Angeles, Dani Nollenberger is currently pursuing a major in Music History and Industry Studies. Passionate about music, Dani has a deep interest in both performing and writing music. In addition to their musical pursuits, Dani is also dedicated to bringing excellent live music experiences to others and sharing the joy of music with those around them. With an unwavering commitment to the world of music, Dani has refined her skills and is working towards a career in the music industry. Dani plans to apply her knowledge and passion to make a meaningful impact in the world of music and her community.
Margaret Rodenburg is a flutist and 2023 Bachelor of Music major graduating with Highest Honors from the University of California, Santa Barbara where she studied Flute Performance with Jill Felber. A native of Seattle WA, Margaret began playing flute at age 9, and has since found immense joy in the musical ensembles and communities throughout her life, including the Seattle Rock Orchestra, Seattle All-City Marching Band, Seattle Collaborative Orchestra, UCSB Wind Ensemble, UCSB Flute Choir, and UCSB Chamber program. While her musical journey began as an instrumentalist, Margaret has both volunteered in and taught private flute lessons to beginners in the greater Seattle and Santa Barbara areas and has worked in a variety of administrative positions in the UCSB Music Department. Throughout her time in undergrad, Margaret has recognized that her passion for playing music will continue to be bolstered by community ensembles and individual experimentation and that her desire for a long-term role in the live music industry is actually one backstage—she hopes to soon enter the industry in a managerial, administrative or organizational capacity.
Baritone and Arts Administration leader, Kevin Spooner, is pursuing a Master of Music in Vocal Performance at the A.J. Fletcher Opera Institute of the University of North Carolina School of the Arts. Kevin received his Bachelor of Music in Vocal Performance from the Eastman School of Music and has performed a diverse breadth of roles in the operatic repertoire ranging from Mozart to Sondheim. During his time at Eastman, Kevin worked as an Admissions Ambassador, where he was responsible for guiding musicians and their families during their visit to ensure a comfortable and rewarding time at Eastman.
Passionate about non-profit organizations and presenting recitals, in 2018 Kevin organized and produced a recital featuring local musicians and himself to raise money for The Great Swamp Conservancy in Canastota, NY. Kevin is also performing a recital entitled Songs and Arias of Love the week before the Ojai Music Festival in his hometown of Oneida, NY.
During the 2022/2023 season, Kevin made his professional debut as Marchese D'Obigny in Verdi's La Traviata with Piedmont Opera. Kevin also performed the role of Rodomonte in Joseph Haydn's Orlando Paladino with the A.J. Fletcher Opera Institute in February. Last summer, Kevin performed the role of Schaunard in Puccini's La Bohème with Opera Steamboat and performed the role of Paul's Father in Gregory Spears' Paul's Case with the Ad Astra Music Festival. Outside of the arts, Kevin enjoys running, tennis, golf, and reading Stephen King novels.
As a pianist, producer, and composer, Mateo Thacher is pursuing a dual degree in Economics and Music at Claremont McKenna College. Throughout college and high school, he has engaged in a number of musical interests including music production and live performances. A member of the Pomona College Choir, Mateo is working on an arrangement for his second original fashion show soundtrack. In the winter of 2018, he began making music with his hometown friend here in Ojai, California and continues to publish music under the name Krandank, which is accessible on all streaming platforms.
Aside from his creative endeavors, Mateo manages a team of student research analysts at the Roberts Environmental Center. We focus on consulting and providing research analytics for clients across all fields of sustainability and environmental education. He hopes to continue his interest in music, economics, and the environment in his career, seeking a life that blends his many passions. In his spare time, Mateo loves to surf, climb, work out, skate, and get together with friends and family.
Landon Wilson is a pianist and arts administrator based in New York City. He is the Artistic Associate of AMOC* (American Modern Opera Company) and studies at Manhattan School of Music as an undergraduate President's Award recipient. Landon's interests in creating interdisciplinary and socially-confrontational work have led him to develop THE RASA PROJECT, an artificially intelligent, generative piece responding to the climate crisis through music by John Cage, Reena Esmail, and inti figgis-vizueta. Uniting a creative team of musicians, software engineers, neuroscientists, and visual artists from Manhattan School of Music, Columbia University, Royal College of Art (London), and Tsinghua University (Beijing), THE RASA PROJECT will premiere in October 2023 at National Sawdust as part of their 2023-24 Emerging Artists Series.
With AMOC*, Landon has worked with venues such as The Cathedral of St. John the Divine, The 92nd Street Y, The Clark Art Institute, Tina Kim Gallery, and Baryshnikov Arts Center. In the 2022-23 season, he produced an 'Up Close' collaboration between AMOC* and Ensemble Connect at Carnegie Hall featuring the quiescent, evocative work of the Wandelweiser Collective.
Residing at International House New York, Landon received the Thea Petscheck Iervolino Foundation Award and is developing a lecture panel with Peter Sellars about finding hope for the future in a post-pandemic world. He returns to the Ojai Festival as the 2023 Steven Rothenberg Production Fellow after interning in Public Relations and Marketing last summer.