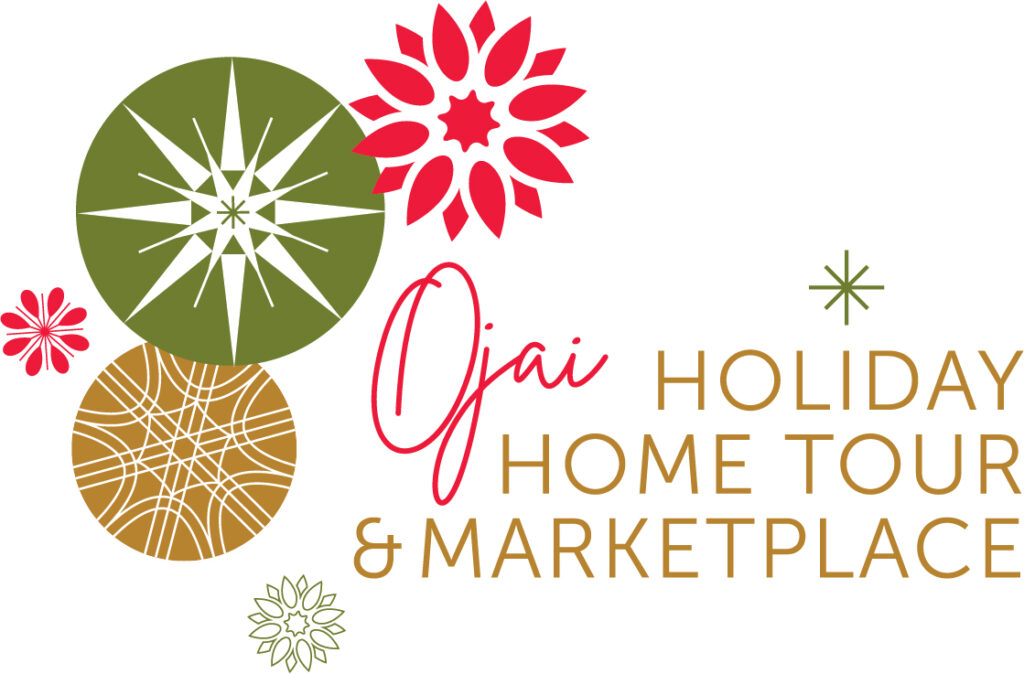 UPDATE: AS OF 11.11.23 ALL SALES FOR HOLIDAY HOME TOUR HAVE CLOSED.
PRE-PURCHASED TICKETS ARE STILL AVAILABLE FOR PICKUP AT THE BOX OFFICE IN LIBBEY PARK
The Ojai Festival Women's Committee invites you to celebrate the holidays at the Ojai Holiday Home Tour & Marketplace, on November 11 and 12.
The Ojai Holiday Home Tour and Marketplace is a benefit for the Ojai Music Festival and its BRAVO Music Education & Community Programs. By supporting this treasured tradition, you ensure that the Festival continues providing free music education in Ojai public elementary schools and presenting the internationally renowned 78th Festival, June 6-9, 2024.
Marketplace
Hours: 10am to 4:30pm daily
The companion event to the home tour, the Ojai Holiday Marketplace, helps kick off the holidays in Ojai's Libbey Park with 50-plus vendors and artisans to complete the gift-giving season, from fashion and accessories to home and lifestyle items. In addition to shopping get into the holiday spirit with activities for children and parents. The Marketplace is free and open to the public.
A portion of all proceeds from every vendor at the Marketplace go towards the Ojai Festival and its BRAVO Education and Community Programs.
Tour the Homes
Hours: 10am to 4pm daily
Enjoy the experience of walking through the homes, admiring styling, artwork, and holiday decor. We enthusiastically present homes to represent the exceptional and varied architecture and lifestyles of Ojai. From an elegant 1920s-era George Washington Smith home, a beautifully updated and sophisticated home on a beautiful property, to a quaint home with peaceful views and a charming downtown cottage, we know you will be excited with this year's selections. Check out this year's four homes!
Home photos courtesy of Logan Hall.
SMILEY'S HOUSE
Two world class architects contribute to the design of one amazing home, and the result is stunning. Edward Drummond Libbey originally commissioned George Washington Smith to design this Arbolada spec house in 1921. Kevin Clark bought it for his dream home nearly a century later, completely renovating and re-envisioning the original house, nearly doubling the footprint. The result is this breathtaking Spanish Colonial Revival masterpiece, with the traditional red tile roofs atop thick white walls, fireplaces, wrought iron embellishments, courtyards, patios, and balconies, all combining to transport the visitor to long-ago rural Spain. The current owners felt little need for further remodeling and have curated the perfect decor to complement the design, working with interior designer Annica Howard. This decision to embrace the former owner's stylistic elements gave Howard the artistic freedom to take a more playful and creative approach, rather than feeling confined to strict guidelines. The result is a home that weaves a tapestry of history, individuality, and the enchanting character of the location into a cohesive and lively living space Come enjoy an encounter the elegance and beauty!
Holiday Decor by Elizabeth Cohn of Forage Ojai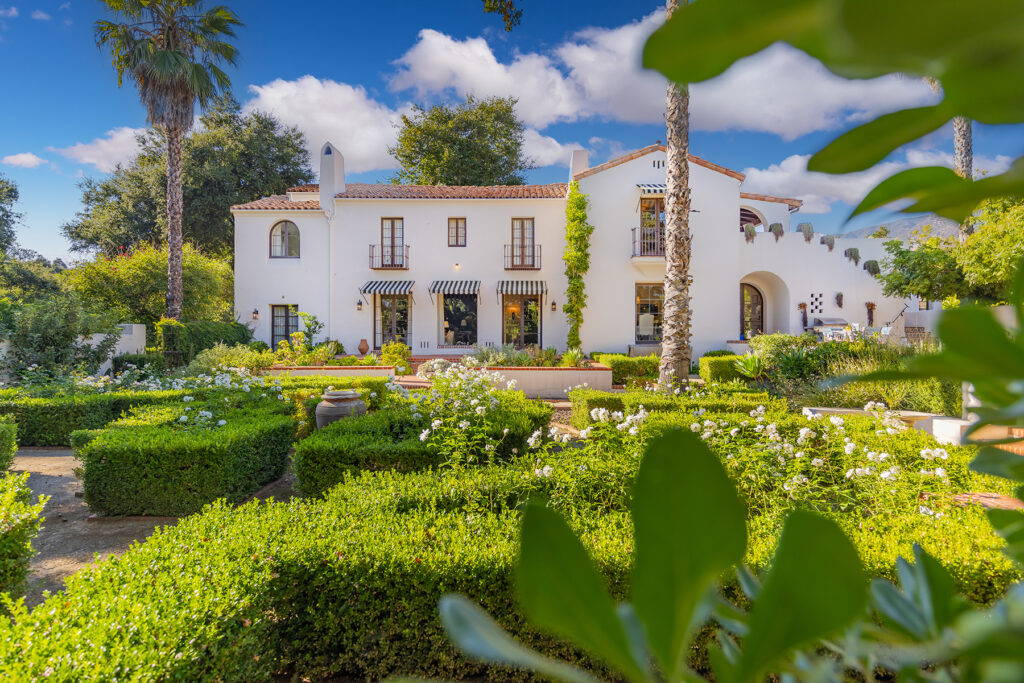 ---
GWYNNE COTTAGE
As you enter through the rustic gate from the street, into a flower and fruit-filled garden, up to the front door, you know you are in for an extraordinary visit to the past. Gwynne Cottage, built in 1920, exudes an aura of gentility, history, and a loving attention to detail. The owner's storied life is on full display throughout this charming home. Outside in the backyard, one is guided to a newly restored guest house that is so complete in its comfort and charm, it would be difficult for any guest to want to leave. If ever one wanted to visit a gentler time, visiting this cottage is a way to start.
Holiday Floral Decor by Annie Mosites of Free Range Interior Design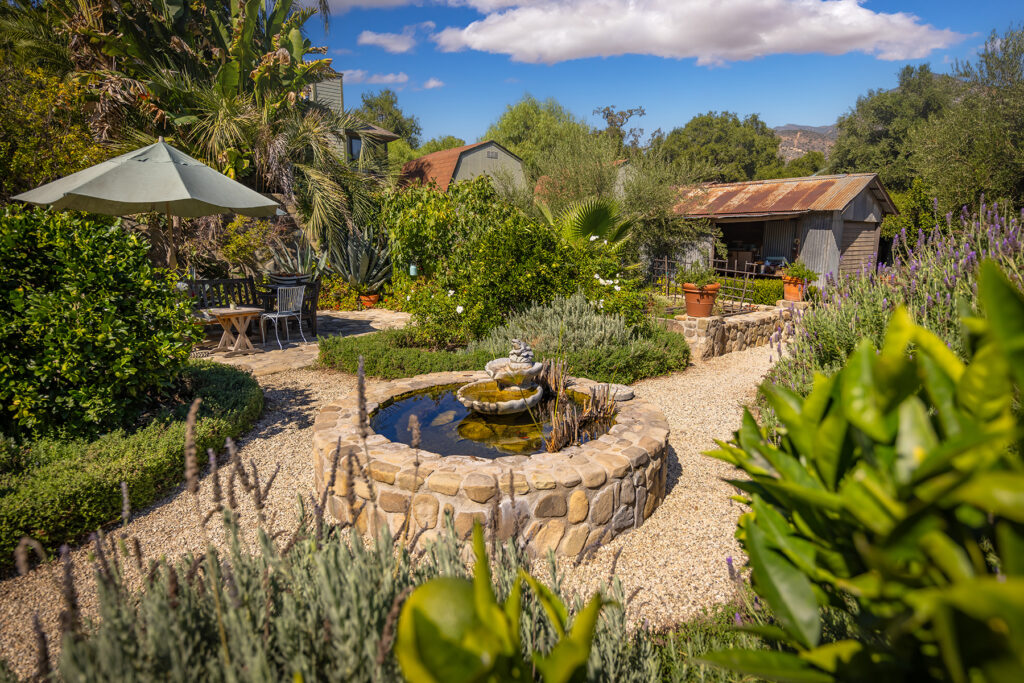 ---
MAISON OJAI
Maison Ojai is an homage to past idylls near Aix En Provence. A cottage exterior belies a contemporary home that harmonizes with abundant natural views over a private valley. Within, find a gallery of 60's and 70's period art collected from France. Roam the garden and "the Folly" near a whirling windmill and horse arena. Discover a guest cottage with pool and a shady park embraced by hedges. Wander the field ringed with mountain views. Whether waking to lacy early morning fog rising over San Antonio Creek, a luminous full moon peeking over Black Mountain or toasting Topa Topas's Pink Moment, there is cause for celebration every day at Maison Ojai.
Holiday Interior Decor by Kim Barnes; Floral Decor by Lynn Malone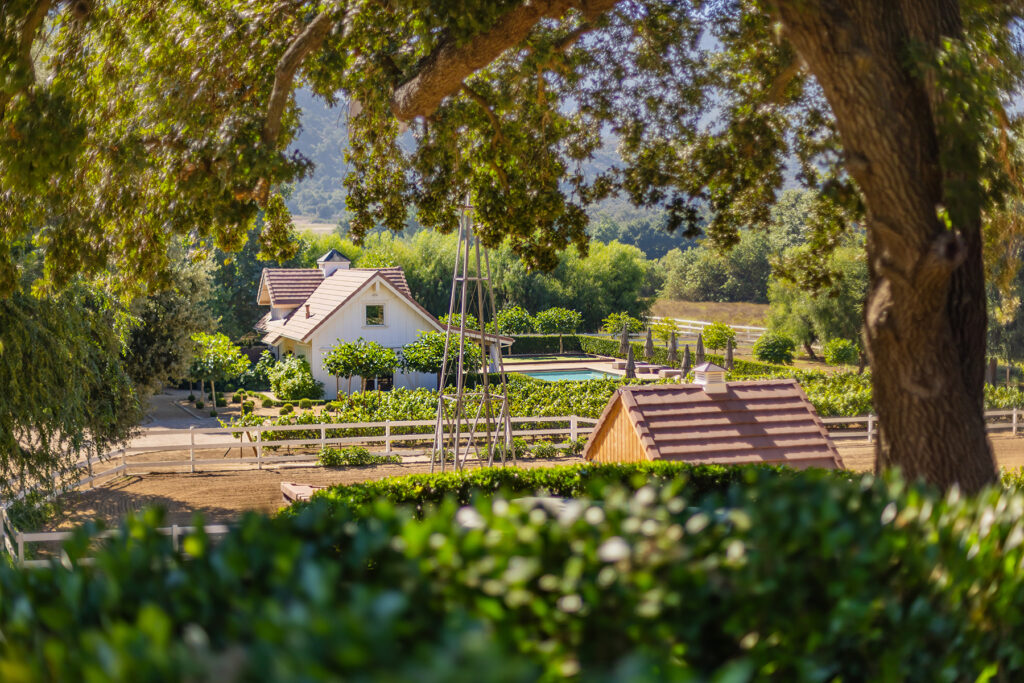 ---
OAK CREEK OASIS
Truly nestled in the very heart of the Ojai "nest," the mountains all around create a gorgeous display of nature's beauty on all sides of this welcoming and warm downtown home. With its recently streamlined floor plan to reduce the owners' carbon footprint, Oak Creek Oasis boasts a lovingly curated eclectic art collection with each space adorned with treasures discovered by the owners. The newly remodeled all-electric kitchen is a dream as well as the well-thought new master bathroom suite. Walk outside and enjoy the landscape of a terraced garden with colorful drought-tolerant bushes that delight the eye. It's a little slice of paradise!
Holiday Decor by Lila Glasoe Francese of OHI HOME