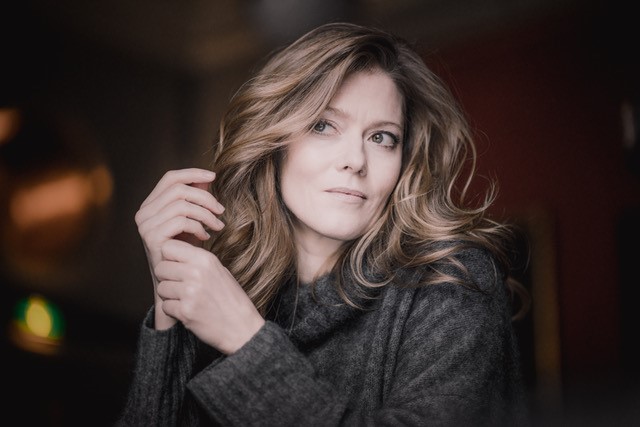 The Festival will look back in tribute to composers with deep historical relationships to Ojai – Igor Stravinsky, Aaron Copland, Arnold Schoenberg, and Olivier Messiaen – and will look forward to major voices of our time, including Gerard Grisey, Marc Anthony Turnage, and John Zorn.
Barbara as a conductor in semi-staged performance of Stravinsky's Rake's Progress (complete)
Barbara as a performer singing in Gerard Grisey's Quatre Chants pour franchir le seuil conducted by Steven Schick, singing Arnold Schoenberg's String Quartet No. 2 (quartet to be announced), and singing/conducting George Gershwin's selections from Girl Crazy
Barbara as a mentor with seven young singers in residence from her recently announced mentoring initiative Equilibrium
****
As the Ojai Music Festival anticipates the 72nd Festival (June 7-10, 2018) with Music Director Patricia Kopatchinskaja, the Festival's 2019 Music Director Barbara Hannigan and Artistic Director Thomas W. Morris share initial programming for the 73rd Festival, June 6-9, 2019. The 2019 Ojai Music Festival celebrates and explores the creative artistic force of Barbara Hannigan, as conductor, singer, and mentor.
"Barbara Hannigan is an inspiration for what a great artist should be. She is world renowned as a soprano, having sung at all the great opera houses and concert stages. She is a pioneer of the new, having championed the works of countless composers of our time including George Benjamin, Hans Abrahamsen, Gerald Barry, Unsuk Chin, Pierre Boulez, Gyorgy Ligeti, and Henri Dutilleux. She is a passionate conductor, known for her unique programming and interpretations. Through Equilibrium, her recently announced mentoring initiative for younger artists, she is committed to the next generation of musicians. Most importantly she is an entrepreneur, leading by example, unafraid of creating new paths, an advocate for issues of our time and space, and a supernova in the musical universe. Ojai will showcase all of those aspects of this remarkable artist next June, including the American debut of the incredible musicians' collective from Amsterdam, Ludwig, with whom Barbara has a close relationship," said Artistic Director Thomas W. Morris.

"I am buzzing with energy and excitement around the 2019 Ojai Music Festival. Together with Tom Morris, a longtime inspiration and friend, it has been a joy to imagine and explore beautiful collaborations and combinations of repertoire and musicians. As the 2019 Festival nears, these dreams are approaching reality! This Festival will be a synthesis of dark and light: chiaroscuro. The music we will present resonates deeply with me, and the dramatic storytelling is equally strong, as you'll see and hear in Stravinsky's The Rake's Progress, and other vocal works by Schoenberg, Grisey, Turnage, and Vivier. I am still pinching myself that this magical gathering exists and am thrilled to join the enormous energy that the Festival has generated for over 70 years," shared Barbara Hannigan.
During the 2019 Festival, Barbara Hannigan will conduct works by Aaron Copland, Arnold Schoenberg, Igor Stravinsky, and Claude Vivier. A highlight of her work from the podium will be Stravinsky's neoclassic opera, The Rake's Progress, a Faustian fable for our time addressing the subjects of love, laziness, and greed. Anne Truelove was one of the first operatic roles Ms. Hannigan ever sang, and the opera holds a special place in her heart. Ms. Hannigan conducts this semi-staged complete performance that features members of her Equilibrium mentoring initiative as the cast. The production, directed by Linus Fellbom, is a co-production with the Gothenberg Symphony in Sweden, the Klara Festival in Brussels, the Munich Philharmonic in Germany, plus Cal Performances and the Aldeburgh Festival.
As a singer, Ms. Hannigan will perform Gérard Grisey's haunting masterpiece, Quatre chants pour franchir le seuil, a 45-minute song cycle for soprano and 16 instruments which explores the passage from live into death. Quatre chants pour franchir le seuil, which was completed just days before Grisey's death, will be conducted by Ojai's 2015 Music Director Steven Schick. Ms. Hannigan will perform in Arnold Schoenberg's sensual String Quartet No. 2 for soprano & string quartet in F sharp minor, Op. 10. In her own arrangement with Bill Elliot of selections from George Gershwin's Girl Crazy, Ms. Hannigan will serve as both singer and conductor.
LUDWIG, the celebrated new music collective from Amsterdam, with whom Ms. Hannigan works closely and collaborated with on the recent Grammy and Juno award-winning album Crazy Girl Crazy (Alpha Classics), makes its Ojai and US premiere with the 2019 Festival.
Seven of Ms. Hannigan's Equilibrium young artists will be in residence with her in Ojai. In January 2017, Ms. Hannigan launched the Equilibrium (EQ) initiative to mentor 21 young professional musicians in the first substantial phase of their careers. EQ includes intensive workshop retreats, which focus on developing and strengthening the skills needed for sustaining a fulfilling career, as well as offering performance opportunities with Ms. Hannigan and others. EQ artists are selected from an international field of applicants for their talent, musicianship, passion, drive, curiosity, discipline, versatility, and creativity. At the 2019 Festival, these young artists will form the cast of The Rake's Progress, and will perform additional music by Igor Stravinsky, Claude Vivier, Mark Anthony Turnage, and others.
Other music to be featured during the Festival including Terry Riley's seminal "In C," receiving its second Ojai Music Festival performance and featuring 2019 Festival artists. William Walton's entertainment, Façade, a concoction for speaker and six instruments on humorous poems by Edith Sitwell, will be narrated by Barbara Hannigan and surprise guests. Music of American composer John Zorn will also be featured during the Festival.
Purchase series passes by calling our box office at 805 646 2053 or order online. Meet Barbara Hannigan at the 2018 Festival at our early series subscriber reception on June 9.