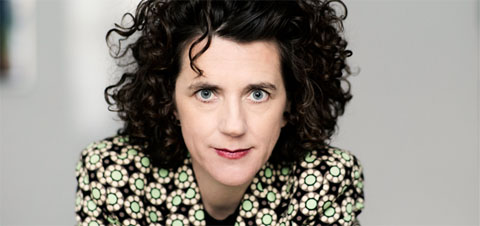 Olga Neuwirth was born in Graz, Austria, in 1968.
She studied at the Academy of Music in Vienna and the San Francisco Conservatory of Music. During her stay in the States she also attended an art college, where she studied painting and film. Her private teachers in composition included Adriana Hölszky, Tristan Murail and Luigi Nono. She first burst onto the international scene in 1991, at the age of 22, when two of her mini-operas were performed at the Wiener Festwochen. Ever since her works have been presented worldwide.
In 1998 she was featured in two portrait concerts at the Salzburg Festival within the framework of the Next Generation series. The following year, her music theatre work Bahlamms Fest, with a libretto by Elfriede Jelinek, premiered at the Wiener Festwochen and won the Ernst Krenek prize. A year later, she wrote Clinamen/Nodus for Pierre Boulez and the London Symphony Orchestra tour. In 2002 Olga was appointed composer-in–residence at the Lucerne Festival.
With Nobel Prize winning novelist Elfriede Jelinek she has created two radio plays and three operas.
Her opera Lost Highway, based on the film by David Lynch, premiered in 2003 and won a South Bank Show Award for the production presented by English National Opera at the Young Vic in 2008.
Since Olga Neuwirth was a teenager, she has also been interested in film, literature, architecture and the visual arts. Aside from composing, she also realises sound installations, art exhibitions and short films and has written several articles and a book; one of her multi-media installations was presented at the documenta 12 in Kassel in 2007.
Olga Neuwirth's works are multi-layered and multi-sensory. Some pieces also draw on the full range of effects of both electronic and orchestral instruments as well as video, which she began integrating into some of her works in the late 1980's. The listener is struck by the immediacy of her music, which is often dramatic and expressive as she is particularly interested in emotions and how they relate to the brain and memory.
Many recordings of her music have been released on the label Kairos.
In 2008 she was awarded the Heidelberg Artist Prize. In 2010, as the first woman ever in the category of music, she received the Grand Austrian State Prize as well as the Louis Spohr Prize of the City of Braunschweig
In 2012 Olga Neuwirth completed two new operas while living in NYC: The Outcast on Hermann Melville, and American Lulu, a version of Alban Berg's Lulu which was premiered in Berlin and subsequently given a new production in Bregenz, Edinburgh and London in 2013 and then in Vienna in 2014. In early 2015 she completed a film score for a silent film and a feature film by Franz/Fiala, and the orchestral work Masaot/Clocks without hands for the Vienna Philharmonic Orchestra. It was premiered in Koeln and Vienna in May and had it's US premiere in February 2016 at Carnegie Hall under the baton of Valerij Gergjev.
At the Salzburg Festival her Eleanor Suite for Bluessinger, drum-kit-player and ensemble was premiered in August 2015. Her 80 minutes electronic/space/ensemble piece Le Encantadas based on the acoustics of a venetian church received its premiere at Donaueschingen and at the Festival d'Automne à Paris with further performances in 2016 and 2017. She received the prestigious Roche Commission for the Lucerne Festival in 2016 for her percussion concerto Trurliade–Zone Zero and was composer-in-residence at the festival for the second time.
In march 2017 her 3D sound-installation in collaboration with IRCAM was inaugurated at Centre Pompidou in Paris for it's 40th anniversary.
In 2017 she has collaborated with architect Peter Zumthor and Asymptote Architects.
Beside several concerts for her 50th anniversary in 2018, Lost Highway and The Outcast can be seen in new productions. Lost Highway under the direction of Yuval Sharon and The Outcast under Netia Jones.
Her new opera Orlando premiered at the Wiener Staatsoper in 2019.