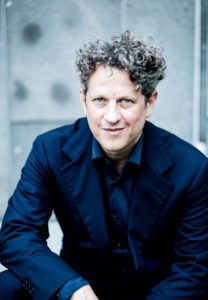 Philipp von Steinaecker's musical interests are very broad and multi-faceted. He feels equally at home in the German romantic repertoire and in the music of the Second Viennese School. He is passionate about baroque and classical music. His profound stylistic understanding for both kinds of music led him to found his own period instrument orchestra: Musica Saeculorum.
As a conductor, he recently jumped in to conduct the Swedish Radio Orchestra and Choir in Haydn's The Seasons as well as with the Slovenian Philharmonic in Ljubljana. In both cases he was immediately re-invited for concerts the following season.
Von Steinaecker is a founding member of the Mahler Chamber Orchestra, and has played principal cello with the English Baroque Soloists and the Orchestre Révolutionaire et Romantique. As a student he regularly substituted in the Vienna Philharmonic Orchestra and the Vienna State Opera. He grew up in Hamburg and studied with Harvey Shapiro at The Juilliard School in New York and with Christophe Coin at the CNSM in Paris.
While already a member of the MCO, Philipp studied conducting with Mark Stringer at the Vienna University for Music. He won the Melgaard-OAE Young Conductor's Audition, and after a year with the OAE he became the assistant of Sir John Eliot Gardiner and later of Claudio Abbado. The latter asked him on several occasions to be his replacement and to share the stage with him at the helm of his Orchestra Mozart.
He has since conducted an ever-growing number of orchestras, such as the Swedish Radio Orchestra, Orchestra Mozart (Bologna), the Slovenian Philharmonic Orchestra, Fondazione Toscanini di Parma, Orchestra del Teatro Comunale di Bologna, the New Japan Philharmonic, Camerata Salzburg, Orchestra della Toscana, Orchestra Haydn di Bolzano and the Orchestra da Camera di Mantova, whichhas led to many regular collaborations.
Philipp also conducted a critically acclaimed production of Gounod's La Colombe at the Chigiana in Siena. His future engagements will include playing with the Swedish Radio Orchestra, the Prague Philharmonia, the New Japan Philharmonic, Residentie Orkest in den Haag, Orchestra dell'Arena di Verona, the Slovenian Philharmonic. He will also appear with Musica Saeculorum at the Aix-en-Provence Easter Festival, the Philharmonie Essen, Philharmonie Cologne, and record with Camilla Tilling for BIS.
His recordings of Handel's Messiah, Haydn's Creation, Bruckner's Symphony N.1 and Mahler's Lied von der Erde are available on iTunes.
Philipp is also artistic director of the Gustav Mahler Academy in Bolzano.