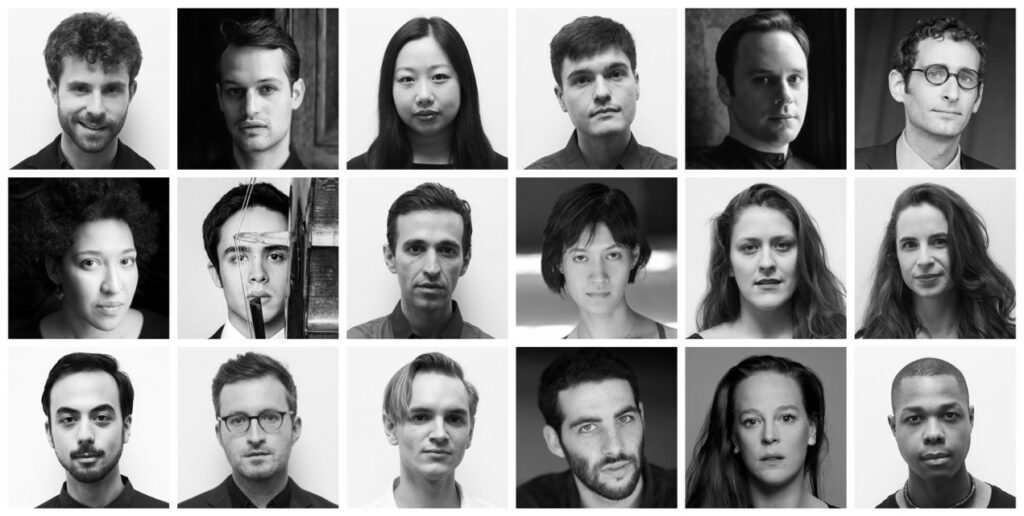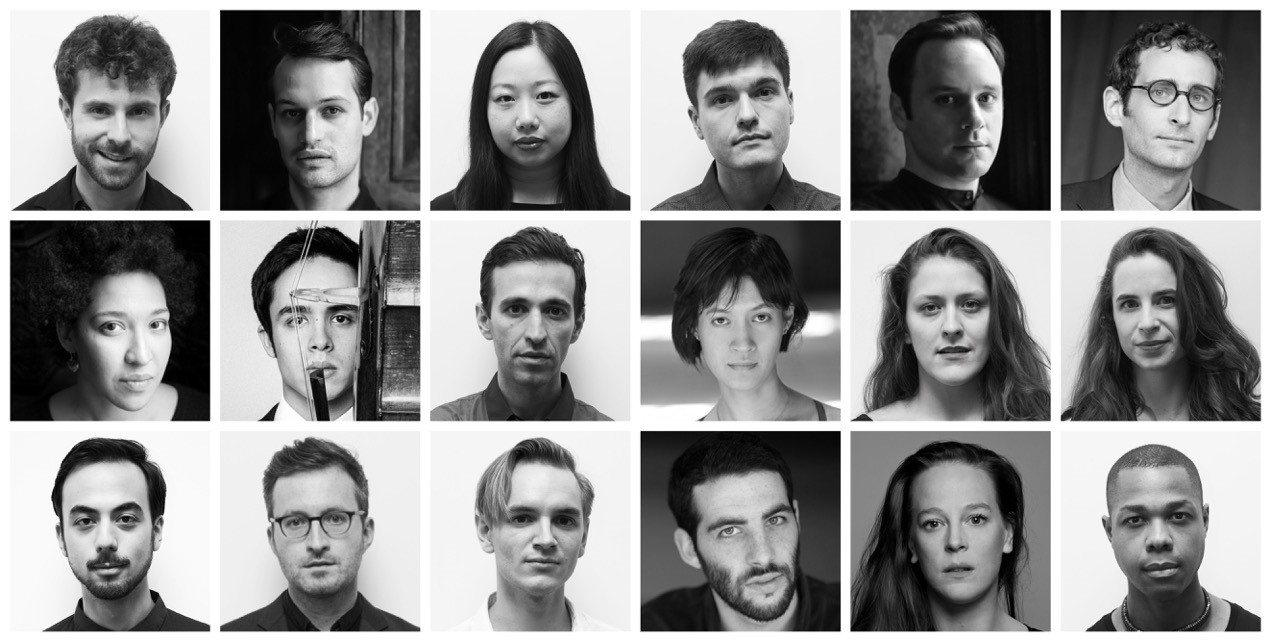 The 2022 Festival Music Director AMOC, a collective of today's most adventurous musicians, singers, composers, choreographers, and dancers, is as eclectic and open minded with their musical interests as one would expect. To begin the new year and expand our own musical horizons, we asked each member of AMOC to share their personal listening of the moment — a selection which is characteristically wide-ranging and very individualistic.
Listen on Spotify and Apple Music
(Preview the AMOC playlist and log on to your account to listen to the full songs)
APPLE MUSIC
Click HERE to listen on Apple Music


Jonny Allen:
Jazz Crimes by Joshua Redman
This is a track that I just keep coming back to.  The groove is subtle but persistent.  Joshua Redman is such an incredible artist and Brian Blade's drumming has always been an inspiration to me.
Paul Appleby:
My "what I'm listening to" pick is Kate Soper's set of three songs for soprano and string quartets, Nadja.  I am a huge fan of Kate's music because she has a language and voice that is entirely her own.  Her intellectual and literary interested are deeply personalized in her compositions and performances and her somewhat esoteric tests become vivid and immediate in her music.  This score is a great example of Kate's incredible level of technical accomplishment as well as her imaginative and unique approach to her art.
Matthew Aucoin:
Stranger Love, Act 3 (excerpt), by Dylan Mattingly, performed by Contemporaneous
Dylan Mattingly writes music of limitless jubilance and joy. This excerpt from his opera Stranger Love is a kind of dance party for the angels, built upon an unlikely echo from a Springsteen-esque "promised land."
Doug Balliett:
I cannot stop listening to Ok ok pt 2 from Kanye's latest album "Donda". It's got a heavy dark groove and guest Shenseea's verse is jaw-dropping.
Julia Bullock:
Up From The Skies by Jimi Hendrix, from the album Bold As Love (1967)
It's like some prophetic, post-apocalyptic love song… (honestly hope to find a way to sing it one day)
Jay Campbell:
I'm currently listening my way through Wadada Leo Smith's Ten Freedom Summers, a gigantic sprawling 4.5 hour collection of 19 pieces written over the course of 30+ years, each one titled after various moments, ideas, people, or places related to the Civil Rights Movement. It's music that is very much alive in a literal sense. As in, it really feels like it is deeply meditating on the lived experience of human life itself. It's extremely moving, exciting, surprising, and sometimes baffling. But when I listen to this highly abstract music, my ears somehow feel closer to hearing a full spectrum of complex human experience in all of its contradictions of tragedy, playfulness, rage, and joy. And maybe things that I haven't even felt yet. And — when you consider the context of the composer himself, a Black man born and raised in segregated Mississippi — things that many of us are privileged to never have to personally feel or experience.
Anthony Roth Costanzo:
Lately I've become obsessed with Betty Carter and how wildly inventive and abstract she is, both in how she deploys the extremes of her voice, and how she charts the trajectory of a song. From her piercing head tones, to her forthright parlato, to her childlike upper chest register, to her impossibly rich baritone notes, I find her a total revelation. You can hear those colors set forth in this track:
Miranda Cuckson:
Wadada Leo Smith America's National Parks
I adore this work (which I first heard a few years ago) for many reasons, including its bracing beauty, its grouping of very satisfyingly distinct utterances and instrumental presences, its continually thrilling sensations of space and texture, and the composer's deep vision of the psychological tension in our shared natural landscapes.
Julia Eichten:
While it was an extreme challenge to choose only one song from Xenia Rubinos' latest album, Una Rosa, Cógelo Suave has been one of many that I have on repeat.  This swirl of a song will make any day brighter, break you open and have you singing!
Emi Ferguson:
Keir GoGwilt:
Conor Hanick:
The last thing played on my music app was the first disc of Beach House's upcoming album, Once Twice Melody, which is lush, sweeping, synthy, and grandiose.
I've also been enjoying Jonny Greenwood's soundtrack to the film The Power of the Dog, especially the Messiaen-esque finale Psalm 22.
Lastly, folks are rightly excited about the recent Floating Points / Pharoah Sanders collaboration, but I've found myself revisiting Floating Points' 2015 album of experimental synth-jazz, Elaenia, with a particular habit of rewinding "Silhouettes (I, II, III)"
Coleman Itzkoff:
Pick: Matthew Aucoin's Eurydice
I'll admit to a certain degree of bias for my playlist pick, Matt being a close friend and current roommate here in New York City, but I truly felt compelled to list this new opera of his, which recently held it's Met premiere to much acclaim. I was able to attend two live performances, as well as listen to the BBC broadcast on a recent long car trip and found so much of the music staying with me, swirling around in the back of my consciousness like the really great music tends to do. The score is dazzling, deeply moving, complex, tectonic (superlatives abound!), and the performance by Erin Morley, Joshua Hopkins, Barry Banks, and more, all backed by Yannick Nézet-Séguin and the Met Orchestra, is totally and utterly ravishing. For those already dedicated fans of Matt's work, Eurydice is the latest and greatest contribution to his oeuvre (not to mention the latest in a 400-year Orphic opera tradition). And for those less familiar with the music of Matthew Aucoin, I can think of no better place to start!
Or Schraiber:
Formidable by Stromae always makes me dance.
Bobbi Jene Smith:
La Solitude always makes me feel the dance inside of me. It has been a song that has been a starting point for many dances I have made. Thank you, Barbara, for haunting and dancing with me. I hope this song will make you feel the dance in you too.

Davónes Tines:
six thirty by Ariana Grande
Towards the end of the year I'm feeling cozy and romantic.  This song from one of my favorite artists, on her latest album, continues to evolve her special combination of crisp vocals wrapped in string-infused r&b redux.
Zack Winokur:
We Do Not Belong Together performed by Bernadette Peters and Mandy Patinkin. I've been listening pretty nonstop to Stephen Sondheim since his death. It's hard to choose just one, but this song is the devastating apotheosis of a genuinely real relationship at the core of Sunday in the Park with George, a show I was going to direct last spring until covid struck it down.