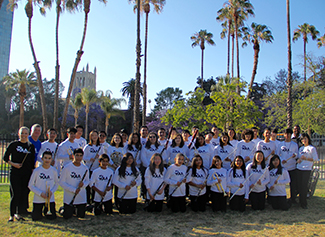 About the YOLA at HOLA Symphonic Winds
Through YOLA, the Los Angeles Philharmonic and its community partners provide free instruments, intensive music training, and academic support to students from underserved neighborhoods, empowering them to become vital citizens, leaders and agents of change. Inspired by El Sistema – the Venezuelan music education system that nurtured the LA Phil's Music Director Gustavo Dudamel – YOLA has grown to serve more than 700 students at three sites across Los Angeles since its founding in 2007.
Comprised of 35 students ages 12 – 18, the YOLA at HOLA Symphonic Winds are founding members of YOLA at Heart of Los Angeles (HOLA). Currently, in its seventh year, the site at HOLA serves students ages 6 – 18 with intensive after-school orchestral instruction five days a week. A holistic approach fosters a sense of community and provides students with the opportunity to take advantage of HOLA's exceptional programs and resource.