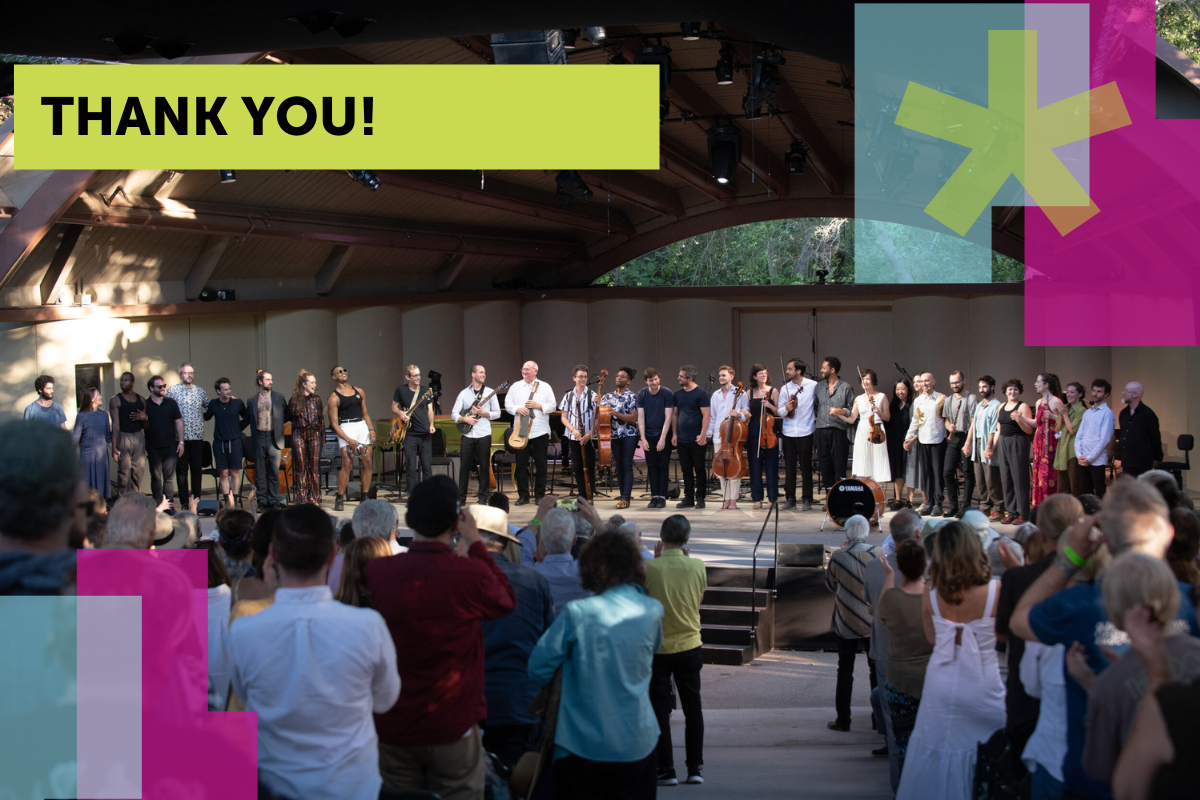 Thank you for joining us at our 76th Festival, June 9-12, 2022. It was an exhilarating time! The energy and boundless creativity of AMOC* was vividly present across the Ojai Valley, giving all of us an extraordinary artistic adventure. Read review excerpts below.
Relive concerts anytime by watching our archived live streaming concerts
 View our photo gallery of some of our favorite Festival moments.
"The Ojai Music Festival has always been more than the sum of its considerable parts, thanks to its compact duration (little more than a long weekend), eclectic classical programming, embrace of other disciplines (including theater, dance and spoken word), and sustained ability to attract luminaries to its still delightfully rustic outdoor setting—Igor Stravinsky, Aaron Copland and Pierre Boulez remain the most famous of its annually appointed music directors. Yet this year, something else pervaded, too: a feeling that the center of the classical-music universe, at least from June 9 through 12, was right here."  – Wall Street Journal
"Davóne Tines, in a program note describing amoc's approach to Eastman's unswervingly radical music, wrote, "What is possible if all members of a performing ensemble are present for every step of the creation of a performance?" Ojai made the possibilities clear." – The New Yorker
"There is nothing in music quite like Ojai, now three-quarters of a century old, with that packed morning-to-night-schedule, its variety of spaces and the stalwart curiosity of its audience. Led by Ara Guzelimian with a steady hand, the festival is Southern California relaxed — T-shirts and shorts, maybe a hoodie at night — but the repertory tends rigorous and recondite." – New York Times
"This Utopian collective of 17 extraordinary artists happily reinventing opera was the communal music director last weekend for the 75th anniversary of this ever-quixotic festival." – Los Angeles Times
"Eastman's beloved half-hour Gay Guerilla was a standout moment during the program — and the festival. The dizzily ecstatic work came off as a musical statement at once unruly and internally logical, raucous and yet reflective, as was Eastman's complex musical wont. Among other distinguishing marks at Ojai 2022, Eastman now joins the ranks of the festival's ever-expanding songbook of 20th- and 21st-century greats whose music left a mark in this dreamy outpost of a town." – San Francisco Classical Voice 
"Open Rehearsal, directed by the choreographer and dancer Bobbi Jene Smith, felt more nuanced. An outgrowth of Smith's recent work "Broken Theater," it is a wry, sometimes uproarious and poignant metatheatrical riff on the process of creation." – New York Times
"For all its worldly trappings, as an annual gathering point for internationally-respected musicians, composers, conductors, plus visitors and press from near and far, the unique power of the Ojai Music Festival (ojaifestival.org) is partly rooted in its "village" concept. As the cliché goes, it "takes one" to pull all the festival pieces together and it is one, a golden west coast destination spot." – Santa Barbara Independent 
"With AMOC's boundary-pushing tenure at an end, Ojai has once more proved the most elastic of music festivals. And it seems clear that Mr. Guzelimian intends to continue stretching things." – Wall Street Journal
"Compositional styles ran a wide gamut at the festival, from the ethereal simplicity of Cassandra Miller's "About Bach" to the riotous, pop-flavored eclecticism of Doug Balliett's mini-opera Rome Is Falling." – The New Yorker
"Everything for AMOC is sacred in that it needs to perform at the highest level, but nothing is so sacred that it can't be rethought musically, socially, racially, sexually, theatrically, physically." – Los Angeles Times
"Many in the arts these days talk a big game about interdisciplinary collaboration, but few walk the walk like AMOC" – New York Times