Get an inside look at the creative process with our free Virtual Ojai Talks, where we celebrate the intersection of music and ideas with the 2024 Festival artists, composers, innovators, and thinkers. Virtual Talks are free and open to the musically curious!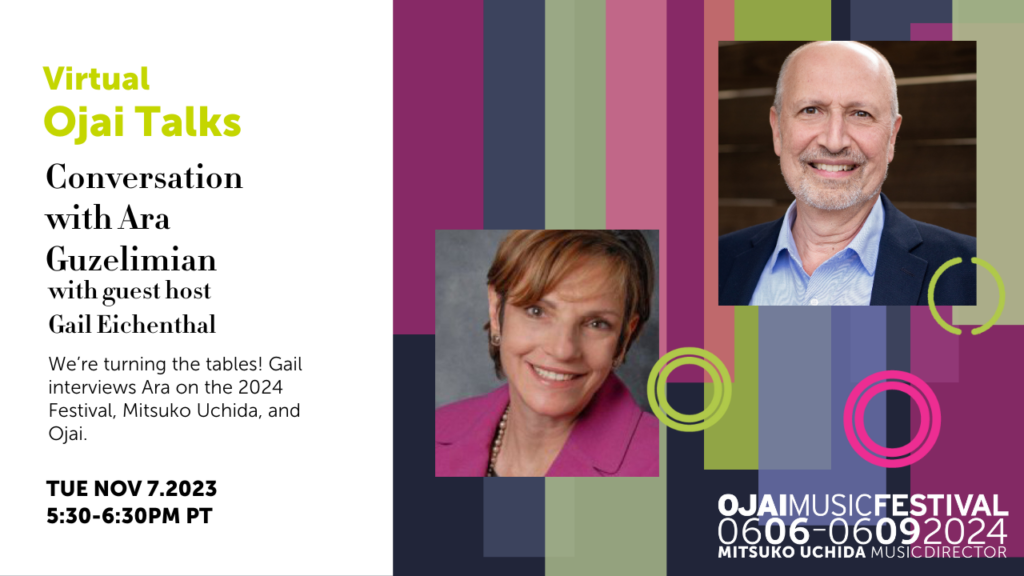 Free and Open to the Public
Virtual Ojai Talks with Ara Guzelimian
November 7, 2023, 5:30-6:30pm
Zoom
It's Ara's turn! We've enjoy our past Virtual Ojai Talks where Artistic and Executive Director Ara Guzelimian interviews guest artists and composers. Now we've turned the tables on him…Enjoy a conversation between Ara and host Gail Eichenthal, who are long-time friends, about returning to Ojai, working with Mitsuko Uchida, and what to expect for the 2024 Festival (June 6-9).
About Gail Eichenthal
Gail Eichenthal is a veteran broadcast journalist and the chief engagement officer of Classical California.
Gail's ties to Ojai are deep: as a UCLA chorister, she sang with the LA Master Chorale at the Ojai Festival in the the mid-1970's under Michael Tilson Thomas. She produced and hosted live Ojai Festival concert broadcasts on KUSC in the 1980s. And more recently, she helped inaugurate the Festival's live webcasts.
Gail began her association with KUSC as an intern. The internship turned into a job. Two years later, at 25, she became the first woman to host the national radio broadcasts of a major American orchestra as the "voice of the Los Angeles Philharmonic" for more than 20 years, during which she worked closely with Ara Guzeimian.
From 1994 to 2005, Gail expanded her career into broadcast news and was an award-winning reporter and anchor at KNX, the CBS news affiliate in Los Angeles. Gail has written for the LA Times and many other publications.
---