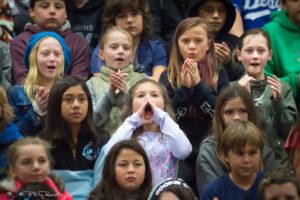 Ojai Valley schools are back in session and the BRAVO program is also in full swing! And thanks to the California Arts Council and generous donations from local organizations, all primary school grades will have full time music for the first time in several decades through our Education Through Music (ETM) classes.
In addition to programs in the classrooms, BRAVO will be out and about in the community. The Instrument Petting Zoo will once again make an appearance at Ojai Day on Saturday, October 21, 10am-5pm. Come visit us and try an instrument! Artist-in-Residence visits to the Continuing Care Center of Ojai Community Hospital, The Gables, and ARC-Ojai Enrichment Center will also continue throughout the year.
The Imagine Concert in February will inspire fourth through sixth grade students to join the magic of music-making. Then in the spring, the Music Van will make its annual appearance at the schools in February and March.
Many thanks to the BRAVO committee:
Sandra Shapiro, Co-Chair
Merrill Williams, Co-Chair
Joann Yabrof, Secretary
Lynne Doherty
Lavonne Theriault
Patsy Glenn
Audrey McPherson
Kathy Broesamle
Gina Gutierrez
Laura Walter
Lillian Tally
Save-the-date: The Festival Women's Committee is looking forward to hosting the annual Holiday Home Tour and Marketplace November 11 and 12 with proceeds benefiting BRAVO.