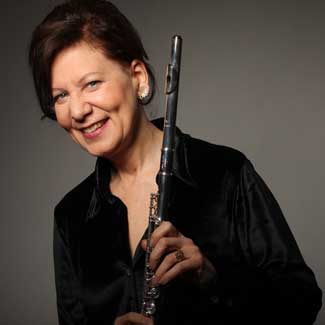 Born in Grand Rapids, MI, flutist Camilla Hoitenga studied in the United States, England, and France and eventually made her home in Germany, where she worked several years with Karlheinz Stockhausen. Following her own "path less traveled" she cultivates a repertoire ranging from Bach and Schubert to concertos written for her by Kaija Saariaho, Pèter Koeszeghy or Ken-Ichiro Kobayashi; from Stockhausen's theatrical Zungenspitzentanz for piccolo to Jean-Baptiste Barrière's state-of-the-art pieces for live video and electronics to improvisations and recitals with pianist and sound-artist Taavi Kerikmäe. Whether accompanied by orchestras such as the Chicago Symphony or the London Philharmonic or playing alone on stage, Hoitenga captivates her audiences with intense performances, acclaimed by the press as "brilliant," "alluring," and "ideally transparent and precise."
Inspired by traditional Japanese music, she has been a frequent guest in Japan and has premiered numerous pieces written for her by Japanese composers such as Takehito Shimazu, Miyuki Ito, and Yasutaki Inamori. A wide range of Western composers have also dedicated pieces to her, including Anne LeBaron, Oliver Schneller, Helena Tulve, Christopher Fox, Donnacha Dennehy, and, most notably, Kaija Saariaho, with whom she has been collaborating since 1982.
Next season's premieres include a concerto for alto flute by Lauri Toivio with the Tapiola Sinfonietta, works for flute and kantele by Kaija Saariaho and Maija Hynninen, and, with Taavi Kerikmäe, a new version of Stockhausen's POLES (1970) for flute and Serge synthesizer. Commissions for her own music and improvisations have come from galleries and museums as well as from painters and sculptors (e.g. Museum Ludwig, Jorg Immendorf, Lehmbruck Museum) and she is currently creating music for painters Mutsumi Okada and Julie Mehretu.
Photo credit: Jean-Louis Fernandez