OLIVER KNUSSEN
June 12, 1952 – July 8, 2018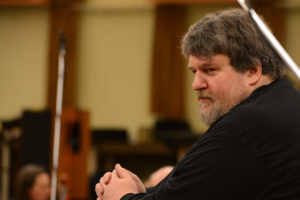 Last Sunday, July 8, composer/conductor Oliver Knussen died at the tragically early age of 66. Olly, as he was known to everyone, was a giant musician – figuratively and literally. He was a bear of a man with the gentlest and kindest disposition of anyone I have ever known.
I met Olly in 1972 at Tanglewood where he was studying composition with Gunther Schuller. I well remember having dinner at a tacky Polynesian restaurant and discovering our mutual fascination for the ridiculous in classical music. We both identified the same piece we thought represented the height of awfulness – Aram Khatchaturian's Symphony No. 3, improbably scored for huge orchestra plus fifteen antiphonal trumpets and pipe organ! Olly gleefully called me years later to say that he had found a complete score of this astonishing work. He never conducted it! This mutual discovery with Olly led to our life-long commitment to compile a list of the "100 Best Worst Pieces" of orchestral music. We also collected perfectly dreadful programs from orchestras around the world – programs that were simply breathtaking in their inanity. The list engulfed multiple pages – all real programs except for several at the end that Olly and I concocted as potential beacons of silliness. The prize went to a mythical one Olly devised of Elliot Carter's chamber opera What's Next followed by Hershey Kay's ballet based on George Gershwin Who Cares! We returned to these ever-evolving projects often, and most recently, two weeks ago when I was in Aldeburgh were he lived.
Olly knew more music than anyone I have ever met. While he had opinions about all of it, I was always amazed about the breadth of his openness and curiosity for music as divergent as that of Elliott Carter or Igor Stravinsky, to music by young composers who he championed, to the music of Percy Grainger, to the orchestral transcriptions by Leopold Stokowski, to such individual gems as Morton Gould's Tap Dance Concerto.
Olly composed pieces that were meticulously crafted, finely etched, and deeply inspired – quite unexpected from such a giant surrounded at home by literally piles of CDs, records, scores, books, papers, and a vast collection of videos. He was a master conductor, who always forged close relationships with players he conducted. He was well known for uncompromising and usual programs. How well I recall his devising the second half of a Cleveland Orchestra concert in the mid-1990's of Edward Elgar's symphonic poem Falstaff followed by Elgar's uproarious arrangement of Bach's Fantasia and Fugue in C minor.
During my Cleveland Orchestra days, we collaborated in countless concerts, commissions, and recordings. It was a great honor to appoint him as my first Ojai Music Director in 2005. His health, which was becoming an increasing challenge, finally caused him to cancel a month prior to the Festival, although we were still able to produce the Festival as curated by Olly but with other conductors.
We spent much time together, and spoke often. For some reason, he always called me "Your Tom-ness," and I called him "Your Olly-ness." I was fortunate to have spent two long afternoons and evenings with him two weeks ago in Aldeburgh, where I found him in fine form (if more gigantic and slower than ever.) I was worried. And then Monday morning, the call I had been dreading came. Thinking of an Olly-less future is devastating, but I rejoice in the collaborations, the fun, and the enduring friendship that we enjoyed over these many long years.
I have been thinking of the final text of Olly's Requiem – Songs for Sue, written in 2005-06 in memory of his former wife Sue who died in 2003, from Rilke's "Requiem for a Friend"

Are you still there? In what corner are you?
You knew so much of all these things
Could do so much, as you went forth
Open for everything, like a day, which dawns.
Thomas W. Morris, artistic director