Friday, June 12
Press Play; Click Box Above to Go Full Screen [ ]
Concert Notes
OLGA NEUWIRTH (b. 1968)
Eleanor (2014-15)
The creative act of imagining beginnings can also take a critical turn, driven by the urge to call attention to what has gone wrong. The legacy Eleanora Harris Fagan (professionally known as Billie Holiday) has been enshrouded in romanticizing myth that blots out memories of the racism she endured and that countless others still endure. Olga Neuwirth looks back to the reality she faced, as an African-American artist and woman. Her suffering is bridged by the unacceptable truth that more than 50 years after the assassination of Martin Luther King, Jr. (in 1968, the year in which Neuwirth was born), the "shameful conditions" that King denounced in his final speech have persisted.
Eleanor, writes Neuwirth "is a tribute to all those who have dared and still dare to voice criticism despite social and political opposition. In our oh-so-worldly times, when even faint dissent is seen as a threat, fingers are scandalously quick to pull triggers. Eleanor would, however, especially like to pay tribute to courageous women — which explains the woman's name in the title. Here the spotlight is on the many forgotten female African-American jazz musicians from the era 'when men ruled the beat.'"
Neuwirth's encounters with racism and sexism during her various stays in the United States forced her to confront the intense contradictions at the root of American society. Its vibrant cultural pluralism — a signature of Eleanor and of Neuwirth's music in general — attracted her: even as a youngster studying trumpet back in her native Austria, Neuwirth dreamed of following in the footsteps of Miles Davis. Her father was, in fact, a jazz pianist. In 2006, in pre-Obama America, she embarked on American Lulu, a radical new take on Alban Berg's unfinished opera Lulu. Neuwirth set the story in the Civil Rights era, incorporating speeches from King as well as the poetry of June Jordan to dramatize the courage of those resisting systemic racism and discrimination against women.
Eleanor, commissioned by the Salzburg Festival, premiered in 2015, with Della Miles creating the title role as "blues singer" and Tyshawn Sorey on percussion. Neuwirth adapted material from the third act of American Lulu for Eleanor, which, as the composer explains, "tries to mount a kind of accusation from the standpoint of one person alone. Without giving the perpetrators a voice, Neuwirth develops a structure in which "the woman's voice is surrounded and symbolically encouraged" by narrations from King's speeches and Jordan's poetry. The drum-kit player also becomes her "ally." Neuwirth provides further commentary:
"Beginning in child, [Eleanor/Billie Holiday's] life was marked by abuse, which left deep wounds. Wounds that made it difficult to live. Her great talent and the enormity of her soul and spirit were thus constantly fighting a sense of emptiness. Nothing was able to dull her profound nihilism.
Which is why I have replaced the cultivated aura of classical song with the directness of the blues. Eleanor insists on the irrevocability of pain and her own subjectivity. She struggles for freedom, treading a difficult path, yet one she has chosen. Despite the abuse, she self-confidently seeks her own form of expression, her own identity. Music and text have been conceived to unleash an unrelenting maelstrom. The musical form should exude a spontaneity that is not, as so often in 'contemporary classical' music, obstructed by structural limitations. Eleanor begins like a review of old blues records in the tradition of Williams, Lambert and Hendricks: with quasi instrumental jazz vocals — transformed by means of percussion, electric piano, and electric guitar into an illusory now.
Eleanor was a spontaneous expression of my helplessness and outrage at the racist violence and bloodshed committed in the editorial offices of Charlie Hebdo. I could not and did not want to remain silent. After the initial shock, the time had come to find the courage to reflect. The piece was already almost finished, but I did not want to let the heat of that moment dissipate, because doing so would not, as we have so often been told, lead automatically to a more balanced truth. I wanted to react right away and not later, when everything had 'settled' down.
OLGA NEUWIRTH (b. 1968)
Aello – ballet mécanomorphe (2017)
Swerving in and out of Time
In a beautiful obituary she wrote for Pierre Boulez in 2016, Olga Neuwirth recalls being captivated by his "musical personality" while still a teenager growing up in the Austrian provinces. She found inspiration not only in his music but in Boulez's "uttermost conviction that we are living in the here and now and that we must think and write music accordingly, while countering cynicism and indifference."
How does the endeavor to write music that acknowledges our "living in the here and now" play out in a context that's as self-conscious about traditions and historical connections as classical music? The program Matthias Pintscher has designed for this concert presents examples both by Neuwirth and by György Ligeti, another leading figure of the Boulez generation whose music shares her spirit of unpredictable imagination and fondness for what the absurd can disclose. The idea of the concerto itself, around which this program revolves, ranks among the most enduring genre conventions in classical art music — and has proved to be inexhaustible precisely through the innovations, the infusion of the "here and now," by composers such as Neuwirth and Ligeti.
In the wake of his sole opera Le Grand Macabre (he called it an "anti-anti-opera"), which premiered in 1978, Ligeti — always skeptical of dogma and systematic approaches — endured a creative dry spell during which he struggled with finding his way forward. The Jewish-Hungarian composer ceased to produce any significant new works, though he continued making, as he put it, "hundreds of sketches, only to abandon them." During this period, he was hard at work on a commission for a piano concerto. Its genesis cost enormous creative toil — and opened the way to a way out of his dilemma.
By the 1980s, the postwar avant-garde's utopian idealism had mostly faded, while the emerging ideology of post-modernism seemed, to Ligeti, to encourage a reactionary if not cynical stance of bad faith: this was the past recuperated as commodity. Ligeti did refocus his lens on the past, but with characteristic originality and quirkiness, in ways that are thrillingly unsettling. His Horn Trio of 1982, for example, is an explicit homage to the template Brahms created, while at the same time a creative swerving from the source (to borrow the literary critic Harold Bloom's term).
Ligeti meanwhile persevered in several stages with the Piano Concerto. After unveiling his first version in the traditional three-movement format in 1986, he concluded that it "demanded continuation" and added two more movements, with the fourth now serving as the conceptual center of the whole work. This final version was first performed in 1988. Ligeti considered the result no less than a statement of his "artistic credo" showing his "independence from criteria of the traditional avant–garde, as well as the fashionable postmodernism."
The Piano Concerto realizes what Ligeti called "new concepts of harmony and rhythm." One of his students, the Puerto Rican composer Roberto Sierra, sparked his fascination with different kinds of rhythmic complexity from Latin American and African cultures. These impulses set the stage in the opening movement, in which Ligeti splits the ensemble into two parts, each playing a different meter. The Concerto exploits "illusory rhythmics and illusory melody," as Ligeti defines the trompe l'oreille effects of individual layers that, in concert, cause us to hear patterns that are not actually written in the score. Similarly, Ligeti is fond of tricking the ear with counterintuitive instrumentation (high instruments playing in low register and vice versa) and unexpected sounds from the ocarina and slide whistle.
Still another inspiration comes from the ground shared between science and art — which is the case for Neuwirth as well. Ligeti delighted in computer simulations of the Julia and Mandelbrot fractal sets. The fourth movement emulates such "self-similar" structures on a poetic level — becoming a metaphor for the general principle of remaking and renewing the past, what is given, in the here and now: "always new but however of the same," per Ligeti. Overall, the Piano Concerto represents his "main intention as a composer": to convey "the spell of time, the enduring its passing by, closing it in a moment of the present."
Olga Neuwirth's Aello – ballet mécanomorphe originated as part of the "Bach Brandenburg Project" commissioned by the Swedish Chamber Orchestra and the Danish conductor Thomas Dausgaard. The project set out to present a contemporary counterpart to the group of six concertos that J.S. Bach presented in 1721 to the Margrave of Brandenburg-Schwedt (half-brother of Friedrich I of Prussia). Neuwirth was assigned to respond to Brandenburg Concerto No. 4. (The other five composers include Uri Caine, Brett Dean, Anders Hillborg, Steven Mackey, and Mark Anthony Turnage.)
Bach's revered collection was apparently never even heard by their namesake, who lacked the richly varied musical resources and virtuoso musicians needed to realize them. Familiar as they have become, the Brandenburg Concertos themselves subvert and interrogate the conventions that had grown up around what was then the still-young genre of the Baroque concerto in three movements (fast-slow-fast). While the concertmaster had emerged as the expected virtuoso soloist for a concerto, "a whole concerto is now to be dominated by two violas, or two flutes, or even by the harpsichord," notes Dausgaard. "Hierarchy has been dissolved and an alternative world-order presented."
No. 4 in G Major is scored for strings and continuo and three soloists: violin and a pair of fiauti dolci or flauti d'echo (possibly treble recorders) — a much-debated phrase whose interpretation played a key role in Neuwirth's choice of instrumentation for her new work. The outer movements behave like a chamber violin concerto, as Bach assigns much virtuosity to the solo violin, with its two wind companions offering encouragement.
Premiered in 2018, Aello – ballet mécanomorphe at first suggests a direct bridge between the musical past and the "here and now" — Brandenburg Concerto No. 4 is, after all, its model, formally and thematically as well as in terms of instrumentation. Yet Neuwirth "swerves" from all of these parameters in wonderfully unexpected ways. Investigating what Bach may have meant by fiauti d'echo, she found a strange double-pipe instrument that led to the idea of using a pair of muted trumpets — one regular, one piccolo. (The trumpet was Neuwirth's instrument growing up.) In another identity transformation, she turns the violin, with its leading role, into a "super-flute," originally tailored to the virtuosa and new music champion Claire Chase. The part, which calls for flute and, in the final movement, brass flute, involves a repertoire of unusual tone productions, attacks, and even jet whistling.
Neuwirth also transforms the soundscape of the continuo, whose function in Bach is to provide harmonic scaffolding. Intrigued by a phrase (attributed to the French writer Colette) that Bach sounds like "a celestial sewing machine," she makes the harpsichord into a multiple-personality small band of its own comprising a subtly amplified, classic Olivetti Lettera 22 typewriter, a reception bell, a water-filled glass, a mechanical milk frother, and a synthesizer.
These "modern mechanicals" in turn are evoked by the Dadaist subtitle (worthy of Ligeti), a "ballet in the form of a machine." Aello, by contrast, is a mythic-poetic allusion to one of the three ancient Greek Harpies associated with storms, who would torment victims while leading them to the Underworld. That, however, is her reputation from a biased male perspective. In Neuwirth's view, Aello is "someone sent by the gods to restore peace, if necessary with force, and to exact punishment for crimes." Similarly, the "macho" personae of Baroque trumpets is tamed and, well, Dada-fied through muting. The entire ensemble and trio of soloists, meanwhile, are tuned to four different pitches.
While echoes of the Bach source clearly emerge, they do so in the way dreams are recalled. What may sound at one point like carnivalesque parody suddenly swerves into the "celestial" and mysterious — and the uncanny. The flute-goddess walks a tightrope, leading us along a path that touches on childhood memories, cultural ambiguity, and fresh-eyed wonder.
Eleanor is my way of showing solidarity and protesting artistically against the daily pressures to conform, and against external and internal repression.
Eleanor Text
Musicians: Start running cuz this life is hell!
Eleanor: I'll run so fast till someone wakes me up cuz evil spirits are all around my legs.
I was looking out at the rain:
Why did you wanna do all these mean things to me?
Why did you wanna do,
Why did you wanna do all these things to me?
I began to fall so low –
I didn't have a friend and no place to go
Nobody knows you
When you're down and out.
Am not like a turtle, can't hide underneath a hard shell.

Peace for my heart!
Born under a bad sign
I've been blue since I remember
I feel so low
cuz nobody wants me around their door
So: ev'ry day I've the Blues.
Bad luck and trouble is my only friend
I've been on my own since I was twelve
And my whole life has been one big fight.
I wish I could see cuz am so sick and tired of being in misery.
Now listen to my tale which, sadly, is true:
They've destroyed my dignity.
All they said never meant a thing. I remember the promises they've made me.
They played with me on purpose. Hence I feel so low.
Well, I'm not pliable enough, I see.
Too bad words seemed so logical. –
Like always, no reaction.
Power depersonalizes ev'rything, claiming experiences are universal-
But: we all think differently.
I don't think we are capable of tolerance, but rather full of hate, contempt and hypocrisy.
My openness only fuels misunderstandings, cuz you all find me repulsive.
Why can't you just be honest? –
But you all can't kill my free spirit! I've had it since I was young. Even wrote my own songs
back then. True I'm a strange person, but I never denied myself totally.
I've finally found myself again. But: I'll never forget what you have done.
Samples:
Sample 2
June Jordan: First section of "Rape Is Not a Poem". In: Passion: New Poems (1977-1980)
One day she saw them coming into the garden
where the flowers live.
The found the colors beautiful and
they discovered the sweet smell
that the flowers held
so they stamped upon and tore apart
the garden
just because (they said)
those flowers?
They were asking for it.
Sample 4:
June Jordan
There is nothing left but drippings
of power and
a consummate wreck of tenderness
I want to know:
Is this what you call
Only Natural?
Sample 5
Martin Luther King Jr. : Adapted and abridged from "The Rising Tide of Racial Consciousness" (1960)
One of the sure signs of maturity is the ability to rise to the point of self-criticism. Some of us have become cynical and disillusioned. Some have so conditioned themselves to the system of segregation that they have lost that creative something called initiative. Many of us live above our means, spend money on non-essentials and frivolities, and fail to give to serious causes, organizations, and education institutions that so desperately need funds. Therefore there is a pressing need to develop a positive program through which these standards can be improved.
Sample 6
Martin Luther King Jr. : Adapted and abridged from "The Only Road to Freedom" (1966)
There is no easy way to create a world where men and women live together, where each has his own job and house and where children receive as much education as their minds can absorb. If such a world is created in our lifetime, it will be done by people of good will.
It will be done through massive protest and by rejecting the racism, materialism and violence that has characterized Western civilization and especially by working toward a world of brotherhood, cooperation and peace.
Sample 7
Martin Luther King Jr.
Love MUST be at the forefront of our movement if it is to be a successful movement. And when we speak of love, we speak of understanding, good will toward ALL men. In struggling for human dignity we must not succumb to the temptation of becoming bitter or indulging in hate campaigns. We have learned through the grim realities of life and history that hate and violence solve nothing. At the end it is only destructive for everybody.
Sample 8
Martin Luther King Jr. : Adapted and abridged from "The Current Crisis in Race Relations" (1958)
We also revolt against what I often call the myth of time. There are those who say wait for time and time will solve the problem. The people who argue this do not themselves realize that time is neutral, that it can be used constructively or destructively. This movement is based on hope. But before the victory is won, some will lose jobs, some will be called communists, and reds, merely because they believe in brotherhood. Some will be dismissed as dangerous rabble rousers and agitators merely because they're standing up for what is right, but we shall overcome.
Sample 9
Martin Luther King Jr. : Adapted and abridged from "The Current Crisis in Race Relations" (1958)
But there are some things in our social system to which all of us ought to be maladjusted. I never intend to adjust myself to the viciousness of mob rule. I never intend to adjust myself to the evils of segregation and the crippling effects of discrimination. I never intend to adjust myself to the inequalities of an economic system which takes necessities from the masses to give luxuries to the classes. I never intend to become adjusted to the madness of militarism and the self-defeating method of physical violence. The world is in desperate need of such maladjustments to bring a daybreak of freedom and justice.
Sample 10
Martin Luther King Jr. : Adapted and abridged from his last speech, "I See the Promised Land" (1968)
That's what the whole movement is about: we aren't engaged in any negative protest and in any negative argument with anybody. We are saying that we are determined to be men. We are determined to be people/ We are saying that we are God's children. And that we don't have to live like we are forced to live.
I don't know what will happen now. I'm happy, tonight. I'm not worried about anything. I'm not fearing any man. Now we're going to march again, and we've got to march again, in order to put issue where it is supposed to be.
–
"Let justice roll down like waters and righteousness light a mighty stream".
Remembering the vision, courage and lasting endurance of Martin Luther Kink and in memoriam Elsa Cayat
Program Book
Download the complete program book HERE
Artist Bios
Olga Neuwirth, Composer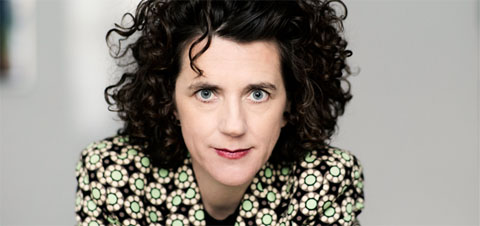 Olga Neuwirth was born in Graz, Austria, in 1968.
She studied at the Academy of Music in Vienna and the San Francisco Conservatory of Music. During her stay in the States she also attended an art college, where she studied painting and film. Her private teachers in composition included Adriana Hölszky, Tristan Murail and Luigi Nono. She first burst onto the international scene in 1991, at the age of 22, when two of her mini-operas were performed at the Wiener Festwochen. Ever since her works have been presented worldwide.
In 1998 she was featured in two portrait concerts at the Salzburg Festival within the framework of the Next Generation series. The following year, her music theatre work Bahlamms Fest, with a libretto by Elfriede Jelinek, premiered at the Wiener Festwochen and won the Ernst Krenek prize. A year later, she wrote Clinamen/Nodus for Pierre Boulez and the London Symphony Orchestra tour. In 2002 Olga was appointed composer-in–residence at the Lucerne Festival.
With Nobel Prize winning novelist Elfriede Jelinek she has created two radio plays and three operas.
Her opera Lost Highway, based on the film by David Lynch, premiered in 2003 and won a South Bank Show Award for the production presented by English National Opera at the Young Vic in 2008.
Since Olga Neuwirth was a teenager, she has also been interested in film, literature, architecture and the visual arts. Aside from composing, she also realises sound installations, art exhibitions and short films and has written several articles and a book; one of her multi-media installations was presented at the documenta 12 in Kassel in 2007.
Olga Neuwirth's works are multi-layered and multi-sensory. Some pieces also draw on the full range of effects of both electronic and orchestral instruments as well as video, which she began integrating into some of her works in the late 1980's. The listener is struck by the immediacy of her music, which is often dramatic and expressive as she is particularly interested in emotions and how they relate to the brain and memory.
Many recordings of her music have been released on the label Kairos.
In 2008 she was awarded the Heidelberg Artist Prize. In 2010, as the first woman ever in the category of music, she received the Grand Austrian State Prize as well as the Louis Spohr Prize of the City of Braunschweig
In 2012 Olga Neuwirth completed two new operas while living in NYC: The Outcast on Hermann Melville, and American Lulu, a version of Alban Berg's Lulu which was premiered in Berlin and subsequently given a new production in Bregenz, Edinburgh and London in 2013 and then in Vienna in 2014. In early 2015 she completed a film score for a silent film and a feature film by Franz/Fiala, and the orchestral work Masaot/Clocks without hands for the Vienna Philharmonic Orchestra. It was premiered in Koeln and Vienna in May and had it's US premiere in February 2016 at Carnegie Hall under the baton of Valerij Gergjev.
At the Salzburg Festival her Eleanor Suite for Bluessinger, drum-kit-player and ensemble was premiered in August 2015. Her 80 minutes electronic/space/ensemble piece Le Encantadas based on the acoustics of a venetian church received its premiere at Donaueschingen and at the Festival d'Automne à Paris with further performances in 2016 and 2017. She received the prestigious Roche Commission for the Lucerne Festival in 2016 for her percussion concerto Trurliade–Zone Zero and was composer-in-residence at the festival for the second time.
In march 2017 her 3D sound-installation in collaboration with IRCAM was inaugurated at Centre Pompidou in Paris for it's 40th anniversary.
In 2017 she has collaborated with architect Peter Zumthor and Asymptote Architects.
Beside several concerts for her 50th anniversary in 2018, Lost Highway and The Outcast can be seen in new productions. Lost Highway under the direction of Yuval Sharon and The Outcast under Netia Jones.
Her new opera Orlando premiered at the Wiener Staatsoper in 2019.
Matthias Pintscher, Music Director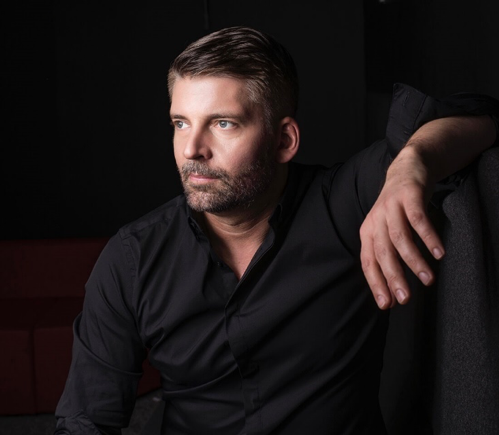 "It is a tremendous pleasure and incredible honor to be music director for the 2020 Ojai Festival, something I have dreamed about since moving to New York twelve years ago. I feel a combination of joy and responsibility to showcase composers and works that create something like an INVISIBLE BRIDGE between the two continents in which I am living and working: Europe and the USA. I have realized that my role as musical communicator – as composer, conductor, educator, and festival di- rector – is to actively strengthen the interactions and connections between the music of today and its heritage in the US and on the "old continent". As a European living in New York and Paris, I want to explore this INVISIBLE BRIDGE as one of the key elements for my programming of the 2020 Ojai Festival: thoughtful, innovative, loving, provocative, and poetic. Music speaks most directly from hu- man to human, and Ojai is a perfect place to showcase this. I am excited. See you in 2020." – Matthias Pintscher, 2020 Music Director
Matthias Pintscher is the Music Director of the Ensemble Intercontemporain, the world's leading contemporary music ensemble founded by Pierre Boulez. In addition to a robust concert season in Paris, he toured extensively with them throughout Europe, Asia, and the United States this season including concerts in Berlin, Brussels, Russia, and the United States. Known equally as one of to-day's foremost composers, Mr. Pintscher will conduct the premiere of his new work for baritone, chorus, and orchestra, performed by Georg Nigl and the Chorus and Symphonieorchester des Bayer- ischen Rundfunks at their Musica Viva festival in February 2020.
In the 2019/20 season, Mr. Pintscher makes debuts with the symphony orchestras of Montreal, Baltimore, Houston, Pittsburgh, and with the Detroit Symphony Orchestra at Interlochen. He also makes his debut at the Vienna State Opera conducting the premiere of Olga Neuwirth's new opera Orlando, and returns to the Staatsoper Unter den Linden in Berlin to conduct performances of Beat Furrer's Violetter Schnee, which he premiered in January 2019. Re-invitations this season include the Cleveland Orchestra, Orchestre de la Suisse Romande, and Chamber Orchestra of Europe. In summer 2020, Mr. Pintscher will serve as Music Director of the 74th Ojai Music Festival.
Highlights of Mr. Pintscher's 2018/19 season included serving as the Season Creative Chair for the Tonhalle-Orchester Zürich, as Artist-in-Residence at the Los Angeles Chamber Orchestra, and con- cluding a nine-year term as the BBC Scottish Symphony Orchestra's Artist-in-Association. Last season, Mr. Pintscher made his debuts with the Saint Louis Symphony Orchestra, Rotterdam Philharmonic, and the Staatsoper Berlin, and returned to the symphony orchestras of Chicago, Cincinnati, Cleveland, Indianapolis, Milwaukee, the New York Philharmonic, the New World Symphony in Miami, and the Music Academy of the West. In Europe, he conducted the Scottish Chamber Orchestra at the Edinburgh International Festival and returned to the Orchestre de Paris, Danish National Symphony Orchestra, and Helsinki Philharmonic. Mr. Pintscher also conducted the premiere of his work Nur, a new concerto for piano and ensemble, performed by Daniel Barenboim and the Boulez Ensemble in January 2018. An enthusiastic supporter of and mentor to students and young musicians, Mr. Pintscher served as Principal Conductor of the Lucerne Festival Academy Orchestra from 2016- 2018 and worked with the Karajan Academy of the Berlin Philharmonic in their 2017/18 season, culminating in a concert at the Philharmonie.
Matthias Pintscher began his musical training in conducting, studying with Pierre Boulez and Peter Eötvös in his early twenties, during which time composing took a more prominent role in his life. He rapidly gained critical acclaim in both areas of activity, and continues to compose in addition to his conducting career. As a composer, Mr. Pintscher's music is championed by some of today's finest performing artists, orchestras, and conductors. His works have been performed by the Boston Symphony Orchestra, Chicago Symphony, Cleveland Orchestra, New York Philharmonic, Philadelphia Orchestra, Berlin Philharmonic, London Symphony Orchestra, Royal Concertgebouw Orchestra, and the Orchestre de Paris, among many others. Bärenreiter is his exclusive publisher, and recordings of his compositions can be found on Kairos, EMI, Teldec, Wergo, and Winter & Winter. Mr. Pintscher has been on the composition faculty of The Juilliard School since 2014.
Friday Playlist
Ojai Dawns
Friday, June 12, 2020 | 8:00-9:30am
Zalk Theater, Besant Hill School
OLGA NEUWIRTH Eleanor
EIC
Matthias Pintscher conductor
Lucas Niggli, percussion
Della Miles, vocalist
OLGA NEUWIRTH Aello – ballet mécanomorphe
EIC
Matthias Pintscher conductor
OLGA NEUWIRTH in the realms of the unreal
FRANZ SCHUBERT String Quartet in G Major, D. 887
Calder Quartet
Friday, June 12, 2020 | 11:00am-12:30pm
Libbey Bowl
CHAYA CZERNOWIN On the Face of the Deep (First Day)
MARKO NIKODIJEVIC dies secundus (Second Day)
FRANCK BEDROSSIAN Vayehi erev vayehi boker (Third Day )
ANNA THORVALDSDOTTIR Illumine (Fourth Day)
JOAN MAGRANÉ FIGUERA Marines i boscatges (Fifth Day)
STEFANO GERVASONI Eufaunique (Sixth Day)
MARK ANDRE riss 1 (Seventh Day)
TOSHIO HOSOKAWA The Flood (Eighth Day)
World Premiere and co-commissioned by the Ensemble intercontemporain and the Ojai Music Festival
Ensemble intercontemporain (EIC)
Matthias Pintscher conductor
Friday, June 12, 2020 | 7:30-9:00pm
Libbey Bowl
FELIX MENDELSSOHN Octet in E-flat Major, Op. 20
Allegro moderato ma con fuoco
Andante
Scherzo: Allegro leggierissimo
Presto 
Calder Quartet
Nathan Cole violin
Akiko Tarumoto violin
Ben Ullery viola
Dahae Kim cello
MATTHIAS PINTSCHER Nur
Ensemble Intercontemporain (EIC)
Matthias Pintscher conductor