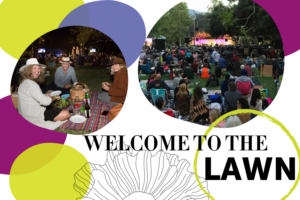 Thank you for being a part of our Festival lawn area! The lawn is a special experience for Festival patrons – it's the place to relax and enjoy a picnic before the concert; meet with a group of friends or family; and lie down to stargaze while enjoying the Festival's music. 
To help you enjoy the lawn, here are some things to know: 
The right side of the lawn is designated for taller chairs and the left side for low-rise chairs.  (A low-rise, beach-style chair is a chair with legs of 10 inches or shorter and an overall height limit of 28 inches.) Patrons with higher-rise chairs, such as camping or deck chairs, will be asked to move to the right side or rear of the lawn so as not to hinder the views of others.

 

Line up early

! Lawn lines start as early as two hours before a concert begins. Lawn series subscribers receive first access to be admitted into the lawn before single ticket buyers.

 

Save your place!

 Lawn series pass subscribers have the opportunity to save their spot on the lawn between the morning and evening concerts; please use the "Save My Spot" card mailed with your passes.

 

Store it!

If you are attending two concerts in one day, you can also place your lawn chairs and blankets near the lawn entrance gate between concerts.

Please do not leave valuable items in the lawn area. The Festival is not responsible for lost or damaged items
Ojai weather can be quite unpredictable!

 During the evening concerts, we highly recommend bringing a warm blanket and for the day, bringing sunscreen and wearing a hat in case it gets too hot.

 

At the Festival we have light food options and beverages. For a greater variety, you can head to the various eateries within walking distance from the Bowl.

The Libbey Bowl and Park is a no-smoking and alcohol-free zone designated by the City of Ojai. Alcoholic beverages that are purchased in the Festival's Green Room in the Park must be consumed in the designated, restricted areas: the Green Room seating area or the Lawn area of Libbey Bowl.  

We're happy to have children enjoy concerts; however, we know they can become restless! If your child needs to stretch their legs, please take them outside the Bowl so as not to disrupt the concert experience for other lawn patrons.

Your lawn experience is being upgraded! 

This year we are amping up sound quality by mounting professional speakers on an overhead truss. In addition, we have procured special outdoor monitors that will provide crisp, glare-free, up-close views of performers from the comfort of the lawn.

 
Your safety, and the safety of our artists, staff, volunteers, and Ojai community, is paramount to us. We will continue to update our Covid-safety policy to ensure we follow best practices for the Festival in June 2023. Thank you for your patience and understanding.
Thank you and enjoy!