Celebrating 75 Years of Music in Our Home Town!
To mark the beginning of our 75th anniversary, the Festival will give free musical offerings as a thank you to the Ojai community.
This series of surprise 20-minute Musical Pop-Ups will feature Festival collaborators – harpist Shelley Burgon, percussionist Fiona Digney, violinist Helen Kim, Kamancheh player Niloufar Shiri, and flutist Laura Walter.
Please join us as we embrace the return of live music and the beginning of our celebration leading to the September Festival. View the full Musical Pop-Up schedule >
Thursday, June 10
Niloufar Shiri, kamâncheh (bowed fiddle of the Middle East and Central Asia)
11:30am at the Fountain area at Libbey Park
REPERTOIRE
Avaz-e Dashti
Abolhassan Sabā Zard-e Malijeh
5:00pm at the "Pocket Park" at the Arcade Plaza
REPERTOIRE
Abolhassan Sabā Kārehvān
Avaz-e Dashti
ABOUT THE ARTIST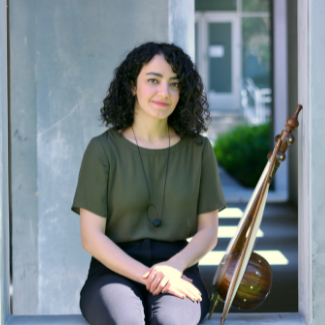 Niloufar Shiri is a kamancheh player and composer from Tehran, Iran, trained in Iranian classical music. Niloufar is a graduate in kamâncheh performance of the Tehran Music Conservatory and received her bachelor degree with honors in composition from UC San Diego.
She is an imaginative interpreter of Iranian music and uses story-telling and poetry as a source of inspiration for her deeply textural and often ghostly music. Her compositions use aspects of contemporary Iranian poetry to incorporate the enigmatic complexity of Iranian literature and culture.
As a kamancheh player and composer, she has received commissions and collaborated with numerous ensembles and festivals inside and outside of the United States including the International Contemporary Ensemble, Long Beach Opera, Mostly Mozart, Tehran Contemporary Music Festival, Atlas Ensemble among others. In conjunction with her studies at UC San Diego, she has also been directly studying and researching Iranian classical music with the research team of maestro Hossein Omoumi at UC Irvine and in 2012, the research received a grant from the National Endowment for the Arts.
She is currently pursuing her Ph.D. in Integrated Composition, Improvisation, and Technology at UC Irvine.
---
QUICK LINKS
2021 Festival Schedule >
Purchase Festival Passes >
The health and safety of our patrons is paramount to the Festival. We will be following current state and local health protocols during our events.