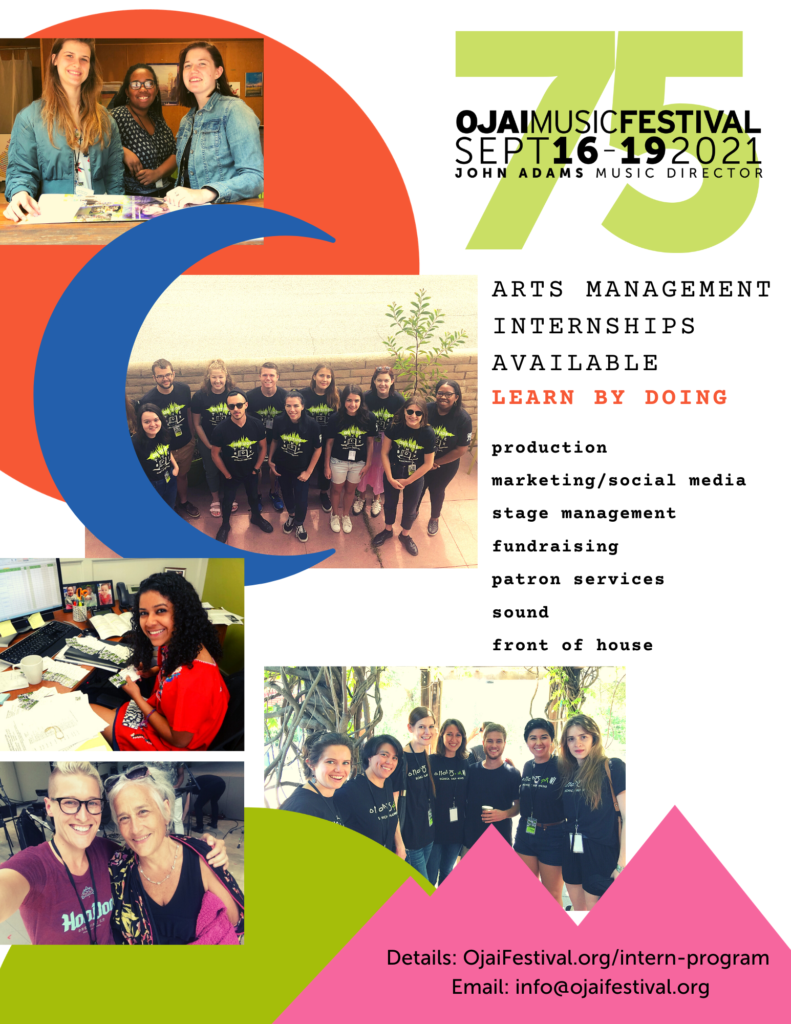 THE
75
th
OJAI MUSIC FESTIVAL,
SEPTEMBER 16-19, 2021
Application deadline: JUNE 15, 2021
As an intern for the Ojai Music Festival, you become a messenger for the organization's purpose: to dare the audience to be innovative listeners of new music. – Emily Persinko, intern alum
The Ojai Music Festival's arts management internship program is now accepting applications for the Ojai Music Festival slated for September 16 to 19, 2021 with composer and conductor John Adams as music director.
The Festival's sought-after program provides hands-on experiences to college students as they are immersed in areas of production, administration, operations, special events, merchandising, live streaming, marketing, public relations, and patron services.

Students from varying fields and walks of life enjoy access to different opportunities which give them new skill sets and experiences that they take with them throughout their careers. The internship program also provides them to interact with leaders in the music industry and create lasting friendships with other students.
Applicants must be 18 or over and enrolled in a two or four year accredited college. The Festival provides housing for the duration of the internship as well as a stipend. Applications are due by June 1, 2021. The 75th Ojai Music Festival, September 16 to 19, will be led by composer/conductor John Adams as Music Director with a program that will honor the Festival's role as a champion of a new generation of composers and artists. Joining John Adams will be Attacca Quartet, singer Rhiannon Giddens and Francesco Turrisi, pianist Víkingur Ólafsson, violinist Miranda Cuckson, and recorder player Anna Margules, pianist/composer Timo Andres, and members of the LA Phil New Music Group. 2021 Festival composers include Samuel Adams, Timo Andres, Dylan Mattingly, Gabriela Ortiz, Rhiannon Giddens, Carlos Simon, and Gabriella Smith
For more information regarding the internship program for the Ojai Music Festival, please call the main office at 805 646 2094 or email [email protected]