Application deadline: March 1, 2017
Download application form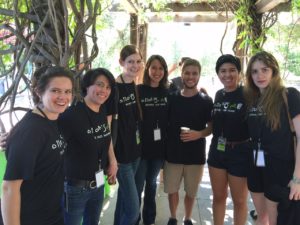 (Ojai, CA) — Applications are now being accepted to participate in the Ojai Music Festival's arts management internship program coinciding with the 71st Ojai Music Festival slated for June 8-11, 2017 with Music Director Vijay Iyer. Entering its tenth year, the Festival's three-week program provides hands-on experiences to college students.
Ojai's arts management internship program offers select students direct experience as they are immersed in areas of administration, operations, special events, merchandising, production, marketing, public relations, and patron services.
Students from varying fields and walks of life enjoy access to different opportunities which give them new skill sets and experiences that they take with them throughout their careers. The internship program also provides them to interact with leaders in the music industry and create lasting friendships with other students.
Applicants must be 18 or over and enrolled in a two or four year accredited college. The Festival provides housing for the duration of the internship as well as a stipend. Applications are due by March 1, 2017.
The 71st Ojai Music Festival, June 8-11, 2017, will celebrate diverse communities of music, artists, and collaborations in a weekend of stimulation and reflection curated by this year's Music Director Vijay Iyer. A genre-transcending composer, pianist, improviser, and musical thinker, Iyer's programming vision will make connections across genres to help audiences discover how composers, performers, and improvisers make music together.
Joining him will be a community of artistic collaborators, including returning Ojai family members 2015 Music Director Steven Schick, International Contemporary Ensemble (ICE), Carnatic vocalist Aruna Sairam, flutist Claire Chase, and composer/percussionist Tyshawn Sorey. Master musicians from various backgrounds making their Ojai debuts include Brentano Quartet; violinist Jennifer Koh; Vijay Iyer Trio; Vijay Iyer Sextet; tabla virtuoso Zakir Hussain; saxophonist Rudresh Mahanthappa; trumpeter Wadada Leo Smith; and The Trio featuring Muhal Richard Abrams, George Lewis, and Roscoe Mitchell.
The 2017 Festival will also feature the world premiere of Vijay Iyer's Violin Concerto, the American premiere of Iyer's Emergence; Radhe Radhe: Rites of Holi with music by Iyer and film by Prashant Bhargava; the West Coast premiere of the opera Afterword by George Lewis; and Yet Unheard (world premiere of chamber version) by Courtney Bryan.
For more information regarding the internship program for the Ojai Music Festival, please call the main office at 805 646 2094 or email info@ojaifestival.org. For more information on the 70th Ojai Music Festival, visit OjaiFestival.org.