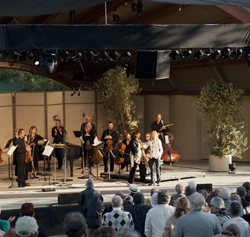 While we don't have a trophy case in our Ojai office, we've been delighted by the recent nomination of Maria Schneider's Winter Morning Walks for three Grammy Awards, including Best Contemporary Classical Composition and Best Classical Vocal Solo. Dawn Upshaw, who received the latter nod, gave Schneider's work its world premiere at the 65th Ojai Music Festival in June 2011, alongside the Australian Chamber Orchestra. Winter Morning Walks was a co-commission of the Ojai Music Festival, Cal Performances, and the Australian Chamber Orchestra, and has since been performed throughout the country and make its Australian premiere early next year.
The award nominations continue what has been a particularly rich last few years for Festival artists. At the 2009 Ojai Music Festival, Steven Mackey's Slide made its world premiere with eighth blackbird and used the Ojai performance as a springboard to revise and record the work, Lonely Motel: Music From Slide with eighth blackbird. Last year, the album won a Grammy for Best Small Ensemble Performance. The recent (and groundbreaking) recording of John Luther Adams' Inuksuit was recently named to NPR's "10 Favorite Classical Albums of 2013." And joining the list of accolades are Leif Ove Andsnes, Steven Stucky, Osvaldo Golijov, and George Crumb, among others, all of whom have received Grammy nominations or wins in recent years.
What is especially exciting, for those of us in Ojai, is to see the ways in which what happens for four days each June continues to resonate long after the last instrument has been packed away. We encounter these artists as they enter a supportive environment – Ojai's creative laboratory – for a brief time and at various stages in their careers. We then have the privilege and honor of watching them continue their artistic development. So to all the artists who have called – and will call – the Festival their home in June, thank you for bringing your work to Ojai. We can't wait to see what happens next.