2016 Festival Update from Artistic Director Thomas W. Morris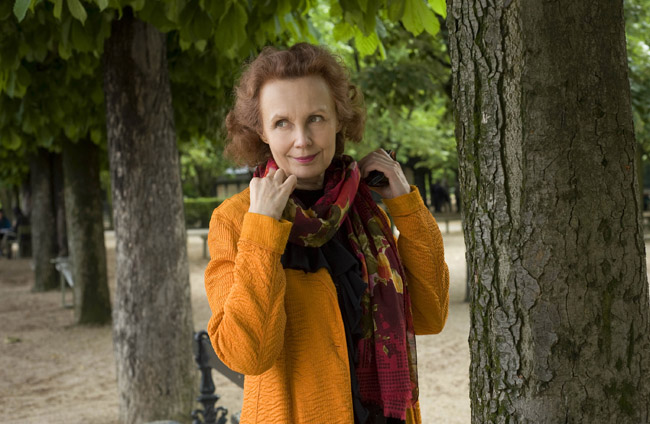 This past week, Artistic Director Thomas W. Morris met with 2016 Music Director Peter Sellars and soprano Julia Bullock as they rehearsed Kaija Saariaho's La Passion de Simone. He wrote us a brief update on the project, its history, and the plans for Ojai…
Kaija Saariaho's great work La Passion de Simone was written in 2006 for large symphony orchestra, large chorus and soprano soloist. Its first performances, with Dawn Upshaw, were staged by Peter Sellars in numerous cities around the world. In 2014, Saariaho, as a centerpiece of the Festival Saint-Denis in Paris, made a new version of the piece for an ensemble of nineteen players, a small chorus of four to eight singers, and soprano soloist. The work, conceived as a "Musical Journey in Fifteen Stations", assumes the form of a contemporary passion play, interpreting the life and thought of the French philosopher Simone Weil. The original libretto by French author Amin Maalouf constitutes the majority of the oratorio's text, supplemented by spoken fragments from Weil's work.
It is this new chamber version that will receive its American premiere to open the 2016 Ojai Music Festival on June 9, 2016. Peter Sellars, the Ojai Music Director for 2016, directs a new staging of the work in a production being co-produced by the Berlin Philharmonic, the Ojai Music Festival and Cal Performances at Berkeley. Mr. Sellars, artist-in-residence at the Berlin Philharmonic this coming season, will direct the world premiere of the production in November 2015 in Berlin. This is Ojai's first collaboration with the Berlin Philharmonic.
The soprano role will be sung by the sensational young American soprano, Julia Bullock. Julia appeared previously in Ojai in 2011 in the public singer master class led by Dawn Upshaw, one of Julia's teachers at Bard College. Since then, Julia has become one of the most sought after young singers, appearing in The Julliard School's production of Massenet's Cendrillon in February 2014, and in Peter Sellars' staging of Purcell's The Indian Queen at the English National Opera in February 2015. She recently appeared as soloist with the New York Philharmonic in Santa Barbara as part of that orchestra's ongoing collaboration with the Music Academy of the West.
As preparation for the Berlin and Ojai performances of La Passion, Julia, Peter, dancer/choreographer Michael Schumacher and a pianist have been in fifteen days of staging rehearsals at New York's Park Avenue Armory. These rehearsals, which I had the privilege of attending August 12, take place in the ornate and intimate Company E Reception Room at the Armory. Julia is simply amazing – she already truly owns the piece. Her glorious singing, rapturous presence, and expressive acting are breathtaking. I watched Peter's painstakingly exacting and moving work in staging one of the fifteen stations, and already, I can tell Ojai is in for one of the great musical and stage experiences. Peter's deep understanding of and passion for the myriad meanings and subtexts of the libretto was so evident in his exacting direction of Julia. Her singing and acting were wonders to behold.
Stay tuned for further updates on this exciting project…
August 13, 2015