With nearly 20 concerts, talks and open rehearsals planned over four days, the 76th Ojai Music Festival from June 9-12 doesn't leave much time for leisurely dining. That's where this partial list of Ojai places with order-at-the-counter and/or grab-and-go food service comes in handy: It's organized according to proximity to Libbey Park, so you can find a spot within walking distance between events, or make plans to park just long enough to pick something up while making your way to the next performance. (Starting Thursday, June 9 you can also visit the Ojai Music Festival Green Room in Libbey Park for sales of pre-made sandwiches and small bites by Ojai Valley Deli Café, Ojai Rôtie and The Vine Ojai plus beer, cider, and wine from Ojai Beverage Co.)
Marché Gourmet Delicatessen, 133 E. Ojai Ave. (half a block from Libbey Park), 805-646-1133, marchegourmetdeli.com. 10 a.m. to 3 p.m. Tuesdays through Sundays; 5:30-7:30 p.m. Fridays and Saturdays.
Vegan, vegetarian and gluten-free options are available from a menu that includes soups, salads, quiches and sandwiches, plus gelato and bottles of wine to go. Call ahead to order box lunches that include a sandwich, side salad and cookie.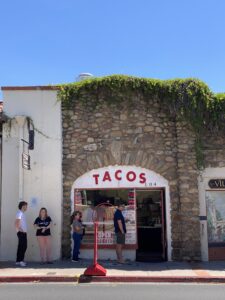 Ojai Tortilla House, 104 N. Signal St. (half a block from Libbey Park), 805-797-8675, facebook.com/Ojaitortillahouse104. Daily from 11 a.m. to 2 p.m. – if supplies last that long. 
Don't let the "cash only" sign put you off: There's room for an ATM inside this hole in the wall where house-made corn and flour tortillas are turned into tacos, burritos and quesadillas filled with your choice of veggies, steak, chicken or al pastor. 
Yume Japanese Burger Cafe, 254 E. Ojai Ave. (about a block from Libbey Park). 805-272-8963, yumejapaneseburger.com. 11 a.m. to 8 p.m. Thursdays through Saturdays and 11 a.m. to 7 p.m. Sundays.
Wagyu beef is the specialty of the house, but the café's riffs on burgers include shrimp katsu, vegetable croquette and – swapping bread for "buns" of rice – vegetable or shrimp tempura. Loaded fries, smoothies, shakes and bubble teas are also served.
Love Social Café, 205 N. Signal St. (about two blocks from Libbey Park), 805-646-1540, lovesocialcafe.com. Daily from 8 a.m. to 2 p.m.  Easy-to-transport dishes range from avocado toast and bagels and lox to tuna, veggie and BLT sandwiches on your choice of croissant, gluten-free bread or Ojai Rôtie sourdough. 
Rainbow Bridge Market Deli, 211 E. Matilija St. (inside Rainbow Bridge Market, about two blocks from Libbey Park), 805-646-6623, rainbowbridgeojai.com. Daily from 8 a.m. to 9 p.m. Breakfast burritos and specialty juices — like the aptly named Rainbow Wallbanger — are local favorites. Salads include a mix-and-match option and pre-packaged greens with tofu, chicken or salmon. Sandwiches both hot (Brocc on the Wild Side) and cold (Rainbow tuna salad) are available until 5 p.m. and include gluten-free and vegan selections. 
Westridge Midtown Market, 131 W. Ojai Ave. (about two blocks from Libbey Park), 805-646-4082, westridgemarket.com. Daily from 7 a.m. to 9 p.m.  The service deli has a priced-by-the-pound breakfast bar (open from 7 to 10:30 a.m.), salad bar and hot bar in addition to packaged sushi, grab-and-go burritos and sandwiches, brick-oven pizzas and "famous" Westridge Burgers made with ground beef or turkey. The original Westridge Market (802 E. Ojai Ave., about half a mile from Libbey Park, 805-646-2762) also offers made-to-order burgers, plus a create-your-own taco and burrito bar and, on the weekends, barbecue off the grill in the parking lot.
Hip Vegan, 201 N. Montgomery St. (about three blocks from Libbey Park), 805-669-6363, hipvgn.com. Daily from 11 a.m. to 7 p.m. Tucked behind a hedge at Montgomery and Matilija streets, Hip Vgn (as the restaurant is styled online) is dedicated to organic, vegan fare that often is also gluten free. Spring rolls are filled with tofu and fresh herbs, while the Tiger Bowl features grilled tempeh with turmeric rice. Smoothies are made with almond, hemp and cashew milks.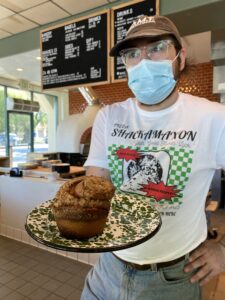 Pinyon Ojai, 423 E. Ojai Ave., Suite 101 (about three blocks from Libbey Park), no phone, pinyonojai.com. 9 a.m. to 9 p.m. Thursdays through Sundays. After its debut last winter, the wood-fired pizzeria, bakery and natural wines shop now also offers breakfast. House-made sourdough pastries and bagels are available from 9 a.m. (the latter are sold on their own, as breakfast sandwiches, or with shmear and Mt. Lassen trout lox). Hoagies and sourdough-crust pizza squares join in until around 4 p.m., with small plates, salads, desserts and pizzas available from noon to 9 p.m. 
La Fuente Mexican Food, 423 E. Ojai Ave. Suite 108 (about three blocks from Libbey Park), 805-646-7715, lafuenteojai.com. 7 a.m. to 6 p.m. Mondays through Thursdays, 7 a.m. to 9 p.m. Fridays, 7 a.m. to 9:30 p.m. Saturdays and 7 a.m. to 2:30 p.m. Sundays. This homey spot located in the far corner of Fitzgerald Plaza serves tacos, tamales, sopes, burritos, and quesadillas (plus burgers and fries) in near-record time. Be sure to hit the serve-yourself salsa bar before departing.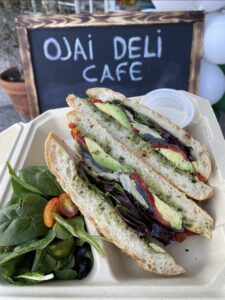 Ojai Valley Deli Café, 1205 Maricopa Highway, Unit A (about 1.3 miles from Libbey Park), 805-272-8139, ojaivalleydelicafe.com. 8 a.m. to 7 p.m. Mondays through Fridays, 8 a.m. to 3 p.m. Saturdays. Since its December 2021 debut next to the Ben Franklin Store, the deli has become a locals' favorite for its to-go-only service of salads, eggplant Parmesan, hot-off-the-grill panini and house-made desserts, including tiramisu and vegan carrot cake. Italian coffee is a specialty.
Lisa McKinnon is a Ventura-based food writer who has been squeezing in bites between Ojai Music Festival concerts since the 1990s. She's on Instagram as 805foodie and blogs at 805foodie.com.