Musical Segues is a recurring segment of the Ojai Music Festival's BRAVO education & community program that introduces our amazing alumni, who either went through the BRAVO program via the Ojai Valley public schools or participated in our Festival Arts Management Internship program.
Every month we will give glimpses into their world, personal journeys, and how music made an impact on their lives.
Kari Frances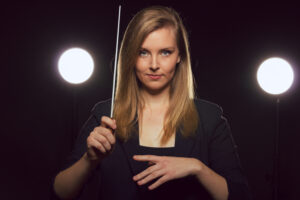 "BRAVO programs have fostered a supportive community of musicians and a culture of concertizing that helped define Ojai's musical ecosystem, which I definitely benefited from. I can't stress enough how important it was to see the vocal groups Sovoso at Nordhoff, and the Yale Spizzwinks , and how excited that got me for exploring a cappella in college."

What was your experience of music when you were young?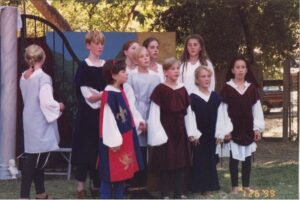 During elementary school, I began singing with Harmonia Mundi, the youth incarnation of Madrigali (a renaissance a cappella group with which my dad, Wayne Francis, sang, which was directed by Jaye Hersh). I think my most direct participation with BRAVO was in high school through the Ojai Youth Symphony and occasional collaborations with Santa Barbara Youth Symphony. I dove into as many music ensembles as I could at Nordhoff High School, primarily under the direction/tutelage of Bill Wagner.
What are your memories of the Ojai Music Festival and Libbey Park?
The Ojai Festival programmed Ligeti's Poème symphonique at some point; I recall helping manage some of the metronomes for the performance. My parents still have the t-shirt! I also played percussion in Ojai Band, played a little piano at Holy Cross Lutheran Church and in a few of the Holiday Home Look-in fundraisers, and continued to sing with Harmonia Mundi, which collaborated with the Ojai Shakespeare Festival during the summer.
Have you continued to study music?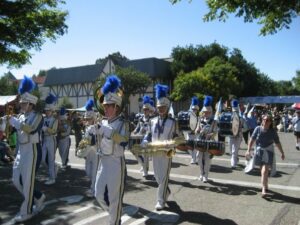 I became deeply involved with collegiate a cappella during college at UC San Diego, joining two student groups as well as an LA-based septet and founding a professional sextet while majoring in music theory (and minoring in Japanese Studies and amassing credits in visual arts classes, both of which remain hobbies). Since then I've worked as a freelance vocal/choral arranger, written for or edited books relating to a cappella, caught a fun break and was able to perform an a cappella tune with Imogen Heap when she toured to San Diego in 2010, was on a reality TV show called "The Sing-Off" (Season 3 with the group Kinfolk 9), received master's degrees in music education from the Eastman School of Music and Teachers College Columbia University, was a conducting fellow with the Young People's Chorus of New York City, co-directed a treble barbershop chorus, the Sirens of Gotham, to a first-place finish at an international competition, and was a teaching artist and adjunct professor at Hunter College and The New School for a few years before my current position.
What are you currently up to?
I am on faculty at the College of Saint Rose, as a choral director and instructor of ear training, music theory, and choral arranging. Most recently, I put together a virtual choir video (which features some Ojai singers!) when the College campus was shut down halfway through the spring semester of 2020, and a project I was involved with was featured in the New York Times (composed by Cory Smythe, who was a regular at the Ojai Music Festival the years they hosted the International Contemporary Ensemble a while ago). My hope is to finish my doctorate at some point in the not-so-distant future, emphasizing musicianship-building and generative/improvisatory practices in choral settings, which is where I hope to continue working. Visit Kari's website here
Ryan Strand
"If you are looking for an experience the is going to challenge you, Ojai is definitely that experience…there is real family here and so much knowledge and mentoring to be gained."
This month we highlight Ryan Strand, who was our first Steven Rothenberg Intern Fellow and continued on to become one of our cracker-jack assistant producers. Learn more about Ryan on his website here
Interested in the Festival's Arts Management Internship program? Click here for details and application >
Emily Redmond Hall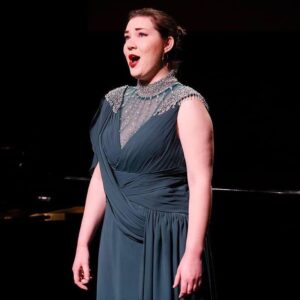 Nordhoff High School Graduate and
University of Redlands Graduate

What BRAVO programs did you participate in during K-6th grade when you attended school in Ojai? What do you most remember?
I went to Summit Elementary, Matilija Middle School and Nordhoff High School. I started singing and playing piano at the age of 6. Going to the BRAVO Imagine concert and performing in High School were enjoyable highlights! I loved the Music Van experience at Ojai Day and chose to play the flute in school. I went on to earn my college degree in classical voice.

How did your early experiences influence your life now? What are you working in?
To have a world-renowned Music Festival in our own tiny little town is so cool and so rewarding. Being able to volunteer there as a teenager was so important to me because it opened my eyes to what classical music could be—it wasn't just Bach and Beethoven, it could be all these weird, contemporary works that I just loved and they were so inventive. It's not usual for a someone to be exposed to this music, much less a teenager in a tiny little town.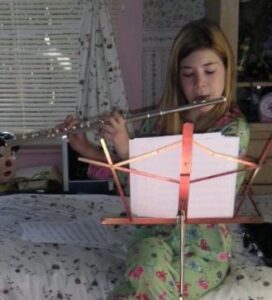 How has music impacted your life? What is your involvement with music now? Do you see yourself being involved in music in your future? What are your hopes around that?
Performing gives me great pride and peace at the same time. Now I teach children age 3-10 at the Ventura Music Academy. I am one of the vocal directors at Ojai Youth Entertainer Studio. Being able to help young singers find their voice is an awesome thing that I get to do. Working with kids is particularly rewarding and just nourishing for the soul. It really is like passing the baton to them. Contributing to their musical education, when I had so many contribute to mine, is so cool. And I get to pass that on and watch as they grow and their skills and talents just flourish and know that I had a part in that and that they will always remember their formative musical experiences growing up. I'm always so grateful for the opportunities that I get to work with youth.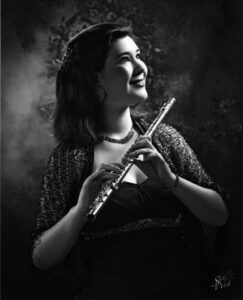 I am also involved with Ojai's theater community, having done several shows at the Ojai Art Center. I sing and get to help to direct Madrigali, Ojai's local renaissance acapella vocal group.
Emily Praetorius
"It's quite unmatched in terms of the camaraderie, the friendship and bonding that happens….You really feel like you are part of this family."
Growing up in Ojai, Emily recalls receiving free tickets to attend a Festival concert through BRAVO and got her first musical glimpse into the world of Percy Grainger. She went off to college at University of Redlands then applied to the Festival's Arts Management Internship program where she learned everything from working retail (fond memories of our Penguin Book Booth) to eventually becoming the esteemed Rothenberg Intern Fellow. Now finishing her doctorate in composition at Columbia University under the tutelage of 2017 resident composer George Lewis, Emily continues her love of music and applying what she learned at the Festival in her current path.
Kathryn Carlson

Arts Management Intern (2017-2019)
Cal State Long Beach graduate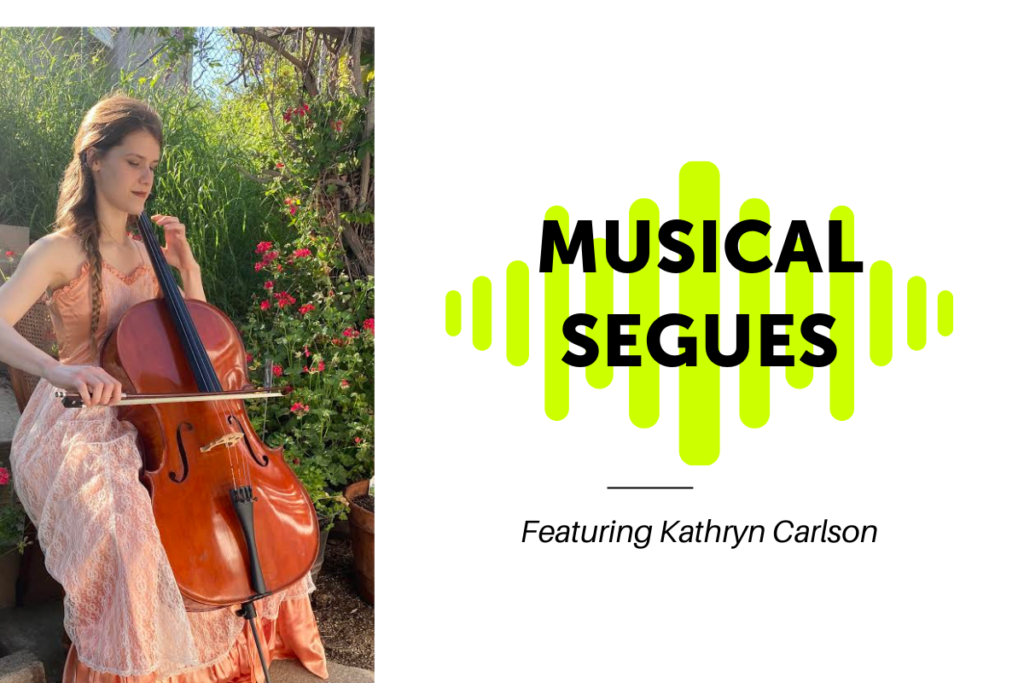 What interested you in applying to the Festival?
My first experience with the Ojai Music Festival was as a guest. I was visiting my boyfriend in his hometown of Ojai in the summer of 2016 when he told me that a music festival was going to be happening downtown. I looked into it expecting to find a folk or pop music festival and was surprised to find that it was centered on contemporary classical music. As a trained contemporary classical cellist myself, I knew I had to attend! Peter Sellars was the Music Director in 2016, and that year I was impressed to see that there was a focus on music written by women. To this day one of my favorite memories is laying on the festival lawn absorbing the sounds of Roomful of Teeth singing Caroline Shaw's Partita for 8 Voices.
A year later while I was studying at UCSB, our department put out a notice that the Ojai Festival was looking for interns. After what I'd experienced the year before, I had to be involved, and that's how I ended up applying for the first time in 2017.
What was my favorite Ojai experience?
This may sound odd but one of my favorite experiences was when a guest came up to the box office outraged by the music he had heard and demanded his money back because it "wasn't music" in his opinion. I watched the Box Office Manager at that time calmly have a long, in-depth conversation with the customer about the nature of the piece, and I'll never forget how such a meaningful conversation had been inspired by an initially negative reaction. The customer walked away with a different mindset, and even though he may not have personally enjoyed that particular performance, many other audience members after the concert came out saying how much they loved what they had just heard. I love that Ojai produces challenging experiences that we can talk about and use to learn about each other.
What was an a-ha moment working in any of the Festival departments?
Honestly, an a-ha moment during my first year as an intern was realizing that the core team of the Ojai Music Festival is small. It's extremely impressive that this small group of people completely transforms a local park into a world-class festival venue in the span of just a week. It's inspiring that so much can happen with a small, dedicated group of people.
What are you up to now?
I graduated just this spring from California State Long Beach with my Masters in Instrumental Performance. I currently have a small studio of cello students and also work part time on the side. I've been participating in a virtual ensemble that my housemate started at the beginning of the quarantine called the Philanthropic Philharmonic (@philanthropicphilharmonic) which puts together recordings of musicians from all over in order to raise money for charity. I've also been working on making arrangements for one to four cellos that I record myself and edit together. I'm hoping to release some soon once I have them all polished. Follow me @kathrynmakesmusic on Instagram if you're interested in following my progress!
Ruben Salinas
"I find that music is an emotional outlet for me. It's the thing that gives me the greatest passion."
Musical Segues is our ongoing segment of the Ojai Festival's BRAVO education & community program that introduces alumni, who either went through the BRAVO program via the Ojai Valley public schools or participated in our Festival Arts Management Internship program.
This month features Ruben Salinas who went through various music programs in the Ojai Valley including our BRAVO in the schools. Raised in Ojai and a graduate from CalState University Northridge's music program, Ruben has been an active musician playing saxophone in recording studios and concerts for such artists as Eric Burdon, Noble Creatures, Kenny Loggins, and Jewel. In years past before the pandemic, you could also find him sharing his music at Ojai stomping grounds like the Vine.
Emily Persinko
Meet Emily Persinko, who interned with the Ojai Music Festival from 2016 to 2018. After graduating from San Diego State University, Emily has been working in various arts administrator roles for performing arts organizations, which have included the San Diego Symphony, Art of Elan, La Jolla Music Society, San Diego Youth Symphony, and San Diego State University School of Music and Dance. Emily currently leads the operation of the San Diego Symphony's learning and community engagement programs and serves as a director on the board for the San Diego Flute Guild.
Adryon de León
Nordhoff High School Graduate
Adryonmusic.com


Adryon de León was born and raised in Ojai, CA. Over formative years, musical theater infused her life. She has performed background vocals for Macy Gray, Patti Austin, The Growlers, and George Clinton. In 2013, she joined the acclaimed Los Angeles-based soul & funk group Orgone. Orgone's most recent release, Reasons, features tracks spotlighting de León in a main writing and collaborative role. She also lends her voice to commercial studio sessions worldwide, demoing tracks for production companies. In Spring 2019, Adryon appeared as "Alana" in a production of The Little Mermaid: Live-to-Film at the Hollywood Bowl, featuring Lea Michele, Harvey Fierstein , Peter Gallagher, Cheech Marin, and Leo Gallo.
What BRAVO programs did you participate in during K-6th grade when you attended school in Ojai? What do you most remember?
I went on an Ojai Music Festival-sponsored field trip to the Imagine Concert at the Libbey Bowl to see LA Philharmonic perform "Peter & the Wolf" for the students!  The exposure to this performance captured the attention of every single child in the audience, for the entire sitting. Sonically, the feeling of the orchestra for the first time was overwhelming. It made me want to pick up my instrument and make some noise.  I played flute in concert band, grades 4-6! 
How has music impacted your life? What is your involvement with music now? Do you see yourself being involved in music in your future? What are your hopes around that?
Music is now my entire life. I transitioned to full time professional vocalist in 2011, touring worldwide with my band Orgone, working in Los Angeles providing vocals for film, television, demos, background vocals, and live performances. Eight years ago was cast at the Disneyland resort as a featured principal performer.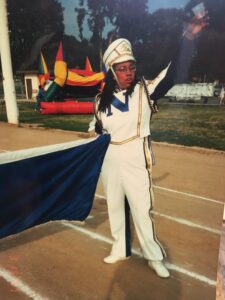 I can't imagine myself not fully immersed in a music career in the future, whether it be as an instructor, mentor, or performer. My hope is to foster a comprehensive music career while I am able and to leave a positive legacy.
How did your early experiences influence your life now? What are you working in?
Music infiltrated every aspect of my life as a child. My mom is musical, my siblings are involved in various projects, and Ojai fostered a beautiful community of artistic kids just like me. I'm currently majoring in Business Administration and working as many studio projects from home as I can. I'm also working on my solo record and collaborating with other artists.
Dominique Wright
Arts Management Intern
Occidental College, Class of 2020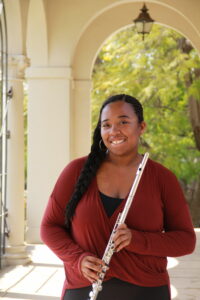 What interested you in applying to the Festival?
I applied to the Festival the summer after my freshman year as my Chamber Music coach told me about the program. I had just gotten into social media marketing at my school (Occidental College) and we agreed this would be a great opportunity to improve those skills as well see what happens behind the scenes – there's A LOT that goes on.
Eventually, I went on to intern at the Festival for three years: 2017, 2018 and 2019. During those formative summers, I was able to work in three different areas: marketing, retail and the box office.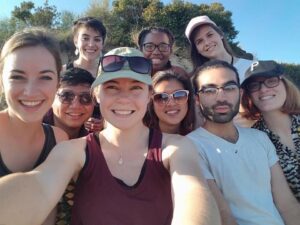 What was your favorite Ojai experience?
I have to say my favorite Ojai experience were outings the interns did together. While we all had busy days, we always had time – at least before the Festival started – for ourselves, and most of the time we would go out for dinner, go to the beach or on a hike. These are your colleagues for the two to three weeks while we are in Ojai, so these outings felt like co-workers hanging out and just recharging for the next day.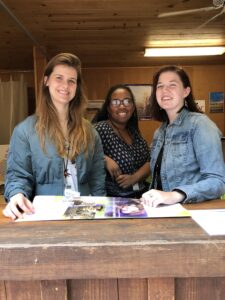 What was an "a-ha" moment working in any of the Festival departments?
Working in the box office, I was able to interact with patrons and the ticketing system which helped me see where our guests were coming from. There were people who would travel hours to come to the Festival. It was an amazing discovery because it showed the impact it had on people and how music brings people together. That's something I aim to achieve in my career, whatever that may be!
What are you up to now?
This past May, I graduated from Occidental College with a BA in Flute performance and a minor in media studies. Currently I am applying to grad programs for arts administration as well as marketing and looking for jobs to gain more experience, and honestly, keeping myself busy in quarantine. Working in the arts field was never a future I saw for myself until interning at the Festival. I'm aware that my future jobs may not be the same as a festival environment, but this internship was what I always looked forward to throughout the school year; knowing that at the end, I get to go back and be with my Ojai family.
In fact, I'm not the only one who has these career goals, some intern alumni have already started making their mark in the arts workplace, some of which you'll be hearing from very soon. I look forward to sharing their stories these next several months!