Musical Segues is a new segment of the Ojai Music Festival's BRAVO education & community program that introduces our amazing alumni, who either went through the BRAVO program via the Ojai Valley public schools or participated in our Festival Arts Management Internship program.
Every month we will give glimpses into their world, personal journeys, and how music made an impact on their lives.
Emily Persinko
Meet Emily Persinko, who interned with the Ojai Music Festival from 2016 to 2018. After graduating from San Diego State University, Emily has been working in various arts administrator roles for performing arts organizations, which have included the San Diego Symphony, Art of Elan, La Jolla Music Society, San Diego Youth Symphony, and San Diego State University School of Music and Dance. Emily currently leads the operation of the San Diego Symphony's learning and community engagement programs and serves as a director on the board for the San Diego Flute Guild.
Adryon de León
Nordhoff High School Graduate
Adryonmusic.com


Adryon de León was born and raised in Ojai, CA. Over formative years, musical theater infused her life. She has performed background vocals for Macy Gray, Patti Austin, The Growlers, and George Clinton. In 2013, she joined the acclaimed Los Angeles-based soul & funk group Orgone. Orgone's most recent release, Reasons, features tracks spotlighting de León in a main writing and collaborative role. She also lends her voice to commercial studio sessions worldwide, demoing tracks for production companies. In Spring 2019, Adryon appeared as "Alana" in a production of The Little Mermaid: Live-to-Film at the Hollywood Bowl, featuring Lea Michele, Harvey Fierstein , Peter Gallagher, Cheech Marin, and Leo Gallo.
What BRAVO programs did you participate in during K-6th grade when you attended school in Ojai? What do you most remember?
I went on an Ojai Music Festival-sponsored field trip to the Imagine Concert at the Libbey Bowl to see LA Philharmonic perform "Peter & the Wolf" for the students!  The exposure to this performance captured the attention of every single child in the audience, for the entire sitting. Sonically, the feeling of the orchestra for the first time was overwhelming. It made me want to pick up my instrument and make some noise.  I played flute in concert band, grades 4-6! 
How has music impacted your life? What is your involvement with music now? Do you see yourself being involved in music in your future? What are your hopes around that?
Music is now my entire life. I transitioned to full time professional vocalist in 2011, touring worldwide with my band Orgone, working in Los Angeles providing vocals for film, television, demos, background vocals, and live performances. Eight years ago was cast at the Disneyland resort as a featured principal performer.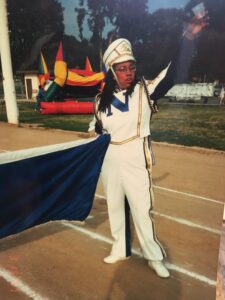 I can't imagine myself not fully immersed in a music career in the future, whether it be as an instructor, mentor, or performer. My hope is to foster a comprehensive music career while I am able and to leave a positive legacy.
How did your early experiences influence your life now? What are you working in?
Music infiltrated every aspect of my life as a child. My mom is musical, my siblings are involved in various projects, and Ojai fostered a beautiful community of artistic kids just like me. I'm currently majoring in Business Administration and working as many studio projects from home as I can. I'm also working on my solo record and collaborating with other artists.
Dominque Wright
Arts Management Intern
Occidental College, Class of 2020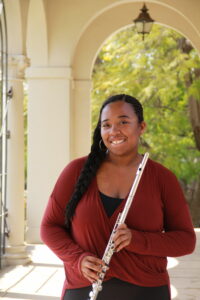 What interested you in applying to the Festival?
I applied to the Festival the summer after my freshman year as my Chamber Music coach told me about the program. I had just gotten into social media marketing at my school (Occidental College) and we agreed this would be a great opportunity to improve those skills as well see what happens behind the scenes – there's A LOT that goes on.
Eventually, I went on to intern at the Festival for three years: 2017, 2018 and 2019. During those formative summers, I was able to work in three different areas: marketing, retail and the box office.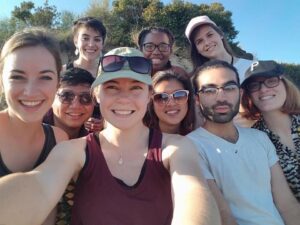 What was your favorite Ojai experience?
I have to say my favorite Ojai experience were outings the interns did together. While we all had busy days, we always had time – at least before the Festival started – for ourselves, and most of the time we would go out for dinner, go to the beach or on a hike. These are your colleagues for the two to three weeks while we are in Ojai, so these outings felt like co-workers hanging out and just recharging for the next day.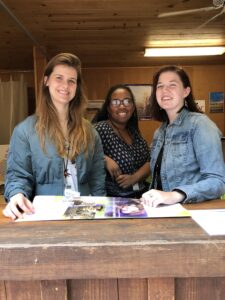 What was an "a-ha" moment working in any of the Festival departments?
Working in the box office, I was able to interact with patrons and the ticketing system which helped me see where our guests were coming from. There were people who would travel hours to come to the Festival. It was an amazing discovery because it showed the impact it had on people and how music brings people together. That's something I aim to achieve in my career, whatever that may be!
What are you up to now?
This past May, I graduated from Occidental College with a BA in Flute performance and a minor in media studies. Currently I am applying to grad programs for arts administration as well as marketing and looking for jobs to gain more experience, and honestly, keeping myself busy in quarantine. Working in the arts field was never a future I saw for myself until interning at the Festival. I'm aware that my future jobs may not be the same as a festival environment, but this internship was what I always looked forward to throughout the school year; knowing that at the end, I get to go back and be with my Ojai family.
In fact, I'm not the only one who has these career goals, some intern alumni have already started making their mark in the arts workplace, some of which you'll be hearing from very soon. I look forward to sharing their stories these next several months!