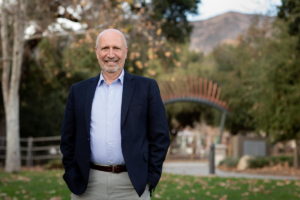 Welcome to the dog days of summer. For a long time, I thought the phrase referred to the hottest days of August, when even the liveliest dog would droop to a long nap in the shade of the tree. I then learned the much more inspired origin of the phrase. August is when Sirius, the brightest star of Canis Major, the 'dog constellation,' appears on the southeast horizon just before sunrise. Sirius is indeed the brightest star in our skies, twice as large as the sun and 25 times its brightness.
I love the notion that the brightest star visible to us rises at the darkest hour of the waning night. There is comfort in contemplating that beauty of our natural world while we droop with the heat of the summer and the tensions of our troubled world. That bright light is there for us to see, if we know where to look.
It is with that spirit of hope and with the anticipation of better times ahead that I write today with some glimpses of the Ojai Festival to come in June 2021, when we eagerly anticipate gathering again in the beauty of Libbey Park and with the joy of each other's company.
John Adams was foremost in my mind when I began to think about the 75th Ojai Festival. John is such a distinctly American voice in classical music, capturing the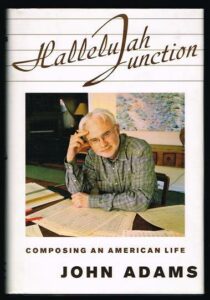 spirit of our time, much as Aaron Copland did two generations ago. He was born a New England Yankee and has cherished memories of being taken by his parents to hear Duke Ellington and his Orchestra at the dance pavilion on the shores of Lake Winnipesaukee in New Hampshire. His memoir Hallelujah Junction is one of the most engaging and evocative autobiographies to be published in recent years and shows him to be a gifted writer as well as composer – I highly recommend it as hugely rewarding reading. You can check out the book here – this is a website that benefits independent booksellers across the country!
But John long ago made that mythical cross-country trip in a beat-up car to become the quintessential California composer, having made the San Francisco Bay Area his home for nearly fifty years now. In planning our programs for 2021, he has been characteristically resistant to making the festival have a focus on his music but I have prevailed for us to have representation of his music. Here is a recent piece that will be new to most of us, a lovely, personal piano piece called I Still Play, as recorded by 2014 Ojai Festival Music Director Jeremy Denk:
John has made it very clear that he wants to feature the work of a new generation of composers and performers to make this a decidedly forward-facing festival. The composers are all young Americans, representing the diversity of voices, styles, cultures and traditions that comes naturally to a new generation. Among them, we will welcome Gabriella Smith, who was mentored by John. Her trailblazing career has led her music to be performed by the Los Angeles Philharmonic, Roomful of Teeth, Eighth Blackbird, Bang on a Can All-Stars, among others. She is a true California spirit, as passionate about the landscape and the environment as she is about her musical life. Read more about Gabriella on our website.
At the beginning of my planning conversations with John, he had just returned from an extended European tour where he had collaborated multiple times with the young Icelandic pianist Víkingur Ólafsson – he spoke about Vikingur in the most glowing terms and expressed his great wish to bring him to Ojai. I was delighted with the suggestion and we invited Vikingur, who immediately accepted. He has been widely praised for a series of imaginatively programmed recordings focusing on Philip Glass, Bach and a recent pairing of music by Debussy and Rameau, French composers 300 years apart.
By way of introduction, I'm delighted to bring to you two recent videos. The first is Debussy's well-known Prelude titled in English, The Girl with the Flaxen Hair.
And, in a music video filmed at the Harpa concert hall in Reykjavik, music by Philip Glass.
This gifted young artist has drawn the attention of the New Yorker's insightful music critic, Alex Ross, who wrote recently about him in this article.
And what about the resident orchestra, you ask? Again, the answer represents a homecoming. We are selecting a handpicked, all-star ensemble of some of the finest musicians around, who populate the new music groups and other ensembles up and down the California coast. This time of enforced isolation and suspended musical life has caused extraordinary hardship for so many artists, with freelance musicians among the most affected by the loss of work and income. We are delighted to celebrate the extraordinary talent in our midst by welcoming these brilliant independent artists to center stage. We are coming home.
In one of my meetings with the Ojai team, I was delighted to become better acquainted with Laura Walter, who guides the Festival's superb BRAVO education program throughout the Ojai Valley. Like the Festival itself, BRAVO went virtual in the spring, providing essential music education in our area schools. I was so moved by the breadth and depth of Laura and her team's efforts that we will also bring these elements to family programming for the community during the Festival. As I said, a homecoming, a necessary counterbalance to the isolation of this unsettling time.
So, there you have it. Music and musicians to keep us company in the dog days of summer, glimmers of light from the brightest star in the sky with the promise of good things to come. And this is just the beginning – we will tell you much more in the coming months.
With all good wishes,
Ara Guzelimian
Artistic and Executive Director
*75th slider Ojai image by Nathan Wickstrum