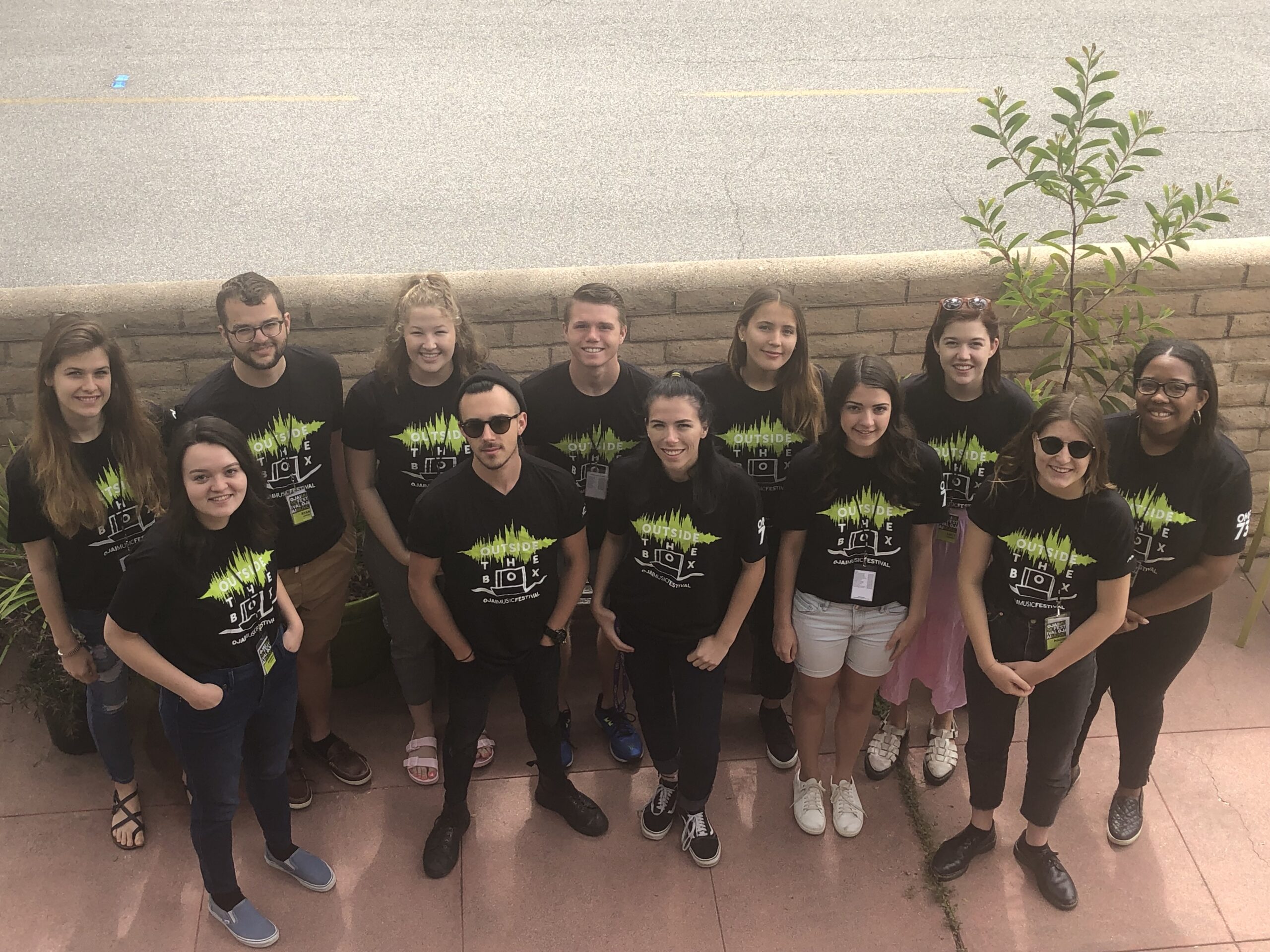 OJAI MUSIC FESTIVAL IS NOW ACCEPTING APPLICATIONS FOR THE ARTS MANAGEMENT INTERNSHIP PROGRAM FOR THE 74th OJAI MUSIC FESTIVAL, JUNE 11 to 14, 2020
Quick link for application: https://www.ojaifestival.org/intern-program/
"I gained a much larger appreciation for all the effort that is put into this music festival. Being behind the scenes gave the opportunity to learn hands on and actively use the learned skills to see and achieve results." – Liz Spiller, retail intern
"Being a part of the Ojai Music Festival Internship Program means being a part of a positive, productive and goal driven team that by any means creates an unforgettable experience for its patrons, donors, staff and interns. You gain a greater appreciation and understanding of how a successful arts organization is operations and grown from year to year." – Paul Seitz, live stream intern
" I loved engaging with creators and audiences alike. The intense passion for and dedication to this small, unique festival from both sides is what makes this experience so special. This festival would also not be what it is without its beautiful setting. Ojai is the perfect birthplace for this amazing blend of history and fresh creativity. – Kathryn Carlson, box office intern
The Ojai Music Festival's arts management internship program is now accepting applications for the 74h Ojai Music Festival slated for June 11 to 14, 2020 with composer/conductor Matthias Pintscher as music director. Entering its thirteenth year, the Festival's sought-after program provides hands-on experiences to college students as they are immersed in areas of production, administration, operations, special events, merchandising, live streaming, marketing, public relations, and box office.
Students from varying fields and walks of life enjoy access to different opportunities which give them new skill sets and experiences that they take with them throughout their careers. The internship program also provides them to interact with leaders in the music industry and create lasting friendships with other students.
Applicants must be 18 or over and enrolled in a two or four year accredited college. The Festival provides housing for the duration of the internship as well as a stipend. Applications are due by March 15, 2020.
About the 74th Ojai Music Festival
The 74th Ojai Music Festival, June 11-14, 2020, celebrates Music Director Matthias Pintscher as composer, conductor, and collaborator, and his commitment to strengthening the interactions and connections between the music of today and seminal works from across the centuries.
Joining Mr. Pintscher will be the Paris-based Ensemble intercontemporain (EIC) in its first appearance at the Ojai Music Festival. Mr. Pintscher is Music Director of the EIC, the world's leading contemporary music ensemble founded by seven-time Ojai Music Director Pierre Boulez. The 2020 Festival welcomes the return of the Calder Quartet and the LA Phil New Music Group, plus the Ojai debuts of mezzo-soprano Tamara Mumford, tenor Andrew Staples, and singer/songwriter Della Miles.
Known as one of today's foremost composers, Matthias Pintscher will have his works interspersed throughout the 2020 Festival, including Bereshit, Nur, and Uriel. In addition to his music directorship of the Ensemble Intercontemporain founded by Pierre Boulez, Mr. Pintscher's connection with Boulez was a deeply personal friendship and an interwoven professional path that also included their respective roles with EIC, IRCAM, the Lucerne Festival Academy, and now the Ojai Music Festival. Boulez's works to be performed by EIC include his sur Incises and Mèmoriale.
The 2020 Festival also shines a light on the work of the prolific, ingenious, daring, and deeply relevant work of Austrian composer Olga Neuwirth. Three of her major works will be performed during the Festival with EIC, Calder Quartet, and singer/songwriter Della Miles including Suite from Eleanor, which received its premiere in 2015 at the Salzburg Festival. Additional featured music of Ms. Neuwirth during the Festival will include in the realms of the unreal performed by the Calder Quartet and Aello – ballet mécanomorphe with the EIC.