The Ojai Music Festival is fortunate to be part of a strong community of residents and businesses supporting the arts in the Ojai Valley. One of our longtime friends is HumanArts Gallery located in the downtown Arcade. Owners Hallie and Stan Katz share their story of how intertwined the Festival is with their move to Ojai.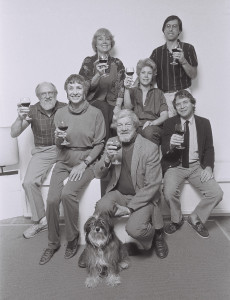 It was May 30, 1975 and most of the action was in Libbey Park where Michael Tilson Thomas was preparing to conduct the Ojai Music Festival. In a much smaller venue across the street there was another buzz happening — a new gallery in town was hosting its grand opening –- it was one of the only galleries in town at that time! Three couples, fairly new to town, decided to show an eclectic mix of pottery, jewelry, paintings, and sculpture, some of which they themselves made.
Truly one of the first places dedicated to contemporary fine craft in Southern California, it was known then as Running Ridge Gallery. The original partners were Bob and Barbara Grabowski, Bob's sister Ruth Farnham and her husband John, and Jett and Sharon Spencer. Bob, Jett, and Sharon made jewelry; Ruth was a painter; and John was a sculptor. Barbara was the business manager.