Ojaipedia Entry #1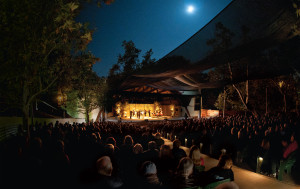 This series aims to provide additional information and context about the 2017 Ojai Music Festival.
Thursday, June 8
Evening Concert
8:00 – 10:00pm
There will be three performances during the Ojai Music Festival's opening concert. The concert offers distinct modes of performance that rarely share a concert stage. The concert begins with Emergence, a piece for orchestra and trio, which incorporates compositional interpretation alongside improvisation. After that, Vijay Iyer's violin concerto Trouble premieres, with Jennifer Koh as the soloist. Finally, Vijay Iyer and composer-trumpeter Wadada Leo Smith will perform selections from their recent project A Cosmic Rhythm with Each Stroke.
Emergence
To quote Wikipedia: "In philosophy, systems theory, science, and art, emergence is a phenomenon whereby larger entities arise through interactions among smaller or simpler entities such that the larger entities exhibit the properties the smaller/simpler entities do not exhibit."
Under this definition, music making is emergence. The "simpler" entities are the individuals who exhibit sound, such as performers, audience members, the conductor, and the composer. In Vijay Iyer's Emergence, an orchestra and a trio work together to create the music. The orchestra follows the lead of a score and a conductor (Steve Schick), while the trio members have license to improvise. If you listen to this recording from last week, you can hear the direct, emergent communication that occurs.
When the orchestra and an improvisational solo seem to perfectly synchronize, listeners may wonder, "was that on purpose?" Whether those moments are "composed" in advance or in real time, the answer is yes.
Listen below:
Trouble
Vijay Iyer's violin concerto Trouble premieres after Emergence. In his notes for the piece's workshop version, Iyer says, "When meeting with Jennifer Koh over the past year to discuss the details of this piece, I often found it difficult to focus; typically we found ourselves instead recoiling in horror at the events of any given day. This pattern has only intensified since January 20, as we find our communities, our country, and our planet in greater peril with each passing hour. In creating the piece I found myself both channeling and pushing against the sensation of extreme precarity that pervades our moment." Exploring different relationships between the soloist and the group, Iyer says "the soloist can embody the relationship of an artist to her community: not so much a "leader" or "hero," but something more like a shaman, a conduit for the forces in motion around us."
Jennifer Koh, the Oberlin Contemporary String Ensemble, and International Contemporary Ensemble will perform under the baton of Steven Schick, Ojai's 2015 music director. Here is a picture of Vijay Iyer reviewing the score while Jennifer Koh and the Oberlin players rehearse in Oberlin's Warner Hall: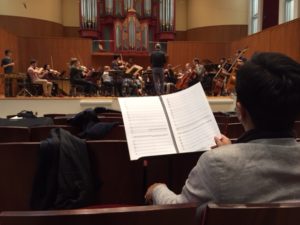 (a nice shot by Artistic Director Thomas W. Morris)
A Cosmic Rhythm with Each Stroke
In his New Yorker review for 2016's Big Ears Festival, Alex Ross described Vijay Iyer and Wadada Leo Smith's performance: "Smith presents a fragment of chiselled melody, like a pillar of a building that has otherwise fallen to ruin. Iyer answers with a misty dissonance or a ghostly filigree pattern. They create an illusion of vast space in which two solitary paths intersect. At one extraordinary moment, Smith began climbing up the steps of the major scale, as if he had found a stairway to the light; but then he let his tone crack, reverted to halting chromatic steps, and fell silent."
Wadada Leo Smith was an early member of the Association for the Advancement of Creative Musicians (AACM). The organization's influence emanates through the Festival, with Afterword, an opera, art installation Rio Negro II, and a performance by a trio of early AACM members Muhal Richard Abrams, Roscoe Mitchell, and George Lewis as Festival highlights.
Click here to buy tickets to this concert
**Disclaimer**
The title "Ojaipedia" draws inspiration from our friends at the LA Philharmonic's "Philpedia" webpage. We designed this "pedia" to be interactive; please feel free to contribute, dispute, or clarify things by emailing [email protected]. Any additional information is welcome and encouraged.