Mitsuko Uchida: Music Director for the 78th June 6-9, 2024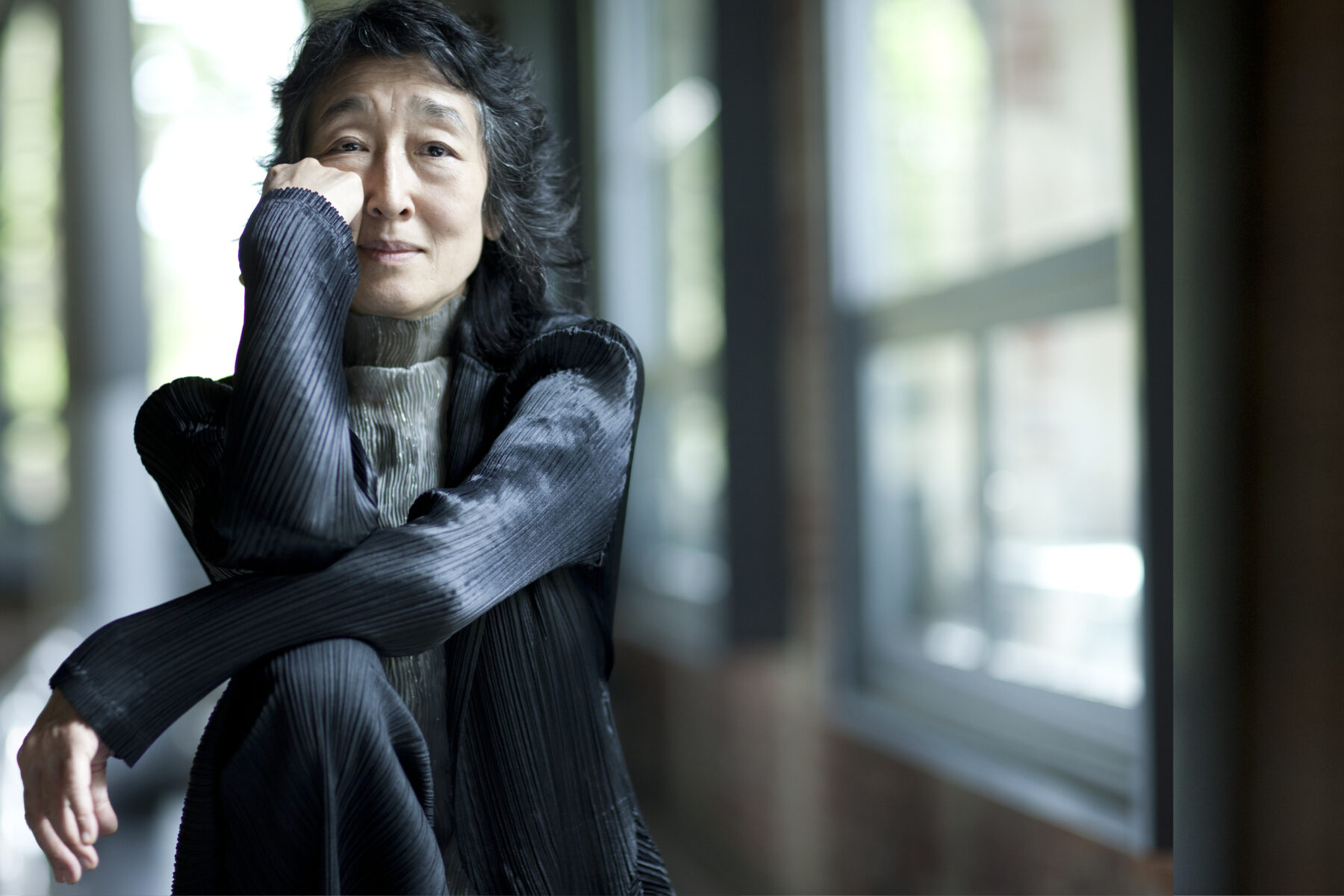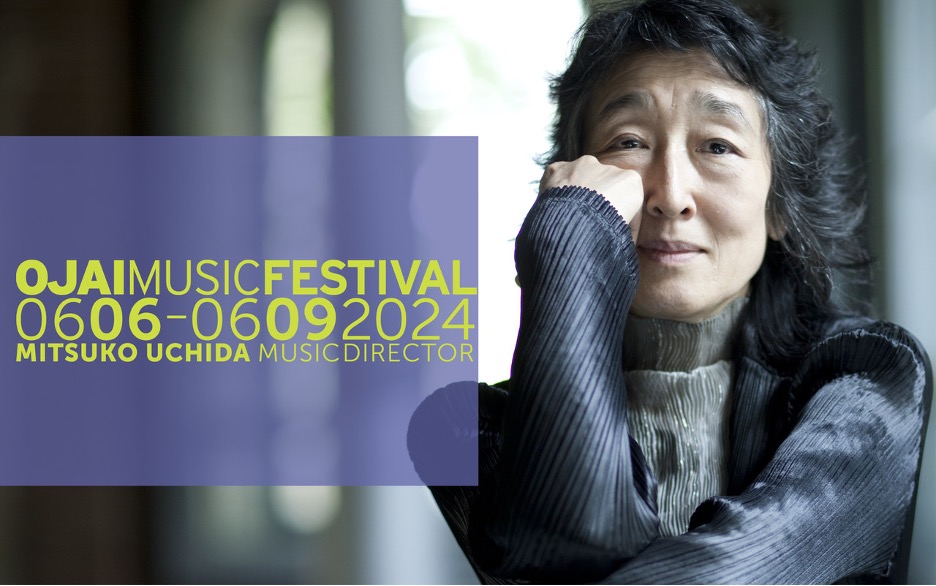 "We are so delighted to announce the eagerly awaited return of Mitsuko Uchida to the Ojai Music Festival. Mitsuko is one of the most revered musicians of our time, imparting everything she plays with profound insight and commitment. It is a particular joy for me to work with Mitsuko, given our long-standing friendship and collaborations over the years. We are also thrilled to welcome back the Mahler Chamber Orchestra, with whom she has built a deep partnership over many years. In addition to the MCO, Mitsuko has invited a number of guest artists closely associated with her over the years at Vermont's legendary Marlboro Festival, where she is Co-Artistic Director — clarinetist Anthony McGill, soprano Lucy Fitz Gibbon, violinist Alexi Kenney, and the Brentano String Quartet. We promise a characteristic Ojai mix of the new and old, the expected and the unexpected." – Artistic and Executive Director Ara Guzelimian
OJAI, California — May 31, 2023: As the Ojai Music Festival family anticipates the upcoming 77th Festival with Music Director Rhiannon Giddens (June 8 – 11, 2023), Artistic and Executive Director Ara Guzelimian announces Mitsuko Uchida as Music Director for the 2024 Festival scheduled for June 6 to 9, 2024. Since the late 1940s, the Ojai Music Festival's tradition has been to select a new Music Director each year to ensure vitality and diversity in programming across Festivals. Pianist/conductor Mitsuko Uchida, one of the world's most celebrated artists, last performed at the 2004 Festival and was co-music director in 1998.
Ojai will welcome the return of the Mahler Chamber Orchestra (MCO), who appeared with the 2018 Festival Music Director Patricia Kopatchinskaja. Those Ojai Music Festival performances marked the MCO's first extended United States residency. Founded in 1997, the MCO is an international ensemble defined by its distinct sound, independent artistic identity, and agile and democratic structure. The orchestra brings together 27 different nationalities, with musicians living in all parts of the world, to reach audiences across 40 countries on five continents. The MCO forms the basis of the Lucerne Festival Orchestra and maintains long and fruitful artistic relationships with major artists, including several Ojai artists such as Ms. Uchida, Ms. Kopatchinskaja, Leif Ove Andsnes (2012 Ojai Music Director) and George Benjamin (2010 Ojai Music Director). In Ojai, MCO will display its versatility and virtuosity as an orchestral ensemble, in smaller chamber iterations, and in solo performances from individual members.
Joining Mitsuko Uchida and the MCO will be artists new to the Ojai Music Festival, including soprano Lucy Fitz Gibbon, and clarinetist Anthony McGill. Returning to Ojai will be Brentano String Quartet, who performed in 2017 with Music Director Vijay Iyer, and violinist Alexi Kenney, who performed 2021 with Music Director John Adams.
Programming for the 2024 Festival will include works by Gyorgy Kurtag, Kaija Saariaho, Angelica Negron, Kate Soper, Salina Fisher, and Arnold Schoenberg in honor of the 150th anniversary of his birth.
Additional details about the 2024 Festival will be shared in the fall of 2023.

MITSUKO UCHIDA, MUSIC DIRECTOR OF THE 2024 OJAI MUSIC FESTIVAL
One of the most revered artists of our time, Mitsuko Uchida is known as a peerless interpreter of the works of Mozart, Schubert, Schumann and Beethoven, as well for being a devotee of the piano music of Alban Berg, Arnold Schoenberg, Anton Webern, and György Kurtág. She is Musical America's 2022 Artist of the Year, and a Carnegie Hall Perspectivesartist across the 2022/3, 2023/4 and 2024/5 seasons. Her latest recording, of Beethoven's Diabelli Variations, was released to critical acclaim earlier this year, has been nominated for a Grammy® Award, and won the 2022 Gramophone Piano Award.
She has enjoyed close relationships over many years with the world's most renowned orchestras, including the Berlin Philharmonic, Royal Concertgebouw Orchestra, Bavarian Radio Symphony, London Symphony Orchestra, London Philharmonic Orchestra, and – in the US – the Chicago Symphony and The Cleveland Orchestra, with whom she recently celebrated her 100th performance at Severance Hall. Conductors with whom she has worked closely have included Bernard Haitink, Sir Simon Rattle, Riccardo Muti, Esa-Pekka Salonen, Vladimir Jurowski, Andris Nelsons, Gustavo Dudamel, and Mariss Jansons.
Since 2016, Mitsuko Uchida has been an Artistic Partner of the Mahler Chamber Orchestra, with whom she is currently engaged on a multi-season touring project in Europe, Japan, and North America. She also appears regularly in recital in Vienna, Berlin, Paris, Amsterdam, London, New York, and Tokyo, and is a frequent guest at the Salzburg Mozartwoche and Salzburg Festival.
Mitsuko Uchida records exclusively for Decca, and her multi-award-winning discography includes the complete Mozart and Schubert piano sonatas. She is the recipient of two Grammy® Awards – for Mozart Concertos with The Cleveland Orchestra, and for an album of lieder with Dorothea Röschmann – and her recording of the Schoenberg Piano Concerto with Pierre Boulez and the Cleveland Orchestra won the Gramophone Award for Best Concerto.
A founding member of the Borletti-Buitoni Trust and Co-Artistic Director of Marlboro Music Festival, Mitsuko Uchida is a recipient of the Golden Mozart Medal from the Salzburg Mozarteum, and the Praemium Imperiale from the Japan Art Association. She has also been awarded the Gold Medal of the Royal Philharmonic Society and the Wigmore Hall Medal, and holds Honorary Degrees from the Universities of Oxford and Cambridge. In 2009 she was made a Dame Commander of the Order of the British Empire.
ARA GUZELIMIAN, ARTISTIC AND EXECUTIVE DIRECTOR
Ara Guzelimian is the Artistic and Executive Director of the Ojai Music Festival, having begun in that position in July 2020. The appointment culminates many years of association with the Festival including tenures as director of the Ojai Talks and as Artistic Director from 1992–97. Guzelimian stepped down as Provost and Dean of the Juilliard School in New York City in June 2020, having served in that position since 2007. At Juilliard, he worked closely with the president in overseeing the faculty, curriculum, and artistic planning of the distinguished performing arts conservatory in all three of its divisions: dance, drama, and music. He continues at Juilliard as Special Advisor, Office of the President.
Prior to the Juilliard appointment, he was Senior Director and Artistic Advisor of Carnegie Hall from 1998 to 2006. Guzelimian serves as artistic consultant for the Marlboro Music Festival and School in Vermont. He is a member of the steering committee of the Aga Khan Music Awards, the artistic committee of the Borletti-Buitoni Trust in London, and a board member of the Amphion and Pacific Harmony Foundations. He is also a member of the music visiting committee of the Morgan Library and Museum in New York City. In 2020, Guzelimian was appointed to the advisory panel of the Birgit Nilsson Foundation in Sweden.
Previously, Guzelimian held the position of Artistic Administrator of the Aspen Music Festival and School in Colorado, and he was long associated with the Los Angeles Philharmonic at the beginning of his career, first as producer for the orchestra's national radio broadcasts and, subsequently, as Artistic Administrator. Guzelimian is editor of Parallels and Paradoxes: Explorations in Music and Society (Pantheon Books, 2002), a collection of dialogues between Daniel Barenboim and Edward Said. In September 2003, he was awarded the title Chevalier des Arts et des Lettres by the French government for his contributions to French music and culture.
OJAI MUSIC FESTIVAL
The Ojai Music Festival represents an ideal of adventurous, openminded, and openhearted programming in the most beautiful and welcoming of settings, with audiences and artists to match its aspirations. Marking its 75th anniversary season last year, the Festival remains a creative laboratory for thought-provoking musical experiences, bringing together innovative artists and curious audiences in an intimate, idyllic outdoor setting. Each Festival's narrative is guided by a different Music Director, whose distinctive perspectives shape programming — ensuring energized festivals year after year.
Throughout each year, the Ojai Music Festival contributes to Southern California's cultural landscape with in-person and online Festival-related programming as well as robust educational offerings that serve thousands of public-school students and seniors. The organization's apex is the world-renowned four-day Festival, which takes place in Ojai, a breathtaking valley 75 miles from Los Angeles, which is a perennial platform for the fresh and unexpected. During the immersive experience, a mingling of the most curious take part in concerts, symposia, free community events, and social gatherings. During the intimate Festival weekend, considered a highlight of the international music summer season, Ojai welcomes up to 5,000 patrons and reaches 35 times more audiences worldwide through live and on- demand streaming of concerts and discussions throughout the year.
Since its founding in 1947, the Ojai Music Festival has presented broad-ranging programs in unusual ways with an eclectic mix of new and rarely performed music, as well as refreshing juxtapositions of musical styles. Through its signature structure of the Artistic Director appointing a different Music Director each year, Ojai has presented a "who's who" of music including the multi-disciplinary colliding collective AMOC* (American Modern Opera Company), Vijay Iyer, Patricia Kopatchinskaja, and Barbara Hannigan in recent years; throughout its history, featured artists have included Aaron Copland, Igor Stravinsky, Michael Tilson Thomas, Kent Nagano, Pierre Boulez, John Adams, Esa-Pekka Salonen, Robert Spano, Pierre-Laurent Aimard, David Robertson, Eighth Blackbird, George Benjamin, Dawn Upshaw, Leif Ove Andsnes, Mark Morris, Jeremy Denk, Steven Schick, Matthias Pintscher, and Peter Sellars.
SERIES PASSES FOR THE 2024 OJAI MUSIC FESTIVAL
Series Passes for the 2024 Ojai Music Festival will be on sale beginning June 1, 2023 at OjaiFestival.org and onsite at the upcoming Ojai Music Festival, June 8 to 11.
SINGLE TICKETS FOR THE 2023 OJAI MUSIC FESTIVAL
Single Tickets are available and may be purchased at OjaiFestival.org or by calling (805) 646-2053. Single tickets range from $160 to $55 for reserved seating in the Libbey Bowl. General admission for the Lawn in Libbey Bowl is $20. Add-on event prices range from $35 to $50. Student discounts, OjaiNEXT young professional discounts, and group sales are available by inquiring with our Box Office. Some 2023 Festival concerts are currently sold out. Ojai Music Festival will offer free live streaming of Libbey Bowl concerts June 8 to 11. To access, visit our website or on the Festival's channel on YouTube.
Press contacts:
Ojai Music Festival: Gina Gutierrez, [email protected] (805) 646-2181 National/International: Nikki Scandalios, [email protected] (704) 340-4094