'Reimagining Josephine Baker's Music in the Era of Black Lives Matter' – NY Times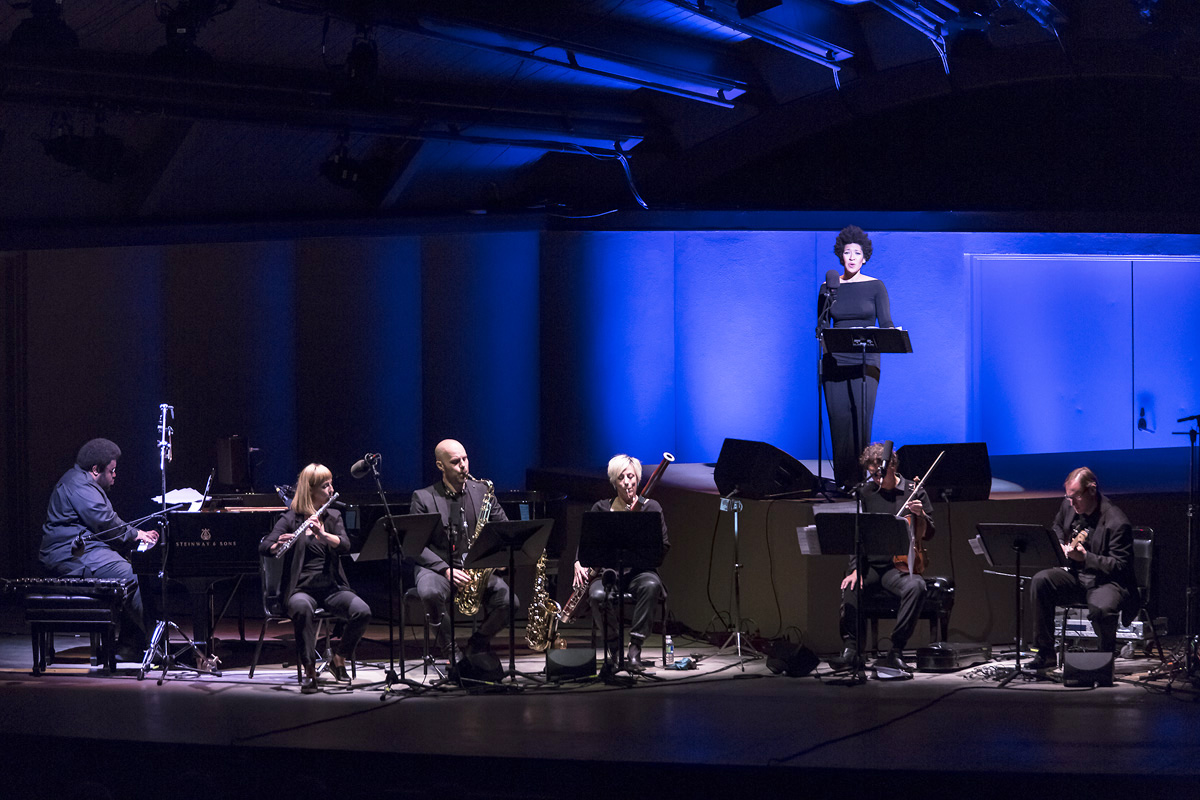 In the lead-up to the East Coast premiere of the Josephine Baker Project, The New York Times Zachary Woolfe sat down with Julia Bullock and Tyshawn Sorey to discuss the genesis and evolution of the project, and its particular importance at this moment in time. Read the full piece on the NY Times website or download a PDF >>
JULIA BULLOCK I had been wanting to sing her songs since college, which was the first time that anyone compared me to Baker. So I was just trying to find the right opportunity, the right person to arrange them, and the right context.

I performed a group of her songs in my New York debut recital, and Peter's producer caught wind of it. And Peter said that if I would be interested in it, he was hooking up with Claire Chase [the International Contemporary Ensemble's founder], and they brought Tyshawn on board and Claudia Rankine to write poetry. There was a part of me that didn't know how much I wanted a white man grandfathering all this. But I think one of Peter's great strengths is he brings together artists that seem to have a unique perspective and purpose . . .

Were you, are you, thinking about current events?
BULLOCK These issues, they're always on my mind. When Michael Brown was killed, that happened 20 minutes from my home in St. Louis. All these issues are things I live with and think about daily. Yes, I understood the timeliness of what we were writing. Hearing her sing "Si J'Étais Blanche" ["If I Were White"] in 1925 is just as relevant as singing it now.

I'm half-white, and I thought it was really important as a performer to talk about my complex feelings about going into an industry predominately run by white people. Issues with exoticism still come up. Objectification still comes up. To have an opportunity to speak about that in music was great. I need to say those things right now, and the world needs to hear how I think. And to be given a platform to do it, it's a gift both Tyshawn and I have been given.

SOREY The music that we make is comprised solely of our life experiences. The police brutality that we're experiencing right now, it's been happening for a very long time. I was born and raised in Newark, and police brutality and shootings happened near my block. The difference between then and now is that the media is talking about it. To do a reimagination of the Baker songs to me — even though the music per se might sound a particular way for a particular time — the lyrical content is timeless, and I wanted to create something musically to reflect what we're experiencing now.

Is it still changing?
BULLOCK We're all trying to share and experience and re-evaluate. So I can't say when we're going to have a finished product on this. I think everyone was in agreement that the first third of it, even though the music was amazing, needed to kind of get it going. So we've talked about establishing the relationship between Tyshawn and I, and having a more playful element to open it, creating a more welcoming space. And we're always talking about what new songs to do .