by Jain Fletcher
The Ojai Music Festival is fortunate to have amazing patrons who share their own personal experiences with music, from their past and present. Long-time patron, Jain Fletcher, kindly gave us a personal account of her friendship with composer Lou Harrison.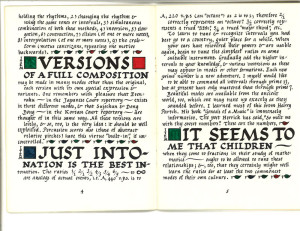 I entered San José State University (SJSU) in 1967 as a music major (flute). I was very fortunate to enter an environment consisting of a relatively young faculty of musicians who were energetic and capable of instituting and carrying out some really exciting musical initiatives. Although I took it all for granted at the time, in looking back, I have realized that the epitome of my music training and experiences took place in college.  For everything that was good about the Music Department during my years at SJSU (1967 to 1979, from B.A. to M.A.), the greatest part was the benefit of having a sublime eminence on the faculty: Lou Harrison was on the staff as Composer-in-Residence.  
When I first got to college, I never could have foreseen that I was going to have any personal interaction with Lou.  What I did know, from the enthusiastic buzz about him, was that I wanted to experience as much as I could of what he had to offer. So, in those early days, I kept my ears and eyes open for news of concerts with his music, and then attended every one. I also took his survey course, "Music and World Cultures," in my freshman year. Given that this course was open to all students there was no way it could have been as awesome as it would have been if it had been addressed to music majors or graduates. But think about it: a class on world music(!) from Lou Harrison!!  Needless to say, it was a complete eye-opener. Sure, he knew his subject, but better yet, he was an excellent teacher. I had never heard anyone discourse so articulately and beautifully in- or outside a classroom. Because he was so passionate about this topic, it was also a difficult course to do well in. In the end, what he introduced in that class opened up a whole new world of music for me at a very impressionable time of my life.